SSB coaching academy
 is helpful for SSB interview preparation, they are specializes in providing training for SSB interviews for Army, Navy and Air Force Selection Boards for  
AFCAT, TES, UES, TGC, NDA, CDS, OTA, SSC, NA, PABT, 
Special Entry Scheme for Women, Army Candidates :
(SCO), PC(SL), ACC,
Navy Candidates:
CW, SD, HET,
Air Force Candidates:
F(P), GDOC
, Branch Commission and
NCC C
certificate candidates for all wings.
There are several SSB coaching institutes in India for SSB interview coaching in Delhi, Chennai, Bangalore etc. but candidates must go for a detailed feedback from other candidates before joining any particular SSB coaching institute. We have few good coaching academies with unbeatable record of success for providing coaching for SSB Interviews.
We have few premier, the Oldest and the Best Academy for Services Selection Board (SSB)Interviews for officer level entry into the Armed Forces of India (Army, Navy, and Air Force).
Also Check:
1. Lt. Col. Deol's Minerva Academy, Punjab:  Founded by Lt. Col. I.S. Deol and started in August 1955 at Shimla.
Key Points:
Premier Institute established in 1955.
Over 35000 successes with over 1000 top positions.
A campus with unmatched infrastructure spread over 10 acres.
On an average, we produce two officers per day.
Every fourth officer in the India aremed forces has been our student.
Former Chief of The Indian Army, General J.J.Singh – a Proud Minervan, has been a student of this academy.
Location easily accessible– well connected by Rail, Road and Air.
2. Baalnoi Academy, Major HS Kalsi, New Delhi: Founded by Major HS Kalsi, Ex-NDA, started in 1997.
Key Points:
Highest Selection Rate 97-2012.
Approximately 35% GCs undergoing Training in various Academies are trained by us.
On an average we produce two officers every day.
3. SSB Universal Counselling, Lt. Col. Rajeev Devgan, Meerut: Founded by Lt. Col Rajeev Devgan, Ex.GTO, started in 2001.
Key Points:
Best institute with hi-tech equipment and excellent results.
Institute established in the year 2001.
Complete testing module on electronic gadgets for easy assimilation.
Continuous teaching, counselling and validation.
Special attention to army personells and repeaters.
Up to 90% selection rate.
Individual attention & satisfaction to each student.
Hostel facilities for men and women.
All round development and improvement in general awareness and communication skills.
4. Olive Greens,Chandigarh: One of the best coaching academy with excellent track record and state of the art facilities for aspirants.
Key Points: 
Imparted gainful training to over 4000 candidates.
90% selection rate in Stage – I of testing at SSB.
Only 6 – 7% candidates are selected by SSBs at all India basis, while OG, Institute has consistently maintained 45% selection rate.
Selection rate of women candidates is 70%.
The success rate of following Military & Sainik School candidates trained by us has been recorded as high as 60 % – 80%.
5. Shankar's SSB Academy, Salem, TN: One of the best coaching academy in South India, founded by Lt. Col Bala. They have an excellent track record with 75% success rate. One of the best academy in Chennai region as well.
Key Points:
Special focus on repeaters by excellently analyzing their weak areas and improving them.
The motto of this academy is to work in non-commercial way and the aim is to provide training to aspirants.
Special training on screening process, with 95% screening results till now.
Focus on individuals performance, individual counselling and analytic.
Team of Professionals and ex SSB boards officers.
or
General Ranjit Academy: 
One of the very young and promising academy under the supervision of Major General(Dr) Ranjit Singh AVSM,VSM (Retd.). General Ranjit SSB Academy is a premier SSB Coaching Academy and one of the best for SSB Interview Coaching, NDA Coaching, SSB Training, Soldier Recruitment and SSB Guidance. You can read more about
General Ranjit Academy
here.
All academies mentioned above are good for:
NDA ssb coaching
SSB Interview coaching.
CDS ssb coaching
PABT Test
AFCAT written Test
AFSB coaching
NDA & CDSE written preparation.
Siegwald Academy For Leadership Training in Kolkata
S.A.L.T. – Siegwald Academy for Leadership Training has opened its first branch in Kolkata in April 2015 to train and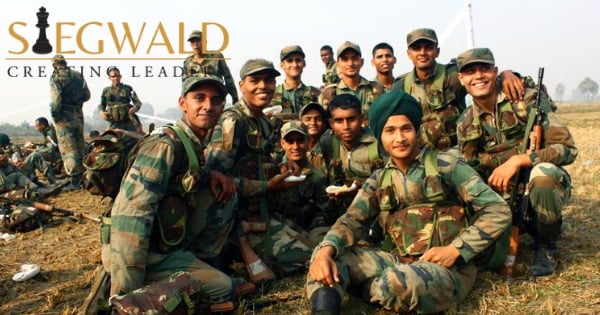 prepare aspirants for The Army, Navy, Airforce and Territorial Army. Former Armed Forces Officers from the SSB prepare the candidates for their SSB. With complete indoor and outdoor facilities, the SSB training is very comprehensive. The written coaching for NDA, CDS, ACC, AFCAT & Territorial Army  is very well structured to help the candidates prepare thoroughly. The written faculty are well versed with the exam pattern and make the students practice via regular Mock Tests. It is the only Academy for Defence Entrance examinations and SSB with complete facilities for the required training in Eastern India.