A young Arunachalee from Dirakpathar village in Bordumsa, Zaukhumgam Singpho has cracked the 11 SSB Allahabad in his very first attempt and ranked 16 in the 'All-India Ranking'.
A graduate in history, Zaukhumgam is the only candidate from Arunachal Pradesh to get through in the 11 SSB Allahabad.
He is amongst the 45 batches selected out of 4,200 applicants and will start his 11-month training course of the 41st batch at the Officers Training Academy, Chennai from April next for commissioning into the Indian Army as a Lieutenant.
He will also become the first Singpho to be commissioned as an officer into the Indian Army. Son of Samchingam Singpho and Roija Singpho, Zaukhumgam was an energetic NCC cadet who attended the Republic Day Camp in New Delhi and represented India in 2014 in the 'Youth Exchange Programme' in Russia.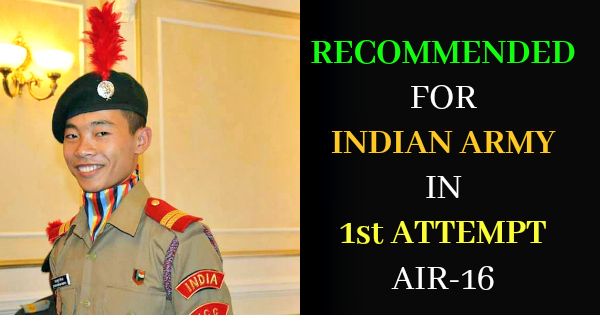 He was also adjudged the best cadet and held the rank of 'Senior Under Officer'.
The Singpho Development Society, Miao Sub Division Youth Organization and Miao Mothers Association in a joint release extended congratulations, saying "Zaukhumgam Singpho has not only made a niche for himself but made his family and the Singpho society immensely proud. On the eve of the 33rd Annual Shapawng Yawng Manau Poi, the success of Zaukhumgam has come as a blessing and a precious gift", the release said.
To crack SSB and AFSB Interview get "Let's Crack SSB Interview" Book from Amazon. Trusted by thousands of defence aspirants
Also Download Helpful eBooks: