This is the latest video posted by Shifuji Shaurya Bhardwaj who apparently claimed to be elite forces mentor today uploaded a video in which he has answered the people who lodged a complaint against him for stolen valour? As most of us think that he is from Indian army and trains Indian special forces, there are so many images of him wearing army uniforms and special forces insignia and training soldiers, in this video he said that it was created by others to defame him but still after this video there are many other questions which he has not clarified.
If he is not a soldier why does he wear special forces insignia and army uniform? We are following him since long and these images are on internet since long even before he was famous. SSBCrack was the first to post about him 2015 thinking that he trains Indian army commando (as claimed by his website), the same article is still on the website and you can check it here
His official website still shows following lines as description "Grandmaster Shifuji Shaurya Bhardwaj,Mission Prahar,Shaurya Bharadwaj,Black Cat Commandos, Indian MARCOS Commandos,Indian Special Forces". When he has never trained any special forces, why does he use their name in his website?
In this video he has called few people as "traitor" these are the people who want him to clarify this and stop using name and fame of Indian army. These people include many retired officers and specially one man named "Abhishek Shukla" who has started this all, he has filed many complaints and started a petition on Change.org. Shifuji has called these people as traitor which is ironic because on one hand he says he respect soldiers and on the other hand when these soldiers ask him to stop using Indian army fame, he labels them as traitor.
He has claimed that all the images are photo-shopped, but the same images are used by his social media accounts which he has linked on his YouTube video channel which is his official YouTube channel with well stabilised production team. After the complaints, there are huge changes in his website and social media which is again very shocking.
On the other hand, it is good that he has clarified it because there are many people who still think that he is an Indian army officer and trains PARA commando.
RTI from Ministry of Defence (Navy) which clearly said that no person named Shifuji Shaurya Bhardwaj has ever worked as a Marine Commando in the Indian Navy and has never been involved in training Marine Commandos.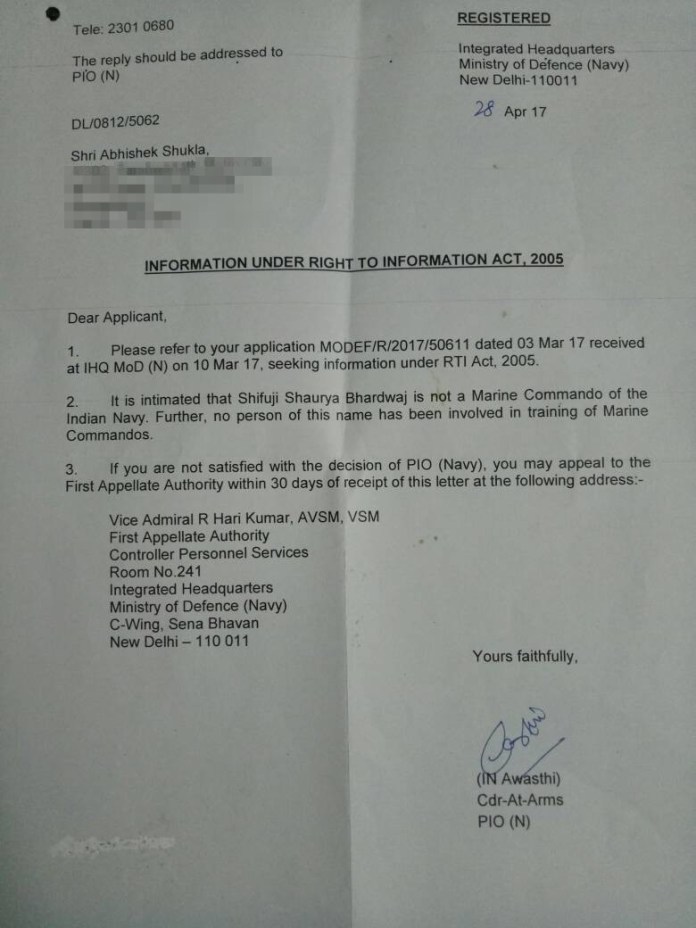 Video From Abhishek Shukla

Video From Shifuji