If you haven't read the part 1 you can read it here. When I reported at the academy, I was asked to keep my baggage aside and start frog jumping. I didn't know what that was but seeing the other cadet who perhaps reported a few minutes earlier doing some funny thing, I immediately started following him. I soon caught up with him and we both slowly jumped our way to the cadets' accommodation area where we were welcomed by our seniors. It was one hell of a welcome, I thought. After a brief welcome, we were asked to run back to the main gate to fetch out baggage. Running was the order in the academy. We were not permitted to walk anywhere in the academy except our dormitory.
During our days, the Naval Academy was located in Goa and we never had the luxury of independent rooms for cadets. We lived in dormitories with 11 other cadets. We had a set of common toilet and showers in for a set of two dormitories which mean 24 of us had six pots and showers to use. The day would begin at 4.30 AM as we had to get ready by 5.30 AM for Physical Training and the rush at the toilet used to be eternal. One could not even crap at peace as someone would always be knocking at your door. The physical training would last for an hour and by the time we finish at 7 AM our undies would be dripping literally.
Once back, the rush would now be for a bath. The showers were open without doors and taking bath naked in public view was the order. I had never done this before and it took a while to learn this art. My course mates from Sainik and Military Schools were used to it and made us feel comfortable. We had to hit the dining table by 7.30 AM so as to proceed to the parade ground for daily parade training by 8 AM. The Parade would last till 9, followed by classroom session till 1 PM. This was one hell of a routine. In the dining hall, we had to sit in between our seniors and learn the table manners and use of cutlery the hard way. There were ingenious methods of training the juniors. One of them was square meals, where each time you want to eat you had to make a square in the air and then put the stuff in the mouth. Sometimes one may be asked to make double or triple squares and once you have been ordered to do that, there is no way one can excuse and leave. Initially, one would barely get to eat 3-4 slices of bread in the available time.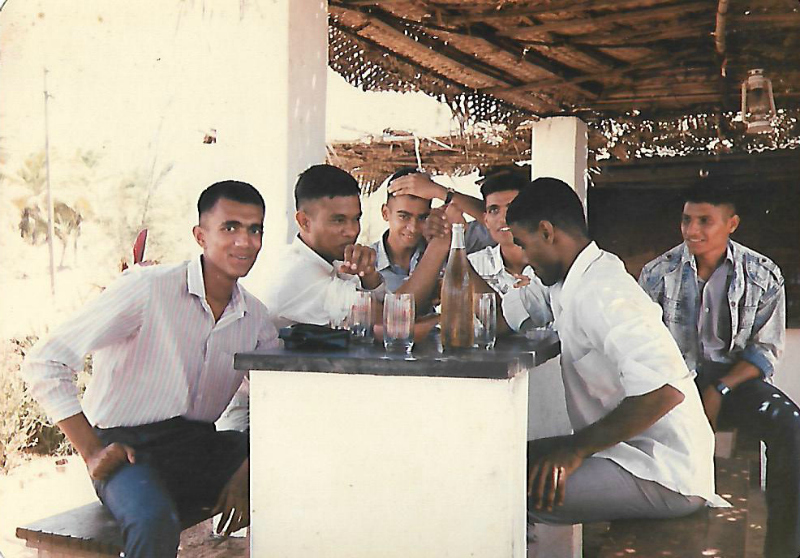 Initial days were very tough. After the morning PT and Parade, when we enter the academic block almost all of us would run to the toilets which used to be the only source of water. But, even that used to be denied by closing the valve. I gradually learnt to live this life. There were times when we used to literally suckle water from the tap next to the shit pot. With the kind of physical workout, there was no way we could keep awake in the class. Invariably we used to sleep, get caught, get punishment and sleep again. Some of us slowly learnt the art of sleeping with their eyes open. I still remember one of my course mates who could sleep even while standing facing the wall. I am sure you must be thinking that I am exaggerating. But these are facts of academy life. Even though I was on the fitter side, there was no way I could cope up with all this. Back for lunch, one had to make sure he is perfect in table manners and the use of cutlery else he would go without lunch too. We barely get an hour in the dormitory after lunch and had to go for sports that would last until 5.30 PM. By 6.30 one is expected to be doing self-study and there is pin drop silence everywhere. 8 PM is the dinner time and by 10 PM the lights are out and it was compulsory to sleep. Well, this routine was impossible for many including me. My biggest waterloo was academics as I suddenly found myself doing a B.Sc degree course after doing 1 ½ years of commerce, while all my course mates were fresh out of the high school with very good scores. Integration, Differentiation, and Trigonometry were my waterloo. Hell, I didn't know how to handle those. The worst part was, I couldn't even ask my friends to help as we barely got 1 ½ hours to do self-study. I pulled on like this for 4 ½ months and finally had to face the semester exams. No wonder, 7 of us failed and I failed in three subjects. Each subject meant forgoing a week of the term break and reappear in the exam and if we fail again we would be relegated. While the other 6 left for their homes after a week, I barely got a week to go home and come back. Going home was never my concern but clearing the three backlogs was a great challenge. I barely got two days at home and returned back to the academy. The biggest regret was, I could hardly meet my heartthrob. I will write about her in my next blog.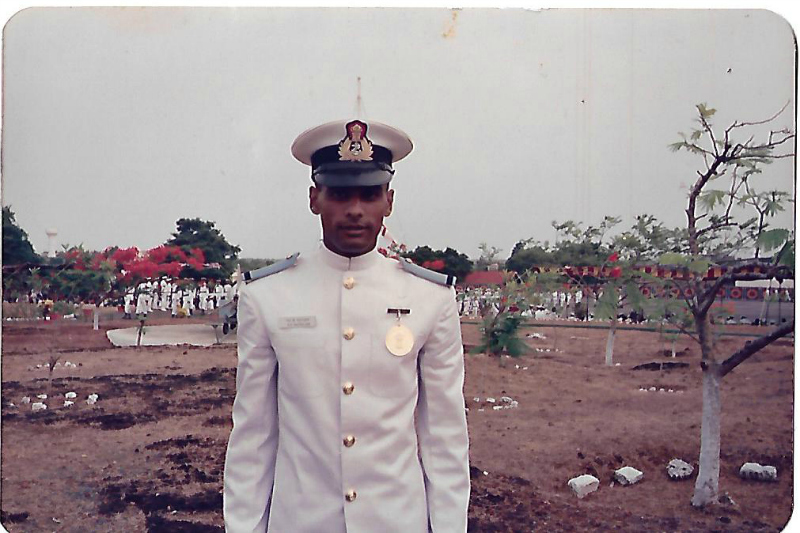 Back in the academy, the sword was hanging on me but luckily I had barely passed in all the three subjects and thus moved to my next term. Hell, it was one great relief. Life continued like this through the next term. While I could cope up with physical activities, academics remained my challenge. But I gradually learnt how to cope with the rules of the academy. I hardly missed my meals as I mastered the table manners. I grew fitter and PT / Parade became my strength. I was naturally good in sports and started proving myself. I started representing my squadron in Hockey, Athletics, Gymnastics, Handball, Dramatics, and Football etc. But Academics was one hell of a challenge. I still remember the days when we started learning Operations Research. The instructor, a South Indian, would call the subject as "OR" and for several days I thought I am learning "War". Intermittently, in between my sleeps, I would wonder how is "War" related to equations? As luck would have it, I was caught sleeping in the class and was asked to define 'OR' which I knew as 'War'. And I simply answered that "it's a fight that happens between two countries". I am sure you can image what must have happened to me thereafter. I became a laughing stock in the entire academy. Higher-level integration sucked. This 'OR' or 'War' was killing me. I started to feel that I have no chance here. But, I had no options. I didn't want to go back home as a failure. The only thing I could do was violate rules to study more. I had a pocket torch and after 10 in the night, I used to cover myself with a blanket, pretending to be sleeping, but study using my pocket torch. But this trick didn't last long. I was caught by the duty officer and punished the whole night. Didn't know what to do, I followed the routine for some time and then evolved a new method. Around 10, I used to get myself locked in the toilet, cover the pot, sit on it and study till 12. This idea worked for a few months and thereafter, I was caught again and screwed. But I continued this regardless depending on who was the duty officer. Finally, I took the second term exams and to my delight, I had managed to barely pass. I was happy to be home for the entire term break. I got to spend some time with my sweetheart too and returned back to the academy with more confidence, as I had learnt the tricks of the trade.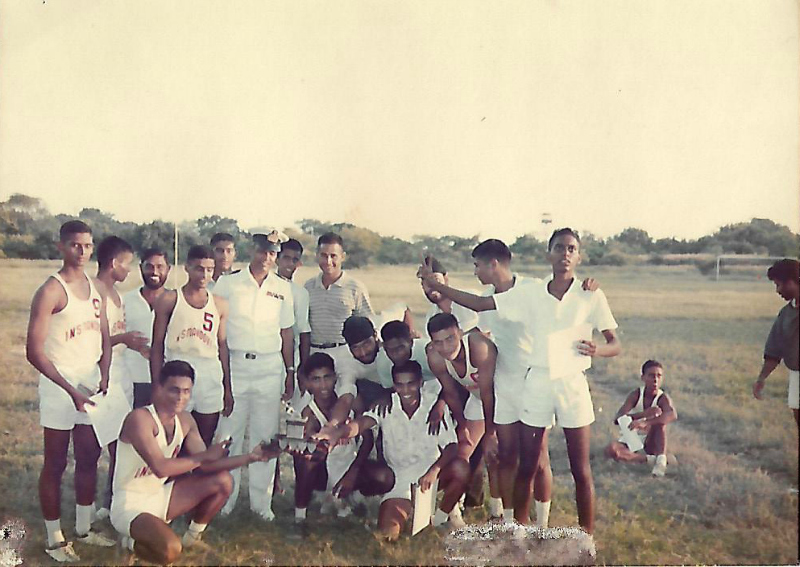 I knew nothing of competition those days, as I was still struggling for survival. The subjects changed and I was learning things like Thermodynamics, Radar Theory, Meteorology, Electronics, Oceanography etc. and all these subjects were making sense to me. I realized one very basic thing then that your early education has nothing to do with how you fare in higher studies. It's all about your aptitude and desire to learn. You would be surprised to know, that I had to learn OR 6 more times while pursuing higher studies and post retirement, I even taught OR at post-graduation level to B-School students. I will write more about it later.
By then, Physically, I had become a stud and PT, Parade and Sports had become a cake walk. The 3rd term was magical. Things started happening naturally. There were springs in my stride and at the end of the term I had, for the first time, crossed the magical barrier of 60% in my life. Hurray!!! I said to myself and went home. Had a gala time and returned back.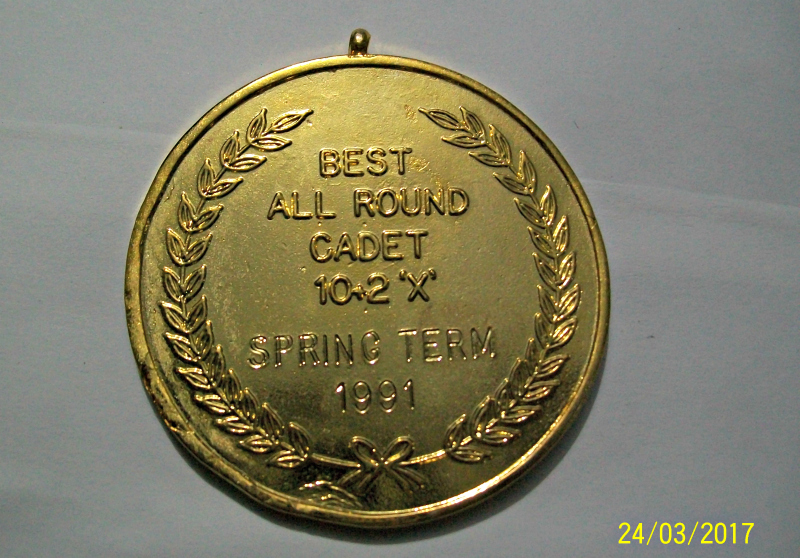 During halfway through the 4th term, the interim merit list of the course was published and I was surprised to see my name appear at the 5th position. I couldn't believe this. I initially wondered at the system but later learnt that the weightage for academics are low in the first three terms while that of the physicals were more but that equation changes from the 4th term. Though I never ever contended myself to be in any type of competition, my heart wanted to give it a try. I started focusing on academics more as I had already earned a position in sports and extracurricular activities by then. I was selected to represent the Academy in Intra University sports events like Athletics, Gymnastics, Hockey etc.
When the 4th term results were declared, I was very much in the reckoning. I, for the first time realized, that I am in contention. When I returned back to the Academy for the 5th term, our seniors had passed out and we became the Academy seniors and I was the first Academy Adjutant. My course mate who was academically good was the Academy Captain. The Adjutant is supposed to be the tough guy of the academy and I played that part well. There was a new sense of pride in wearing four stars on the chest. I was handling the first leadership role of this magnitude and that brought more pressure on me. But, the sense of achievement was more than enough to do that extra hardship. The roles were rotated and other top contenders were also given a chance so as to assess the leadership potential of all. By now, I was well set in academics as well as sports/extra-curricular activities. There was a new found confidence in me and I started looking up. I grew from being a struggler to an aspirer. The term ended quite well and I had fared even better this time.
We returned for the final term after a nice vacation. I remained focused and gave my best in everything that I did. I was still not doing anything to top the course. But the image of my senior who was adjudged the best all-round cadet and received the President's Gold Medal was still very fresh in my memory. I for once thought, how my parents would react if that happened to me. The last term moves on very fast as there is intense preparation for the passing out parade. The final results are normally announced two days earlier as the prize winners had to practice. Like all others, I made sure my parents attend the passing out parade. I made arrangements for their stay in Goa and was very eagerly looking forward to that day.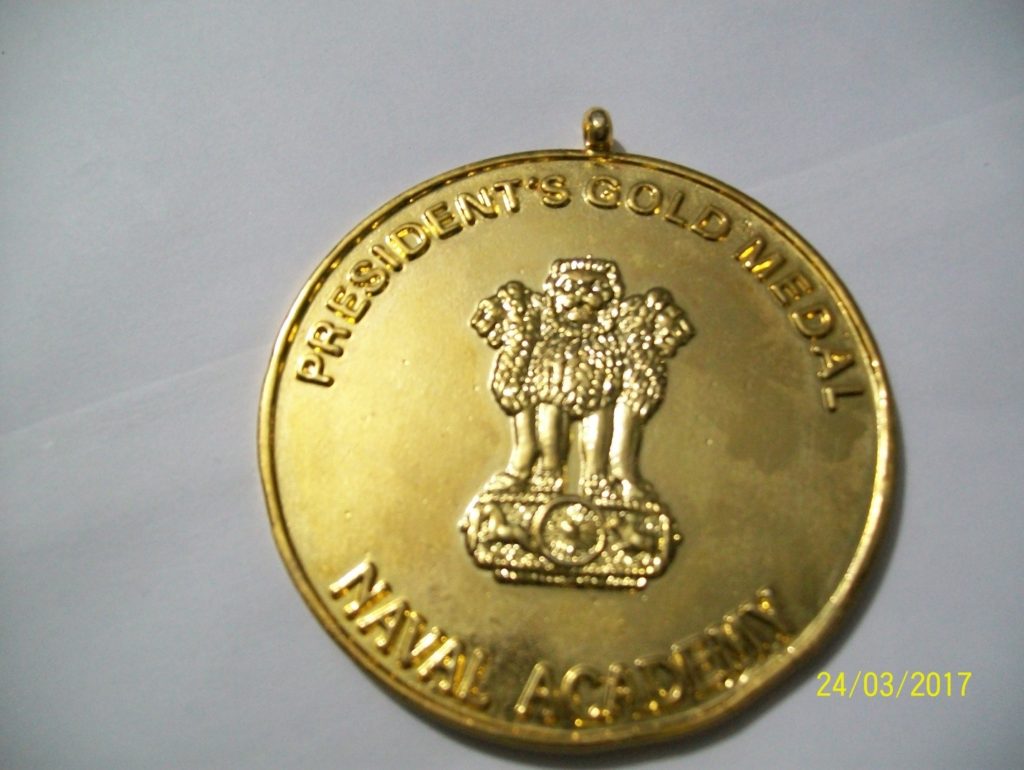 Amidst all hustle and bustle, the final results were announced and to my utter surprise I was adjudged the Best All-round Cadet and was to receive the President's Gold Medal. The best in academics receives the Silver and the second best in overall merit receives the Bronze. I was dumb stuck and didn't know how to react. Everyone was congratulating me and I didn't know how to handle this success. My parents were traveling and hence I couldn't even inform them as there were no mobile phones those days. They landed the previous evening and we were not allowed to go out to meet them. Parents were picked up from the hotel in the academy bus and brought straight to the parade ground to witness the passing out parade and there I was proudly commanding the academy parade.
The final moment arrived and my name was called out to come to the dais and receive the gold medal. I laid my sword, marched to the dais and proudly received the gold medal. I could meet my parents only during the breakfast and could see my father's eyes well up in tears. He hugged me for once and that said it all. My mother as usual was all smiles as if telling my father, "look I always told you that our son would make us proud one day!!!".
This was the first success of my life and I never looked back thereafter. I will write more about my journey called Life in my next blog. Stay blessed…
But there are a few lessons one could learn from this story:-
First survive and then work towards growth. Success doesn't come quickly. It tests your patience and perseverance.
Never compete with others. Compete with yourself and improve your own performance. The competition takes away the focus. Run after excellence and results will run after you.
Fortify your strengths and constantly work on your weak areas.
Seek success to make your dear ones happy. When you work for your gratification, it becomes drudgery and we you work for someone else, the motivation is much higher.
Never be complacent and never give up.
To Unravel the Secret Strategies to Crack the SSB Interview, Get my Video Lectures Now!!!