Finding that the Indian Navy had discriminated against a Patiala boy, thus depriving him of the officer's post, the Punjab and Haryana high court has directed the Union defence ministry to allow him to join the Army. He would join with same seniority which other candidates who took the test with him and had already joined the training academy.
The practice says, a candidate on being declared medically unfit for the Navy if his eyes are found to be 6/9, can be considered for the Army where such lower vision is permissible. In the present case, the naval headquarters failed to forward his case to the Army headquarters because of which petitioner was not considered for joining the Army.
While issuing directions, the HC also ordered that even if a vacancy is not available the Indian Army would appoint him "by deduction from future vacancies or by creation of a supernumerary post".
Justice Rajiv Narain Raina of the HC passed these orders while allowing the petition filed by Vishu Jain, a resident of Patiala. The petitioner had appeared for the selection for 10+2 (Technical Entry Scheme) 2015, for joining officer's rank in the Indian Naval Academy, Ezhimala. He had qualified all the necessary tests, including the Services Selection Board (SSB) interview. However, both of his eyes were found to be 6/9 making him unfit to join Indian Navy.
Accepting his disqualification for Navy, the petitioner relied on administrative precedents where candidates like him were inducted in the Indian Army for appointment under the 10+2 Technical Entry Scheme Course 33. He referred the cases of Abhishek Singh, resident of Jhansi, Madhya Pradesh; and Rishab Mathur resident of Ghaziabad, Uttar Pradesh. They were co-aspirants with him for appointment in the Indian Navy but were considered for Army after being downgraded in medical test due to vision problem.
The naval authorities had to send the application to the Army for considering the candidature of the petitioner but failed to do so in Jain's case.
In his petition before the HC, the petitioner alleged that because of negligence of the Navy, he was not only deprived from joining the 10+2 (Technical Entry Scheme) 33-course but also missed for 34-course that commenced training in January 2016.
In its detailed judgment released last week, the court held that the action of the Indian Navy in not transmitting dossier of the petitioner and lazing over the matter and prolonging the medical examination till final conclusion is "unfair, arbitrary and unconstitutional".
"It must be remembered that candidates for 10+2 Technical Entry Scheme Course were fresh out of school and would not be expected to guard their rights as adults could do with experience of life. The authorities could not express their helplessness in not concluding the case and transmitting the docket with necessary certification before the cut-off date and offering reasonable opportunity to the petitioner of induction into the Indian Army," observed the court.
source: timesofindia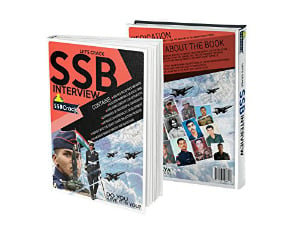 To crack SSB and AFSB Interview get "Let's Crack SSB Interview" Book from Amazon. Trusted by thousands of defence aspirants
Also Download Helpful eBooks: