The Sarang Helicopter Aerobatics team of the Indian Air Force enthralled the audience at the National Defence Academy (NDA) with its breathtaking manoeuvres, one after the other, on Tuesday. A notable member of the team was Squadron Leader Sneha Kulkarni, the first woman pilot to be inducted into any aerobatics display team in India.
The display by the four helicopter team was a key attraction on Tuesday morning at NDA, after the passing out parade of the 132nd course of the academy. Termed as brand ambassadors of the Indian Air Force, the Sarang team, with four painted helicopters, performed 11 stunning manoeuvres, each one more magnificent than the earlier.
The team is currently led by Wing Commander Sachin Gadre.
On what it feels like to be part of the iconic team, Squadron Leader Kulkarni said, "Needless to say, it was a great feeling. It was also exciting and humbling at the same time.. to know that many girls are looking at me as an example. More and more women are being inducted into the arms of services… there were none in the past."
Kulkarni (31) and her brother, who is an officer in the Indian Army, are carrying forward the legacy of uniformed services from their father, late Bhalchandra Kulkarni, who was an assistant commissioner of police and had served across Maharashtra.
The family is originally from Jalgaon and is currently settled in Navi Mumbai. Kulkarni was commissioned into the IAF in 2007 and was inducted in the Sarang display team over an year ago.
On Tuesday, when the team held its display in front of the Sudan Block of the NDA, two other women members — Squadron Leader Tinju Thomas, the team commentator, and Squadron Leader Nidhi, the team engineer who was in-charge of the technical aspect — played key roles.
"More women getting inducted into key units of the armed forces is a major change, compared to the past. And every change takes time and tests our courage and patience. I am confident that women can do it… as armed forces provide a conducive environment," added Squadron Leader Sneha.
The Sarang Helicopter Display Team has evolved from the Advanced Light Helicopter (ALH) Evaluation Flight, a group which was formed in Bengaluru in 2003, to evaluate the indigenous helicopter Dhruv, prior to its induction into operational service. The evaluation paved way for the formation of an aerobatic display team, with an aim to showcase the professionalism of the Indian Air Force and the milestones achieved by the Indian aviation sector.
In June 2004, the group was converted into a 151 helicopter unit and the team was renamed Sarang, the Sanskrit word for peacock, the national bird of India. The synchronised aerial ballet of four painted 'metal birds', as the team members call them, draws comparisons with the graceful dance of a peacock. The unit is based at Sulur, near Coimbatore, since 2009.
source: indianexpress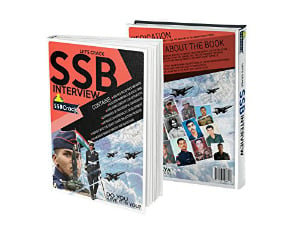 To crack SSB and AFSB Interview get "Let's Crack SSB Interview" Book from Flipkart. Trusted by thousands of defence aspirants
Also Download Helpful eBooks: