Hello, Aspirants… Myself ADITYA BHARDWAJ from Rewari, Haryana. It started with me giving NDA SSB at Allahabad and getting screened out. Then I gave UES , SSC- Tech, Naval Entries, AFCAT. Out of 12 attempts, 7 times I got screened out. It breaks the heart and you start losing hopes but 'positivity' matters a lot. In first few attempts, I was going to SSB just to try my luck.
My GK was very poor (which is a very big factor and I'll explain it later) In last 2 attempts, I prepared very well and gave my best. That's a short description about me.
Let's talk about tips.
TIPS
G.K. is very important. It's not because of knowledge. It's important because it gives you the confidence to speak anywhere and everywhere. When we come to SSB, most common discussion topics are usually GK ones. So if are well prepared, you'll get an edge over your group mates. They'll start listening to you. So prepare it well.
OVERALL performance matters. It's a common myth that we do good in few 'over rated' tasks mentioned on the different websites, we will get selected. It's not like that… If an activity is not important for your selection, it will not be a part of SSB (common sense). Because SSB doesn't have time to conduct entertainment activities.
Trust the system and keep yourself positive. Keep one simple thought in mind. "If I didn't get selected this time, that means I am lagging somewhere and I have to overcome it". So basically be 'better' than what you were in the previous attempt. And you can't predict whether you'll be selected this time or not, but you can definitely feel whether you are better than your previous version or not.

Dream Achieved

Please don't run behind recommended candidates for the things they did. You can make them your inspiration but please don't copy their actions. They did what they felt was necessary, you do what you feel is necessary. Best tip for this is "Imagine yourself as an Officer and try to do things (in daily life)
Don't behave like an officer just for 5 days of SSB. SSB is a test of our personality and our personality can't be changed just for 5 days. For the same reason, I told you to imagine yourself as an Officer in your daily life.
Current Affairs questions will be from last 5-7 months (for AFCAT, NDA, CDS, TA)
Overall Tip
Detoxify yourself with the ideas which recommended candidates followed.
If you want to behave like an officer in SSB, behave like one in your 'daily life'
Please don't follow myths (hell lot of myths are there for SSB)
In GTO, consider every task as Snake race … Where, even if you alone complete a task, it doesn't matter unless your whole team completes the task. So always take care of your team.
Your attempts don't matter. In fact, your happiness of getting recommended gets multiplied with the no. of attempts.
All the very best for SSB. My fingers are crossed for the merit list.
You can contact me if any doubt is there
Mobile : +91-8088769893
Email: adi9357@gmail.com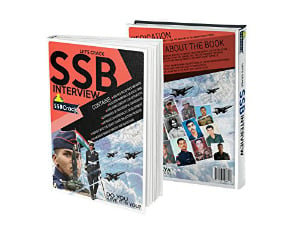 To crack SSB and AFSB Interview get "Let's Crack SSB Interview" Book from Flipkart. Trusted by thousands of defence aspirants
Also Download Helpful eBooks: