Being perfectly qualified or possessing all the required skills and talents won't necessarily land you up at your dream job. Wearing inappropriate or outlandish attire to an interview can potentially cost you the job. Your clothing can influence your chances of making through the SSB interviews. Before you utter a single word at SSB, you have already made an impression by the way you have dressed up for the occasion. So, always dress your best when interviewing.
Consider these tips for immaculate dressing at the SSBs.
Colour and Appearance of the dress: Choose a Solid Colour That Isn't Distracting.
Choose a colour for your dress which is pleasant and doesn't prick in people's eyes. You want your assessors to focus on you, not on your pink paisley shirt, right? So, instead of picking busy, printed patterns; choose solid colours that reflect your personality and aren't too loud or too dull. Stick to brighter hues, choose dress materials that cause less sweat and bad odour and you are comfortable in. Avoid unmanageable dressing that knocks your self-esteem and confidence down. Dress up in few colours at a time so that they blend and harmonise with each other.
Current Affairs questions will be from last 5-7 months (for AFCAT, NDA, CDS, TA)
10 Tips To Dress Up For SSB Interview Success
Shirt: Choose a shirt that's light in colour, preferably white, because it suits for all occasions. Wear full sleeve shirts (three-fourth length or half sleeves do not give that formal look). Also, don't fold the sleeves of your shirt at the interview panel. Don't carry anything in your shirt's pocket.
Trousers: Choose dark coloured trousers or pants which aren't of loose or tight fitting and make you walk faster and free. Checked trousers also give a nice, decent appearance. Avoid stuffing your trouser pockets with things that give bulgy look.
Tie: Avoid flashy and lustrous ties, prefer ties made of silk material, as they are easy to fold and make a perfect knot. Remember to team up ties appropriately with the colour of your trousers or pants.
Shoes: Stick to black or brown formal shoes for PPDT, interview, psychology tests, and white PT shoes for the GTO tasks. Always polish your shoes before going for your tests. Choose shoes (black/brown ones) with lace because they give perfect look and grip while you walk, filling you with more confidence. Lady candidates can wear black flat belly shoes without any patterns or designs.
Perfume: Avoid loud and overpowering perfumes because they really hinder the atmosphere of an interview, disperse irritating smell and distract assessors and your fellow mates. The purpose of the perfume or body spray should be to conceal your body odour. Choose perfumes of pleasant, gentle, and fresh fragrance. Lady candidates are especially requested to use mild perfumes. Spraying perfumes or sprays over your shirt may cause stains or marks which are visible when dried up and give bad impression. Try avoiding that.
Other Accessories and Ornaments: Wear limited jewellery. Lady candidates should keep their jewellery and hair accessories to a minimum, and stick to those that are not flashy, or distracting. Stay simple. Don't wear bracelets or other ornaments. Avoid wearing designer rings (wedding or engagement ring is fine).
Hair Style: Neatly combed and well trimmed professional hair always gives an impressive and influential effect on your personality. Get a haircut prior to your SSB because flying hair during your tests would cause you discomfort. Lady candidates must tie their hair in a bun or if you have short hair, a neat pony tail or braid will work.
Nails: Neatly trimmed and manicured nails form a good impression because your hands are always placed in your lap so they are easily noticeable for most of the time. Also, it reflects your personal hygiene organisation and management.
Spectacles: Cleanse your glasses well before the tests so they don't give you hazy and blurred vision and cause discomfort.
Handkerchief: Always carry a clean handkerchief with you preferably of pure white colour (any light colour).
Play It Safe With Ink, Piercings, and Facial Hair:
You must go through the rules for body tattoos, directed by the Armed Forces. So be watchful of the criteria of inking any part of your body. Try avoiding piercings in eyebrows or chins (For lady candidates, nose piercing is absolutely fine). Male candidates must shave before the interview and keep their moustache trimmed and shaped.
Pay attention to minute details:
01-Your clothing should be neat, clean, and pressed.
02-Make sure you have fresh breath. (Use mouth wash/freshener/Listerine)
03-Lady candidates must avoid makeup and nail paints.
04-Your hair must be neat, clean, and conservatively styled.
05-Don't wear cologne or aftershave.
06-Wear white socks with the formal shoes.
07-Maintain personal hygiene.
08-Tuck in your shirts neatly.
09-Wear simple and sober wrist watches.
10-Avoid fancy belts, wear belts with buckles of appropriate colours.
11-Avoid smoking before the interview.
12-Clean your eye corners before the interview.
13-Avoid chewing gums or candies during the tests.
P.S. Always wear your smile. Best dressing up tip!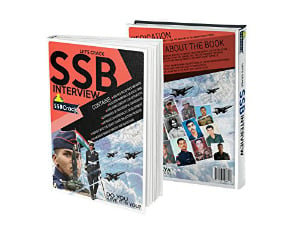 To crack SSB and AFSB Interview get "Let's Crack SSB Interview" Book from Flipkart. Trusted by thousands of defence aspirants
Also Download Helpful eBooks: