Indian army is calling interested and eligible candidates to join Indian army recruitment rally which is going to held in Ranchi in Oct 2017. Candidates can apply for the Indian army bharti online from 5 Aug 2017 till 18 Sep 2017. If you are interested you must apply online at the Indian army official website, you must read the official notification of the recruitment rally at Ranchi which is linked below.
Recruitment Rally Category
Soldier General Duty
Soldier Technical
Soldier Technical (Ammunition Examiner)
Soldier Nursing Assistant/NA Veterinary
Soldier Clerks/SKsT
Soldier Tradesmen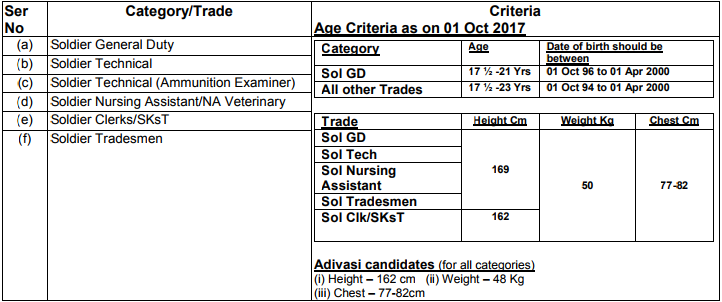 Rally Bharti Ranchi ONLINE REGISTRATION
Candidates are advised to register themselves and apply for participation in rally between 05 Aug 17 to 18 Sep 17 on http://www.joinindianarmy.nic.in
Only those candidates having valid admit cards will be allowed to participate in rally.
Admit Cards will be available on Indian Army site only after 21 Sep 2017. Candidate will take the printout of Admit Card in Black & White and from LASER PRINTER only.
RALLY PROGRAMME: The detailed rally programme (Day Wise) will be published separately laterin Newspaper after 19 Sep 2017 and the date of rally will also be reflected on the Admit Cards.
Recruitment Rally Education Qualification
Sol GD (All Category): Matric pass with minimum 33% or D grade in each subject & minimum 45% OR C-2 grade or 4.75 points in aggregate OR 10+2 Simple pass.
Sol Tech & Sol Tech (Ammunition Examiner): 10+2 pass in Science with Physics, Chemistry, Maths and English with min 50% marks in aggregate 40% marks in each subject. OR 10th pass with min 50% marks in aggregate if holding 3 yrs Diploma in Engg from an AICTE recognized institute.
Soldier Nursing (Nursing Assistant & NA Veterinary): 10+2 pass in Science with Physics, Chemistry, Biology & English with min 50% marks in aggregate and 40% marks in compulsory subjects. OR B.Sc Degree (Botany/Zoology/ Bio Science) and English simple pass. However, in 10 + 2 all the four specified subject should be studied.
Soldier Tradesmen (10th): Simple Matric pass for all Cat.
Soldier Tradesmen (8th) (House Keeper & Mess Keeper) 8th pass for all caste including ST Category (Adivasi) and SLC should be countersigned by District Education Officer.
Soldier (Clerks/SKsT) (a) 10+2/Intermediate pass from any stream (Arts, Commerce, and Science) with minimum 50% OR C-1 grade in each subject and minimum 60% OR 6 points in aggregate and with English and Maths/Accountancy/Book-keeping at 10th OR 12th level with 50% OR C-1 grade in each subject.(b) Graduate in any stream with Maths/Accountancy/Book-keeping and English as one of the subjects, then the stipulation of scoring 50% marks in Maths/English in Class 12th or 10th and Scoring 60% marks in aggregate in Class 12th is waived off. OR (c) Graduate (without Maths and English) should have scored minimum 50% OR C-1 grade in English and Maths/Accts/Book Keeping in class 10th OR 12th.
Recruitment Rally Documents Required: Candidates will bring Original and two photocopies of following documents at the rally site.
Admit Card. Black & White LASER PRINTED Admit Card is required which they will carry to the rally site for admission into the rally ground.
Education Certificate. Registration Card, Admit Card, Marks Sheets and Board Certificates of 10th/12th and Graduation Degree should have been from recognized Board and University. All candidates will carry the SLC & CLC.
Nativity (Domicile) Certificate. Issued by DC/DM Office. NO TATKAL NATIVITY CERTIFICATE WILL BE ACCEPTABLE.
Caste Certificate. Issued by DC/DM Office for Schedule Tribes and for other Caste issued by Sarpanch/Ward Parishad otherwise candidature will be rejected.
Sports Certificate. National/State/District level sports certificate if any (issued within two years). NCC Certificates. Original NCC A, B & C certificate and certificate of participation in Republic Day Parade, New Delhi.