On the occasion of 70th anniversary of independence, Prime Minister Narendra Modi hoisted the national flag at the ramparts of the Red Fort. For the first time, an AMC officer of the Indian army Lt Col Dr. Kanchan Kulhari assisted the Prime Minister in unfurling the National Flag. Lt Col Kanchan Kulhari, the lady officer of Army Medical Corps, was deployed for the first time.
Talking to media after the ceremony, Lt Col Kulhari said that she is very happy and thrilled by this opportunity. So far this opportunity has been provided to the infantry or other cores of the Indian Army. She was proud that for the first time this responsibility was given to the Medical Corps.
This year, the Army was the Coordinating Service, the Guard of Honour was commanded by Lt Col Dheeraj Singh of the Indian Army. The Army Contingent in the Prime Minister's Guard was commanded by Major Sourav Goswami, the Navy contingent by Lt Cdr VV Krishnan, while Sqn Ldr Salil Sharma leads the Air Force contingent and the Delhi Police contingent by ACP Ankit Chauhan.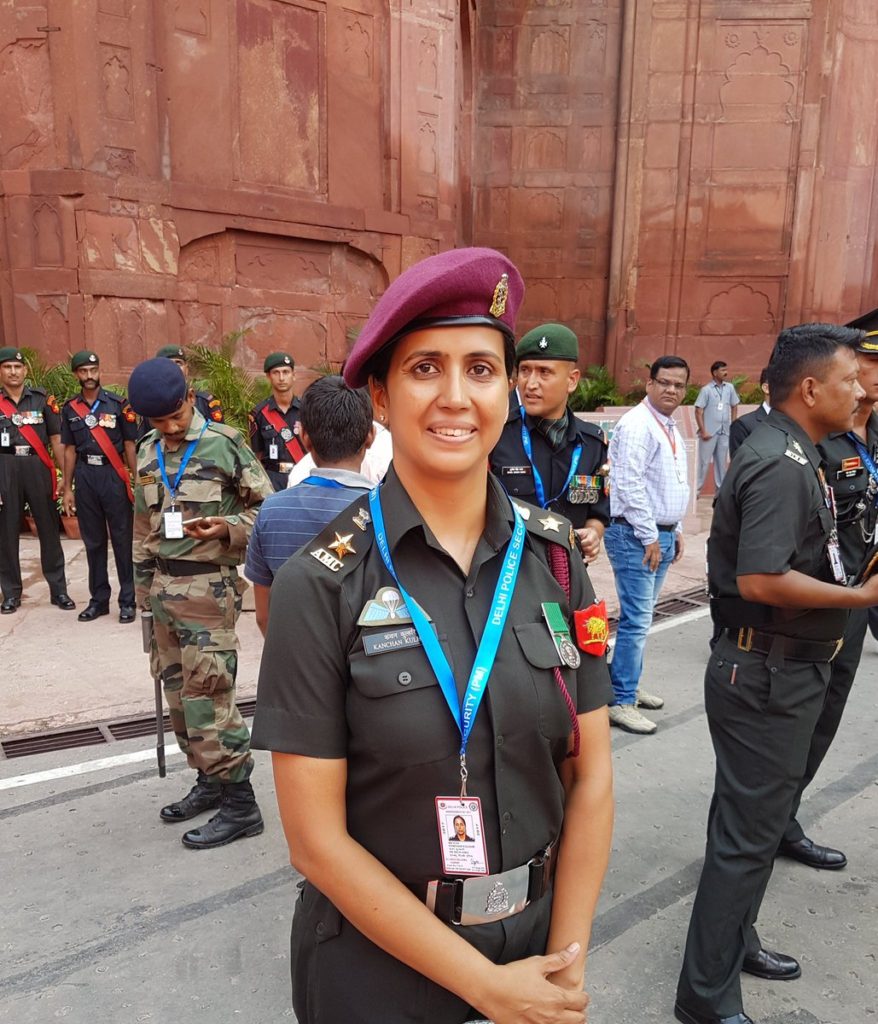 The unfurling of the tri-colour was synchronized with the 21 Gun Salute fired by the valiant gunners of the elite 2281 Field Regiment (Ceremonial). The ceremonial battery was commanded by Lt. Col Aditya Kumar Devrani, Shaurya Chakra, Sena Medal and the Gun Position Officer was Regimental Havildar Major (Assistant Inspector Gunnary) Kolate Rajesh Shripati.
The National Flag Guard comprised 32 men and one officer each from the Army, Navy, Air Force and Delhi Police presented the Rashtriya Salute at the time of unfurling of the National Flag by the Prime Minister. Lt Col Saket Bharadwaj from the Indian Army commanded the Inter-Services Guard and Police Guard. The Naval Contingent for the National Flag Guard was commanded by Lt Cdr MYV Tejas, the Army contingent by Major Gerry Mathew, the Air Force contingent by Sqn Ldr Ravi Tomar and the Delhi Police contingent by Additional DCP Shri Rajiv Ranjan.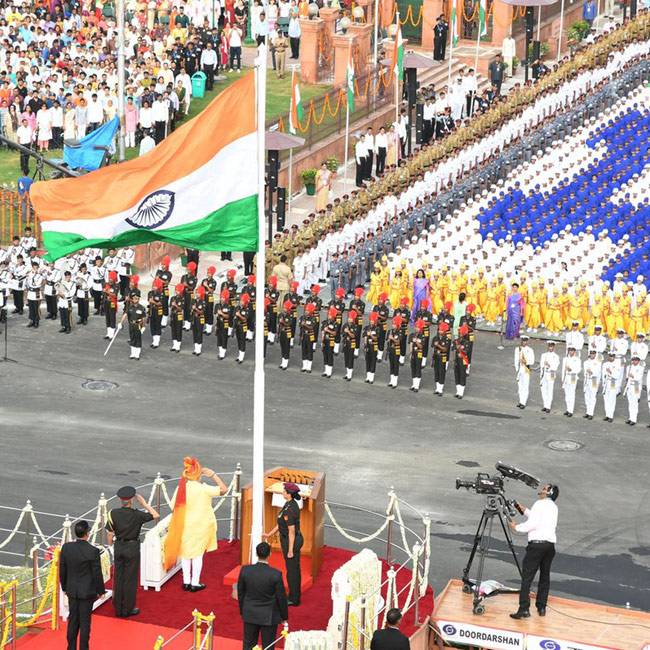 The Army Band played the National Anthem when the National Guard presented the 'Rashtriya Salute' while unfurling the National Flag by the Prime Minister. All Service personnel in uniform stood up and saluted the flag. The Band was commanded by Sub Maj Bhaskar Singh Rawat of the Military Band of the Garhwal Rifles Regimental Centre.
Two Army Officers, Capt Md Hasseb Khan and Lt Vinay Budhwar was be positioned on either side of the saluting dais for the Prime Minister for ADC duties. Lt Col Kanchan Kulhari assisted the Prime Minister in unfurling the National Flag.