5th September 2017. Today, I had the good fortune to attend the campus interview for UES NAVY JUNE 2018 course. Having been shortlisted as per cut off marks, we were called for RCCIIT College here in Kolkata and were told to report at 8.30 am.
I reached there on time and saw that there were a good number of candidates already present beforehand. We completed a number of formalities related to documentation and then proceeded to the Institute Auditorium for initial presentations.
There were 3 officers from the Eastern Naval Command who had come to assess us. The presiding officer was Captain Rahman, and accompanying him were Lt. Cmdr. Juneja and Lt. Cmdr. Das. All the officers were in the white navy uniforms and the uniforms were already inspiring an aura of awe and admiration from the crowd of aspirants there.
Soon, introductions were made and Captain Rahman addressed us. He gave it to us straight and kept his words to the point and concise. He informed us of the hardships, duties, and responsibilities that are part and parcel of the naval lifestyle. Afterwards, the session was opened to the audience as part of a Q&A interaction.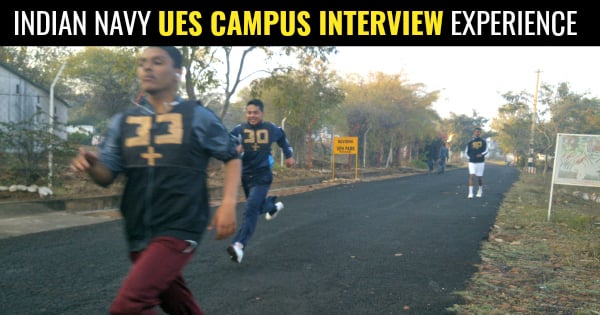 Many candidates had their doubts cleared about the job profiles in the Indian Navy. Some of them asked relevant questions related to the current international socio-political sphere such as Indo-Pak and Indo-China relations. Regimentation in the navy and pays and perks of being a naval officer were also discussed at length.
At the end of this event, Captain Rahman explicitly made it clear that the interview process would be flexible and general awareness and personality would be given higher weightage than technical know-how in today's proceedings. He explained that since we were all shortlisted based on recent semester marks of B. Tech that was enough as per his judgment to justify our technical qualifications. Rather, he felt that it was much more important to judge the personality and mettle of our character so as to render us suitable for the armed forces.
I was in group 1 and we were sent off to a conference room and seated in a semi-circular fashion around a table with Lt. Cmdr. Das sitting at the head. We were instructed to submit our application forms in an orderly fashion and passed it on to the first candidate forming a stack. He asked us to introduce ourselves one by one and speak for a couple of minutes. I was the last one to speak. My short interaction with the officer went as follows:
Me: "Good morning, ladies and gentleman. I am Mrinal. I am a CSE 4th year engineering-in-training from NSEC here in Kolkata. I belong to Bihar but, my father is posted at Deoghar in Jharkhand. I did my schooling from DAV School in Bhagalpur, Bihar and have been quite good with academics since early on. I am the youngest of three siblings. I have a keen interest in public speaking and identify as an orator/debater. (Here, the officer cross examined me regarding my public speaking credentials. I mentioned the events I had won accolades in and he asked me to continue).
Current Affairs questions will be from last 5-7 months (for AFCAT, NDA, CDS, TA)
I have played Badminton at school level but I also enjoy long distance running. (Again, the officer grilled me on my running. He asked me about my longest run (9.81km) and told me to rate myself as a runner (above average). I was asked my current pace (6 minutes per km) and further questioned on how I would perfect my pace to a little under 4 mins per km. I answered that due to additional study load in the last semester and CAT coaching, I have struggled to maintain my fitness and with a better degree of regularity, it won't be a problem to match my pace to academy standards.) He was satisfied and did not question me further.
Then, we had a short GD on Demonetization which I took the initiative to introduce and tried to set the tone of the discussion. But soon, other group members in an attempt to overtake each other turned it into a frenzied banter. I tried to intervene but soon realized that it was futile and kept quiet. I felt the officer's gaze in my peripheral vision and saw him smile. But I refrained from looking at him directly and tried my best to not make eye contact during the GD.
Instead, I made an effort towards listening to some of the points which were audible amidst the noise. Within another 45 seconds, the GD was called off the officer and we were thanked and asked to leave.
That was my UES NAVY campus interview. I feel that I did my best. The fish market frenzy during the GD was definitely a sore regret for me and other members of the group. But it was what it was.
Here's to hoping that some of us qualify and get the call-up for SSB. Cheers!