NDA 2 2017 written exam is over now, it was conducted on 10th Sep 2017 by UPSC. Candidates who have attempted the NDA 2 2017 exam and think they will clear the exam should waste no time and start preparing for the SSB interview. In this article, we will talk more about the NDA 2 2017 result and NDA 2 2017 SSB interview procedure. Candidates who are looking for SSB preparation material for the NDA 2 2017 SSB interview can read further.
NDA 2 2017 Result Out Now – 6500+ Candidates Cleared The Exam
Who Will Publish NDA 2 2017 Result?
NDA written exam result will be published by UPSC, last time i.e. NDA 1 2017, around 8000+ candidates cleared the written exam. This time also the number of candidates will be around the same number. UPSC will be publishing a PDF file with the list of roll numbers of successful candidates. Candidates those who make in this list will be facing the SSB interview at various selection boards.
Who Will Publish NDA 2 2017 SSB Dates?
SSB interview dates will be published by Join Indian Army, Career Airforce and Join Indian Navy websites. UPSC will not publish the dates, candidates are suggested to keep an eye on these websites once the UPSC declares written exam result.
NDA 2 2017 Result Date?
Earlier UPSC result of NDA exam used to take more time, but now they have expedited the procedure, we can hope that the NDA 2 2017 written result will be declared around Nov 2017 and the SSB interview will be starting from Nov-Dec 2017.
NDA 2 2017 SSB Interview Date?
Selected candidates will get the email/SMS from their respective selection centre with a call letter for SSB interview. Candidates are required to follow the instruction written in the SSB call letter. In case of any enquiry, you can reach your respective SSB centre.
No candidates are required to send any documents to the selection centre before. Make sure you keep your original documents with you and do not send it anywhere, you are required to carry the original documents along with other documents during SSB interview. Same will be mentioned in your SSB call letter.
Candidates can also check their NDA SSB centre and SSB interview date on join indian army website. For naval cadets, they must follow join indian navy website for any update on NDA 2 2017 SSB interview.
Keep checking your email/SMS for the alerts and the official websites for the updates. All updates will be put on the official website, you don't need to worry if it takes time, rather focus on your SSB preparation.
NDA 2 2017 SSB Interview Procedure
After receiving your call letter, make sure you follow the instructions and keep the required documents ready for SSB.
Make sure you make your travelling reservations in time to avoid difficulties during the journey.
SSB interview is a 5 days procedure, to prepare for SSB you can get the book "

Let's Crack SSB Interview

".
There will be documents verification at the SSB, make sure you carry everything as per the call letter.
Candidates who will clear Stage-1 testing i.e. screening test will stay for Stage-2 testing. Rest of them will be sent back home.
Candidates who will clear Stage-2 testing i.e. Psychology, PI and GTO will be sent for medical examination which might take a week or two.
Recommended and fit candidates will be getting the joining instructions as per their order in the merit list.
Note: Regarding registration on Join Indian Army website for NDA 2 2017 SSB is not confirmed yet, last time the website announced that there is no need to register for NDA 2 2017.
NDA 2 2017 SSB Interview
Centre Allotment List – Will Be Update
SSB Allahabad – Will Be Update
SSB Bhopal – Will Be Update
SSB Bangalore – Will Be Update
SSB Kapurthala – Will Be Update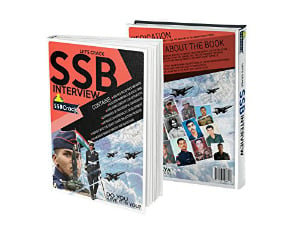 To crack SSB and AFSB Interview get "Let's Crack SSB Interview" Book from Flipkart. Trusted by thousands of defence aspirants
Also Download Helpful eBooks: