India's first women fighter aircraft pilots are likely to fly the mighty fighter jets soon as they are about to complete their final part of training at Indian Air Force facility. Bhawana Kanth, Mohana Singh and Avani Chaturvedi are currently flying the British Hawk advanced jet trainers at Kalaikunda in West Bengal. They were commissioned as flying officers in the IAF in June 2016.
"The women pilots will be assigned to fighter squadrons after they complete their training in the third week of October. Their performance has been good," a senior officer said. This three created history by becoming the first female fighter pilots in Indian air force and ended a rigid gender-based combat exclusion policy in the IAF in October 2015.
They are likely to be assigned to a Sukhoi-30 squadron later this month, IAF sources said. They are part of a batch of around 40 flying officers training on Hawks at the Kalaikunda air force station.
Three more female fighter pilots are going to join Indian Air Force, they are set to join the service in December 2017. The trio of Rashi Raina, Shivangi Singh and Pratibha are currently undergoing the second phase of their training at an IAF flying establishment at Hikimpet, on the completion of which they would be commissioned. They join the Indian air force academy in June 2017. IAF was unable to find more women fighter pilots since last two batches.
Current Affairs questions will be from last 5-7 months (for AFCAT, NDA, CDS, TA)
Rashi, Shivangi and Pratibha learn their basic flying with Pilatus PC-7 aircraft at the Air Force Academy, Dundigal after which they went to Hakimpet for the intermediate training with Kiran Mark-II aircraft. The final part of the training would happen with Hawk advanced jet trainer early next year.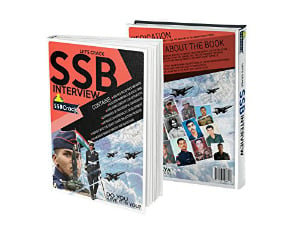 To crack SSB and AFSB Interview get "Let's Crack SSB Interview" Book from Flipkart. Trusted by thousands of defence aspirants
Also Download Helpful eBooks: