INVITES INDIAN CITIZENS (MEN AND WOMEN) TO BE A PART OF THE INDIAN AIR FORCE AS COMMISSIONED OFFICERS IN FLYING AND GROUND DUTY (TECHNICAL AND NON-TECHNICAL) BRANCHES. REGISTRATION FOR ONLINE APPLICATIONS THROUGH https://careerindianairforce.cdac.in or https://afcat.cdac.in WILL OPEN ON 16 DEC 17 AND CLOSE ON 23 JAN 18
Online applications are invited for the courses commencing in January 2019 for grant of Short Service Commission (SSC) in Flying Branch and Permanent Commission (PC) / Short Service Commission (SSC) in Ground Duty (Technical and Non-technical) Branches. Online applications are also invited for grant of PC/SSC for Flying Branch through NCC Special Entry Scheme and Meteorology Entry.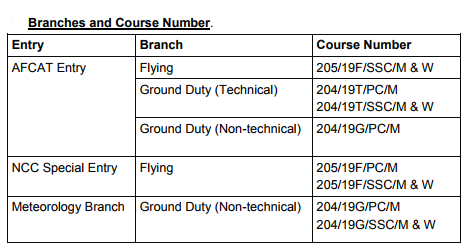 Type of Commission
(a) PC for Men. Candidates joining as PC officers would continue to serve till the age of superannuation as per their branch and rank.
(b) SSC for Men & Women.
(i) The engagement period for Flying Branch SSC officers is fourteen years from the date of Commissioning (Not extendable).
(ii) The initial tenure for SSC officers in Ground Duty (Tech and Non-tech) Branches would be for a period of ten years. An extension of four years may be granted subject to willingness, suitability, service requirements and availability of vacancies.
Current Affairs eBooks
Age
(a) Flying Branch. 20 to 24 years as on 01 January 2019 i.e. born between 02 January 1995 to 01 January 1999. (both dates inclusive). Upper age limit for candidates holding valid and current Commercial Pilot Licence issued by DGCA (India) is relaxable upto 26 years i.e. born between 02 January 1993 to 01 January 1999 (both dates inclusive).
(b) Ground Duty (Technical/Non-technical) Branches. 20 to 26 years as on 01 January 2019 i.e. born between 02 January 1993 to 01 January 1999 (both dates inclusive).
Training
Training will commence in the first week of January 2019 for all courses at Air Force Academy Dundigal (Hyderabad). The duration of training for Flying and Ground Duty (Technical) Branches is 74 weeks and that of Ground Duty (Non-technical) Branches is 52 weeks at Air Force Training Establishments. PAN Card, Aadhaar card and account in SBI/ Nationalised Bank is mandatory at the time of joining Air Force Academy (AFA).
Pay (As per 7 CPC): Flying officer – Rs. 56100 – 110700. Flight cadets shall receive a fixed stipend of Rs 56,100/- per month for the period of training.
Conduct of Online Testing for AFCAT Examination and Fee Structure: For the first time, online testing will be conducted for AFCAT entry in various AFCAT centers. Candidates registering for AFCAT entry will have to pay an amount of Rs. 250/- as examination fee. However, candidates registering for Meteorology entry and NCC Special entry are not required to pay any amount. Details of conduct, examination centres and mode of payment are given in the notification.
Read Official Notification of AFCAT 2018