Almost all aspirant struggles with this question: Is coaching important? I thought of clarifying this mysterious question for once. Even though I don't run a coaching academy, I recommend coaching to crack SSB interview. Unlike many other job selection processes, SSB is very unconventional and this makes coaching important. There are several coaching academies that have mushroomed in the country and are doing brisk business. Several candidates go to these academies with the hope that they will get some magic pills to clear SSB but the reality is something very different.
Understanding the Nature of SSB Process
SSB is a test of your personality. Every test aims at assessing the 15 personality traits in the candidates and many of these traits are innate or developed right through early childhood and are not trainable. If that be so, how can coaching in the academy change your personality within a span of 15 days? Obviously, the answer to this question is that academies can't change your personality within a short duration.
How Does Coaching Help?
At best, coaching academies can help develop familiarity with the process which will help a candidate project themselves better because they would then know what is being looked for and how to present oneself. However, the pitfall of going to an academy is many folds. Firstly, since the coaching duration is very short, the academies tend to guide the candidates to respond to various tests in a way that is desirable and the candidates tend to imbibe these blindly. Thus, their responses in the tests are very synthetic and not natural. These synthetic responses stand out and get spotted easily and that alone becomes a reason for failure. In other words, academics tend to take away your originality and make you respond in an artificial way. Secondly, several candidates attend academy coaching with the hope that they will get to learn how to speak English which is nearly impossible to do within 10-15 days. The third expectation is that they will gain all the knowledge that is required for clearing SSB which again is utopian. My question is if the above expectations cannot be fulfilled then what is the point in going to an academy and spending nearly Rs. 20,000/- and sparing 20 days of your time away from home, school, college, and workspace?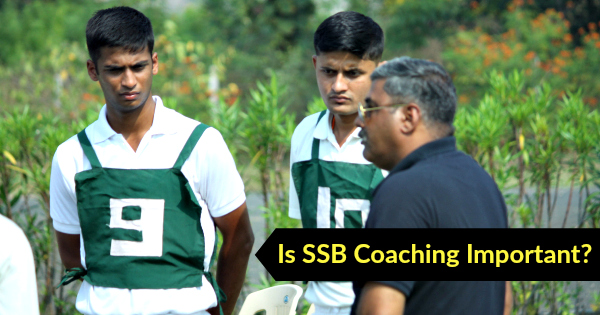 What is Advised?
Till recently aspirants had no option but to go an Academy for Coaching albeit only to gain familiarity with the process and know what is expected of you. But the publication of my video tutorials has made this process very cheap and comfortable to all aspirants. The Video tutorials are not a lecture series but a practical demonstration of each and every test similar to the way it is conducted in the SSB. In this, a group of aspirants undertake the various tests in the same way as in the SSB and after each test, I have given feedback to each aspirant and explained what is expected of them and what is the best way to project oneself. Against most popular belief that GTO tests are physical in nature, I have explained the concept of the GTO technique in such a lucid manner that most of the aspirants are loving this section. No wonder the video product is fast emerging as the most successful tool to understand the SSB procedure, various tests, what to project and how to project in a smart manner. After a thorough understanding of the needs of the aspirants, I have now put in place technology wherein aspirants can schedule a mock interview with me on skype and take a first-hand experience of the interview process and get an in-depth feedback. In addition, aspirants can get the entire psychological test battery and attempt the same at home and send back their responses for evaluation and feedback.
All that is required of candidates thereafter is to improve their communication skills, general knowledge/current affairs and build physical stamina which in any case they have to do even after taking coaching in any academy. The best part of this entire process is that its costs just ¼ the cost that one would incur by going to any academy and save a lot of time and travel. One can follow this process in the comfort of their homes.
In order to facilitate one to one interaction with me, I have created a WhatsApp group where aspirants connect with me personally and clear all their doubts from time to time. What can be a better way to prepare for SSB?
The ultimate benefit of the system is that you retain your originality while I mold the way you respond. Thus, the chances of your success are much higher this way. No wonder the video has helped several aspirants already and is becoming popular by the day.
TO CRACK THE SSB INTERVIEW, GET MY VIDEO LECTURES NOW