Psychological Test Assessment comprises of Thematic Apperception Test (TAT), Word Association Test (WAT), Situation Reaction Test (SRT) and Self-Description (SD) evaluation. You can get the psychological test battery on buying this service. You can respond to various tests under the time constraints set as per the SSB norms and send it back as an email to Scholar Buzz Publications (ssbprep.scholarbuzz@gmail.com). Dr. Cdr. N.K Natarajan will evaluate your responses and council you for improving your approach which will enhance your performance in the psychological test to a great extent.
This will be a one -time process and the expected response time is 3 to 4 days. It is strongly recommended that you go through this process only after watching the 16 hours of power-packed video lectures on SSB Interview by Dr. Cdr. N.K Natarajan which is a highly acclaimed product in its category in India.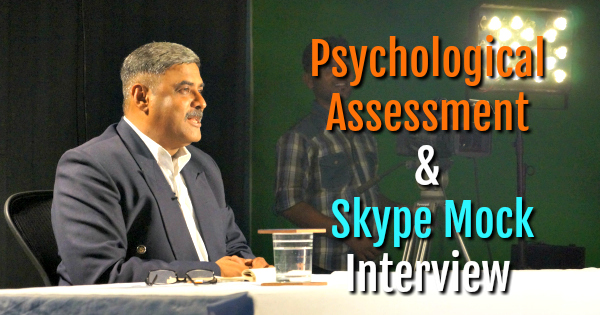 Skype Mock Interview
Interview Technique is the easiest to crack in the SSB as most of the questions are known beforehand. However, every answer that the candidate gives, leads into further questions and often candidates fall into the trap. Since each candidate's life stories are different; their responses to questions are also different. Hence, there cannot be a standard template of answers that can fit all. Thus it is highly recommended to go through a mock interview with Dr. Cdr. N.K Natarajan using Skype which can prepare you for an excellent interview experience at the SSB.
If you understand the concepts clearly and practice a little under an able coach, this is the easiest test to crack in the SSB Interview. Dr. Cdr. N.K Natarajan being a Ph.D. in Psychology and an experienced assessor at SSB has helped 1000's of candidates in performing well in the SSB Interview. He is undisputedly the best coach for SSB Interview in India.
Benefits
Spot-on and Correct your Faults
Learn Qualities that you Lack
Learn how to Improve your Responses
Gain Confidence to do Well in Psych Tests
Go through Full-Length Mock Interview
GOING LIVE NEXT WEEK
JAI HIND!