TAT Thematic Apperception Test is the first test of phase-2 screening. It contains 11+1 pictures. The first 11 pictures contain a series of slides on which you'll have to write stories on. And the last slide will be a blank slide out of which you can write any story but make sure the story will have your life experiences or problems you have faced and how you overcame those problems. One gets 30 seconds to see the picture and then 4 minutes for writing a story around it.
How To Prepare for SSB Interview:
TAT and PPDT Story Writing Tips
It's not a test for beauty of expressions, so, do not use heavy-duty words and do not try to over show your ideas through writing. You just have to make a story around the picture.
The psychologist will test your personality using TAT, WAT, SRT, and self description.
All the tests are used for analyzing your personality and to check whether you have officers like quality.
Always remember, the answers of TAT, WAT, SRT and self description are compared with one another to find out the real personality of the candidate.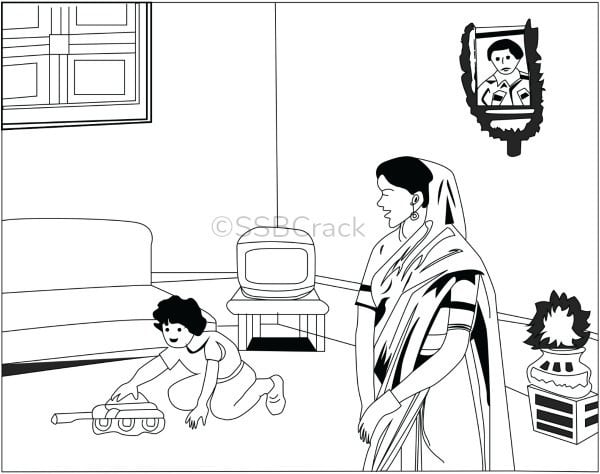 Story
Ranjit, a 6 year old child of Subedar Major Ratan Singh and Srimati Sukma Singh, has been an active child and very enthusiastic. Subedar Major Ratan Singh was commissioned in the armored division and Srimati Sukma Singh played the role of a home maker. Subedar Major Ratan Singh had photography as his hobby and never left an opportunity to capture the childhood memories of Ranjit. Ranjit was always awestruck when he used to see his father in uniform and the portrait of grandfather who also has been serving the forces. Every day after school, Ranjit used to play with his toys, which included mostly the battlefield collectibles like tanks, soldier pieces and anticraft etc. His mother observing the degree of excitement and enthusiasm decided to send him to Sainik school once he qualifies the age. Years passed by and Ranjit gathered a tinge in sports and extracurricular activities that helped him getting an admission to Sainik School. His yearly report was decorated by appreciations from the instructors on the grounds of academics, participation in group activities, cultural forte and representation as a monitor for outstation activities. Ranjit qualified the exam of National Defence Academy and secured All India Rank 34 thereby making his parents proud over their decision. In the present day, Srimati Sukma Singh is going through the childhood album clicked by Subedar Major Ratan Singh. As a mother, she becomes extremely nostalgic over this picture taken a decade back and is taking immense pride over the achievements of her son.
Interpretation:
| | |
| --- | --- |
| Officer Like Qualities | Relevance to the mentioned story |
| Effective Intelligence | In this story Ranjit shows effective intelligence during his tenure in Sainik School, participation in various activities, academics, clearing the National Defence Academy exam with merit etc. |
| Reasoning Ability | From the story it shows that Ranjit inherited this during his experience of taking part in versatile situations and extra activities. |
| Power of expression | The story in itself displays clarity of events in sequence which is a trait of ability to express something in a proper way. Going forward Ranjit inculcates these qualities by his participation in Sainik School and engaging in various activities |
| Self Confidence | This story depicts self-confidence. One towards the mother who was confident that someday her son would be an officer and thereby deciding to send him to the Sainik School. Second is the self-confidence of Ranjit which he inculcated during his school tenure of Sainik School by engaging in various activities. These things made him clear the National Defence academy examination at one go. |
| Determination | This quality is also shown by both the mother and son. The mother is determined that at the right age of qualification she would send Ranjit to Sainik School for him to become an officer in future. Ranjit is also determined to win, learn to the best of his ability where he proved by the annual report exceeding in all his grades. |
| Organising Ability | In this story, the sequential arrangement of events, Ranjit's participation in the extra activities, being a monitor in the camps demonstrates the organizing capabilities he had and he inculcated. |
| Cooperation | Team work is the essence of any officer like quality. Here it Ranjit's exposure in outside team activities and trips, shows that he was cooperative both as a leader and as a team mate |
| Sense of Responsibility | Being a monitor shows that he was entrusted with a sense of responsibility and hence was offered that position |
| Group influencing Ability | By virtue of his participation and exposure as a monitor he inculcated. These traits helped him getting recommended in first attempt |
| | |
| --- | --- |
| Liveliness | Ranjit winning accolades at all the time at all grounds be it academics, extra activities, outside trips, cordial relations with parents and other members of the society shows that he had tinge of liveliness towards everything. |
Download the TAT ebook with 100+ stories and 20 Women TAT pictures including interepretation.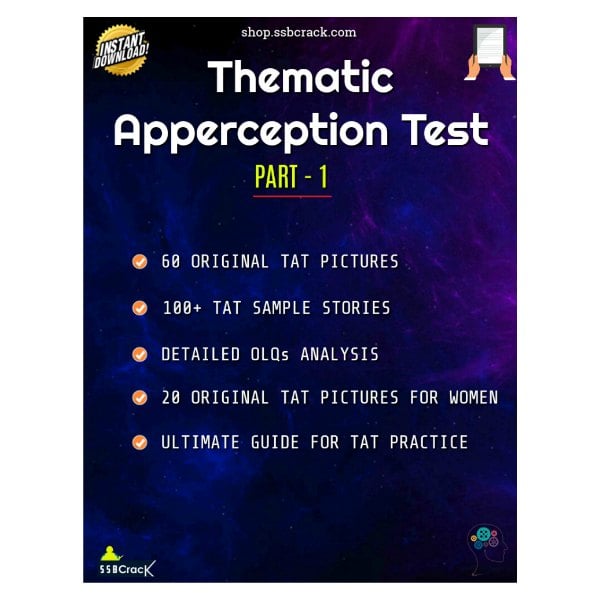 How To Prepare for SSB Interview: