Air Force Common Admission Test (AFCAT) is a recruitment exam conducted by Air Force (IAF). The exam is conducted twice a year in the month of February and August. AFCAT recruits 3 branches of Air Force-Flying Branch (Short Service Commission), Technical branch (Permanent and Short Service Commission) and Ground Duty Branch (Permanent and Short Service Commission). AFCAT Engineering Knowledge Test (EKT) is the exam that assesses the knowledge of engineering that is needed for technical branch. The knowledge from Aeronautical Engineering (Electrical and Mechanical) is tested. All applicants have to answer AFCAT and EKT and this is applicable to only those who are aiming at the technical branch. EKT is a 45 minute exam and is held immediately after AFCAT.  The total time duration for AFCAT exam is 2 hours and is conducted online, practice with AFCAT EKT Mock Test to increase your speed and accuracy.
Syllabus of the AFCAT 2019
English: Comprehension, Error Detection, Sentence Completion/Filling in of correct word, Synonyms, Antonyms and Testing of Vocabulary, Idioms and Phrases
General Awareness: History, Geography, Civics, Politics, Current Affairs, Environment, Basic Science, Defence, Art, Culture, Sports, etc
Numerical Ability: Decimal Fraction, Time and Work, Average, Profit & Loss, Percentage, Ratio & Proportion and Simple Interest, Time & Distance (Trains/Boats & Streams)
Reasoning and Military Aptitude Test: Verbal Skills and Spatial Ability
(a) General Awareness
History
Sports
Geography
Environment
Civics
Basic Science
Defence
Art
Culture
Current Affairs
Politics
(b) Verbal Ability in English
Comprehension
Error Detection
Sentence Completion
Synonyms
Antonyms
Testing of Vocabulary
(c) Numerical Ability  
Decimal Fraction
Simplification
Average
Profit & loss
Percentage
Ratio & Proportion
Simple Interest
(d) Reasoning and Military Aptitude Test 
Verbal Skills
Spatial Ability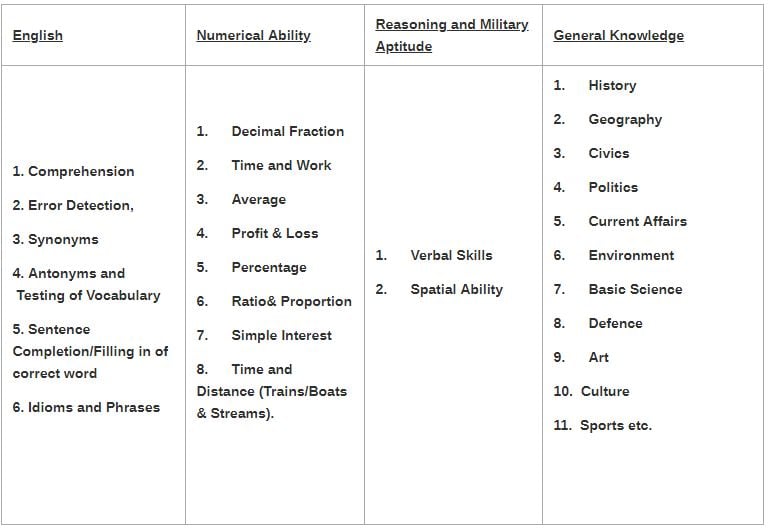 Standard of AFCAT 2019 Question Paper:
The standard of Numerical Ability Questions will be of Matriculation level. The standard of questions in other subjects will be of graduation level (Indian University).
The Online examination will consist of objective type questions and will be in English only for both AFCAT and EKT
AFCAT 2019 Marking Scheme
Three marks for every correct attempt
One mark for every incorrect attempt
No marks for unattempted questions
Questions will be based on the metric system of Weights & Measures wherever applicable. Candidates must appear for the Online AFCAT in person. Under no circumstance will any scribe or another candidate be allowed to appear/ assist in the exam. Air Force has the discretion to fix qualifying marks in any or all the subjects of the examination.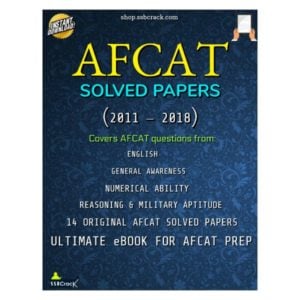 AFCAT 2 2019 Online Exam Pattern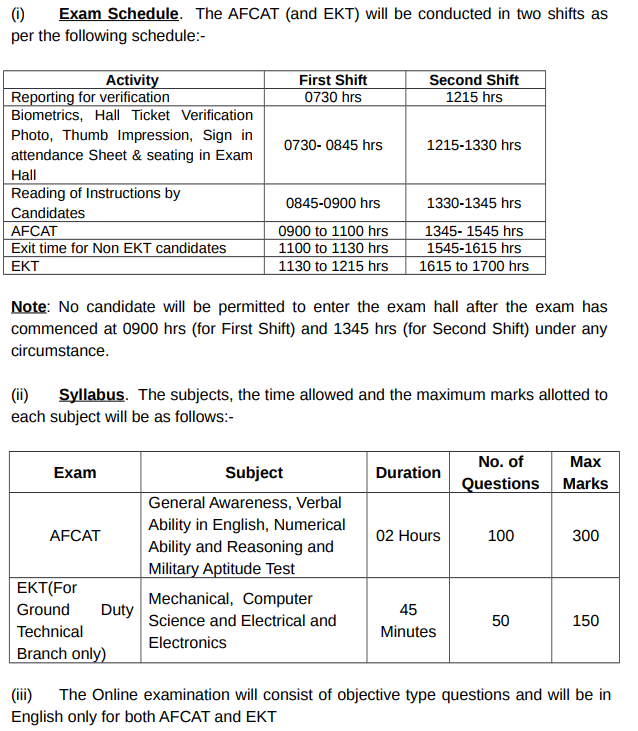 AFCAT 2 2019 Important Dates
AFCAT 2 2019 online application will be published In June 2019
AFCAT 2 2019 online exam will be conducted in Aug 2019
AFCAT Exam Schedule: The AFCAT (and EKT) will be conducted in two shifts as per the following schedule:
Activity
16 Feb 19 (Day1)
17 Feb 19 (Day 2)
1st Shift (AFCAT)
2nd Shift (AFCAT+EKT)
1st Shift (AFCAT)
2nd Shift (AFCAT+EKT)
Candidate Reporting Time
08:00 hrs
12:30 hrs
08:00 hrs
12:30 hrs
Verification of Admit Card & ID Proof, Biometrics, Photo/ Thumb Impression/ Sign on Attendance Sheet & Candidate Seating in Exam Hall
08:00- 09:30 hrs
12:30- 14:00 hrs
08:00- 09:30 hrs
12:30- 14:00 hrs
Reading of Instructions by Candidates
09:30- 09:45 hrs
14:00- 14:15 hrs
09:30- 09:45 hrs
14:00- 14:15 hrs
AFCAT
09:45- 11:45 hrs
14:15 -16:15 hrs
09:45- 11:45 hrs
14:15 -16:15 hrs
Reading of Instructions by Candidates for EKT
16:15 -16:30 hrs
16:15 -16:30 hrs
EKT
16:30 -17:15 hrs
16:30 -17:15 hrs
Note: Candidates will not be permitted to enter the exam centre, under any circumstance, after the pre-exam verification process has commenced at 08:00 hrs for shift-I and 1230 hrs for shift-II
AFCAT Exam Pattern Highlights
| | |
| --- | --- |
| AFCAT Mode | Online (Computer-based) |
| Question Paper type | Objective (MCQs) |
| Number of Sections | General Awareness, Verbal Ability in English, Numerical ability and Reasoning & Military Aptitude Test |
| Total no. of questions | 100 |
| Marks awarded for correct answer | +3 |
| Negative marking | -1 |
| Total marks | 300 |
| Exam duration | 2 hours (120 minutes) for AFCAT, 45 Minutes for EKT |
| Medium of Exam | English |
AFCAT Question Paper Sections, Questions Marks and Time
Section
Questions
Marks
Time
General Awareness
20
60
2 hours
Verbal Ability in English
30
90
Numerical Ability
15
45
Reasoning and Military Aptitude Test
35
105
AFCAT Topics
Part 1: General Awareness
History
Sports
Geography
Environment,
Defense
Art and Culture
International Current Affairs
Politics
Civics
Basic Science
Part 2: Verbal Ability in English
Comprehension
Fill in the blanks by choosing the appropriate word
Error Detection
Sentence Completion
Synonyms and Antonyms
Testing of Vocabulary
Tenses
Basic Grammar
Part 3: Numerical Ability
Decimal Fraction
Simplification
Average
Ratio and Proportion
Simple interest
Profit and loss
Percentage
Time and Distance
Time and Work
Part 4: Reasoning and Military Aptitude Test
Verbal Skills and Spatial Ability
Data interpretation
Embedded Figure
Missing Character
Sets based on arrangements
Rotated blocks
Hidden figures
Analogy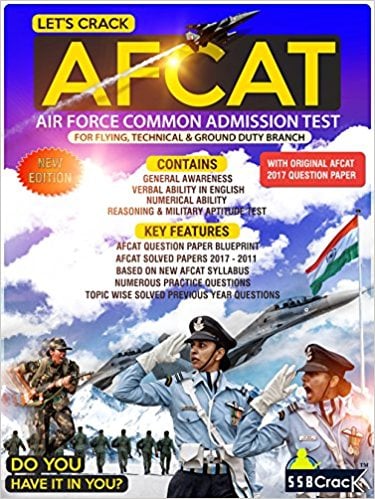 How to prepare for AFCAT 2019 Online