"Each time we face our fear, we gain strength, courage, and confidence in the doing."- Theodore Roosevelt.
The above quote describes confidence very aptly. It is not a quality somebody is born with, it can be inculcated within a person with due practice, diligence and facing ones fear.
You might be a smart, confident human too, you just have to realize it. Here are the top 10 Qualities displayed by Confident People.
They have a motivating attitude
Confidence is a quality which is always giving. Hence, confident people constantly encourage others to go out of their comfort zones and achieve their goals.
They always have a positive outlook
Only a confident person can look at life through a positive lens. They are sure that they have enough capacity to build a better future for themselves, whatever their current situation might be.
They are 'team builders'
A confident person is not just a team player, he/she builds the team and maintains it. They work hard to maintain the dynamics of the team and support each member wholeheartedly.
They are hard workers
Whether they are in a team or working alone, quietly but subtly, every confident person will work with utmost diligence whatever the task at hand may be.
They make strong decisions
They make decisions that are correct at the given time and stand by them at all times. They tend to never make any decision in haste and if they do so, they always try to rectify it. Their aim is to deliver all decisions with confidence, always.How To Prepare for SSB Interview:
They focus on their fitness
Being a physically fit person is not just an attribute of a confident person, it makes a person confident. Having a healthy lifestyle brings the positivity and motivation in these people's life. They accomplish the task of keeping their body fit and active every day which in turns makes them extremely confident.
They constantly help others
In this day and age, where it has become so easy to turn against each other, only a person who is confident about his/her capability, goes out of their way to help people in need, at all times.
They have self-appreciation
A confident person will never think low of himself but would rather have self-appreciation for the various tasks that they do well. This is a very important quality because everyone needs to love themselves first and appreciate all that is good within them.
They always have a balanced approach to life
A confident person never falls prey to the trials and tribulations of life. This is because they learn to balance all the various possibilities life throws at them with ease and determination. They are headstrong and that sets them a class apart.
They try to be happy at all times
Being happy is the precondition for confidence. Every person who is happy or motivates self to be happy achieves the required level of confidence. A person should learn to be happy. This might be a hard task for some, but whatever may be the cost, one should try to achieve happiness, because then everything becomes easier.
The qualities listed above are easy to inculcate and imbibe, given a little practice and a lot of focus.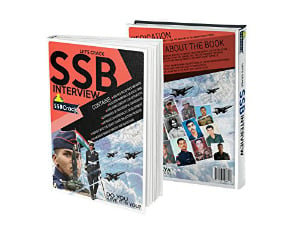 To crack SSB and AFSB Interview get "Let's Crack SSB Interview" Book from Flipkart. Trusted by thousands of defence aspirants
Also Download Helpful eBooks: