"Rifle is the first and last friend of a soldier"
A weapon plays a crucial role in a soldier's life. Weapons have changed their face from the era of ancient history to the current modernised and remotely operated weapons.And a powerful weapon adds more muscles to a soldier. Indian Armed Forces are using many weapons, from big and long range to small and short range for a face to face fight.
First of all, let's clear the meaning of assault rifles. Assault rifles are the rifles, which hand held and easy to carry and are selective fire modes. Selective firearms are those in which the operator has options of firing as per situation. Like safe mode (where no firing can be done), Semi-automatic mode (where the gun automatically prepares itself for next fire or we can call it as self-loading) and automatic (when a single trigger can fire continuously). The mode is up to the soldier who decides its use as per the circumstances.
Now here we will be discussing the assault rifles used by Indian Armed Forces. Indian Armed Forces consist of three major parts: Army, Navy and Air Force. As most of the part of the ground and face to face fight is done by the Indian army, most of the assault rifles are used by them as compared to the navy and Air Force.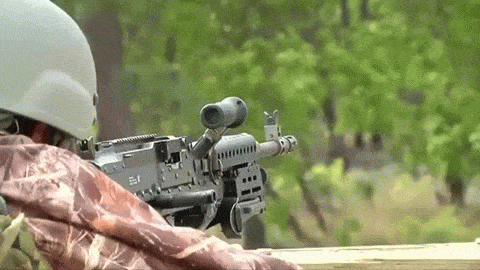 INSAS – This is the mostly used assault rifle in Indian Armed Forces and was originated in India. It also has a light machine gun variant. It has its basic design similar to AK M but has some points of difference too. This rifle is being used by Nepal, Bhutan and Oman military. But some issues of jamming, cracking ofthe magazine and semi-automatic mode were scars on it. But its variants have eradicated these drawbacks.
Multi calibre individual weapon system (MCIWS) – It is also an indigenously developed rifle by India which is expected to replace the mostly used INSAS assault rifle. It has got some special feature that deserves appreciation and its induction into the army will improve the fighting skills of soldiers.
AKM – This Assault rifle is used in Indian Armed Forces, which has a basic design as that of AK-47 rifles. AKM is a modernized form of famous AK-47. It has a firing rate of 600 rounds per minute and comes with semi-automatic and fully automatic modes. Named as AvtomatKalashnikova, AK series is automatic rifles that were found a hit among soldiers after its invention.
AK103- Apart from AKM, Indian Armed Forces uses AK 103 from AK family. AK 103 is also a variant of AK 47 additionally having side folding stock. It is also used by special forces of Indian Navy i.e. MARCOS.
T91 assault rifle – It is a Taiwan made rifle and is used by Special Forces of Indian Army and Garud of Indian air force. The rifle has got firing speed of about 800 rounds per minute. This rifle is based on T86 assault rifle with features of M16 and AR-18 rifles. It has 4 firing modes i.e. safe mode, semi-automatic mode (1 bust), 3 burst mode and fully automatic mode.
M4 Carbine – This US made rifle is in the list of rifles used by Special Forces of Indian Armed Forces. This rifle is a developed version of the M16A2 rifle having short length and light weight. And is used by US forces as a replacement of M16. It also supports mounting of the M203 grenade launcher. It is also appreciated for its capability to support many accessories.
IMI Tavor TAR-21 – This rifle is also used by Special Forces of Indian Armed Forces. This Israeli made rifle having selective firing system (semi and fully automatic modes). The rifle's birth was aimed to build a reliable and durable rifle, which needs low maintenance. This makes it step ahead of carbine rifles.
APS amphibian rifle – The APS amphibian/underwater rifle is used by MARCOS by Indian navy. This underwater assault rifle originated in the Soviet Union and has firing speed of 600 rounds per minute. The effective firing range of this rifle decreases with an increase in depth. It has different shaped bullets and has good range and accuracy as compared to ordinary bullets.
FN F2000 – This is an Assault rifle by Belgium and used by a Special Protection Group of India. The rifle can fire at a swift speed of 850 rounds per minute. The gun is fully automatic with NATO box magazines and is currently used by many countries.
SG 551 It is the assault rifle made in Switzerland and exclusively used by National security guards, which has a major part of the Indian army. It is based on SG550 and has shorter length than SG 551 with firing speed of about 650 rounds per minute. The rifle is being used by France, Canada Brazil, Germany and many other nations.
Get Inspired: