The SSB pattern of all the 3 services of the armed forces is almost same. But there are few differences in them. And the most common difference between them is the service related questions asked in the personal interview of the SSB. In the AFSB, the air force related questions are commonly asked and so are the basic questions related to the aircraft. Candidates who are applying for Indian Air Force especially if you are applying for the flying branch you must have some knowledge on air force aircraft.
Some are theoretical questions, while some are related to the weapons of the air force. So the most prominent question asked in the AFSB are.
20 Questions On Aircraft Asked In Indian Air Force Interview
On which principle does aircraft fly?

What is the meaning of ceiling in aeronautics?

Which fuel is used in aircraft?

In which layer of atmosphere do aircraft fly?

Name some fighter aircraft owned by India.

Explain Tejas aircraft?

What is autopilot and how it is helpful in flights?

What is the major cause of causalities in MiGs, why India is still using them and what India is doing to replace them?

What is the minimum count of squadrons that India need to complete a war with its neighbors?

What is the major recent improvement in aircraft of Indian air force?

Explain the term Mach, with respect to the aircraft.

Which is good? Indigenous production or importing aircraft?

What is the difference between the functions of 4th and 5th generation aircraft?

What is stealth technology, which is being approached by super power?

What are FGFA and AMCA?

Tell me some upcoming aircraft deals in India.

What are the different types of aircraft?

Who is the inventor of the airplane?

What is a multi role fighter aircraft?

In which fields can aircraft be used other than air force?
Conclusion – These question can be asked from the air force aspirants. Some more deep and wide question can be asked form the CPL holders, service candidates and engineering students (especially aeronautic engineering). As prior preparation is better than the instant replies, prepare for these questions along with other questions that you think can be asked in the interview as per your qualification and educational background.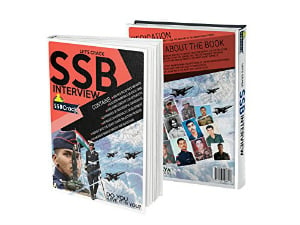 To crack SSB and AFSB Interview get "Let's Crack SSB Interview" Book from Flipkart. Trusted by thousands of defence aspirants
Also Download Helpful eBooks: