Hello everyone, this is Sunil Kumar hailing from Kandoli Nagrota Jammu. Before sharing my story I would like to thanks SSBCRACK team as they have been a virtual guru for many aspirants. Many budding youth received guideline from this platform. Really praiseworthy work done by you, sir and team.
I feel ecstatic to inform you all that I have been recommended for Indian Army through CDSE entry 107 course at 32 SSB, Kapurthala, Punjab. The journey wasn't easy up to this destination. I got screened out 3 times in a row, but every time I failed, I bounced back even with double Josh and worked even harder. Everyone face problems, that may be of any kind but the thing is how long we undergo the stress and ultimately get out of that stress with flying colors. Because if you want to shine like the sun, you have to burn like it. I never lost hope. I knew that I have a fierce passion to wear the uniform but somehow I was not able to project it at the appropriate time. Being a State Board student I knew that my communications skills were not up to the mark. Indeed it was a gap and to fill that I joined my High School again, started giving lectures on general topics, just like lecturrete, other general topics of my interest, gave tutions. It changed my life entirely. I became more confident and bold in my views, level of thoughts and speech improved. Other things that I included was reading newspaper and books.
My SSB was on 07 Dec 2017. 55 reported and 26 got screened in and ultimately 04 got recommended. Starting with screening wrote a realistic story, participated well in GD and got in. In psych wrote very practical things that I am capable of doing or think to do them in future.I wrote nothing out of my capability. Everything went well, attempted 57 WAT, 53 SRT, in TAT again wrote very simple, real-life happenings, so psyche was good.The best thing about the SSB is you made unexpected friends there that too of same thoughts, dreams. Every night after dinner we 26(special_26) sat together, enjoyed every single sec of those 4_5 days. In GTO-1 and GTO-2 I behaved very normally, calm and composed without worrying about results. Again everything went well including lecturrete, FGT, HGT, CT except military planning exercise where I would have done better. I was called for interview from the GTO ground. DEPUTY PRESIDENT took my interview I replied every single question with logic and truthfulness. He asked some personal questions too but I answered them very politely and logically. The interview went off for 45 minutes and it was pretty good.
Download important ebooks
In conference some basic questions were asked about the stay, food and suggestions if any and answerer them confidently. After that officer came in Uniform to give us motivational speech and trust me that charm of Olive green still flashes before my eyes, I still remember his words, what a gentleman he was. Then another officer came with the result. He started announcing the chest numbers, the result came, my dream come true and I was selected and that too in my last attempt.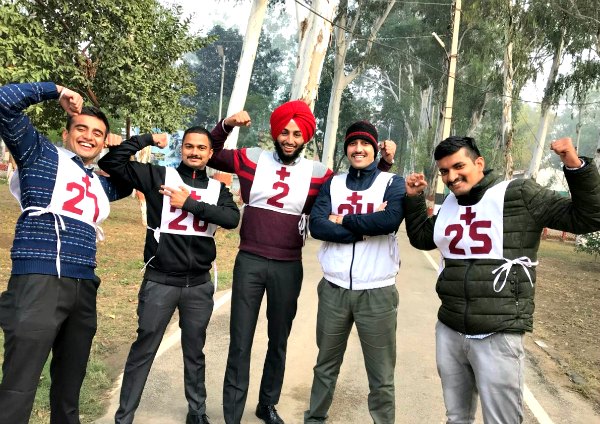 The moment he took my chest no. tears started rolling down my cheeks, it was the first time in my life I cried for something positive, but I also felt bad for my friends who couldn't make it that time, met with them and bid goodbye. Was declared medically fit. And Will be joining OTA in April. So, my dear folks, I would like to sum up with these words that it doesn't matter at all, which school or University you belong, what matters is your perseverance and proper channelizing of your passion. If you are passionate about the uniform, for sure you will earn it one day. My dear folks wish you all the very best for your future ventures. Stars are likely to glitter on your shoulders too, yes on your shoulders who are reading this story. Loads of good luck, gentlemen.
Thank you SSBcrack team and everyone. Love you all . sunilkumarhans24@gmail
SSB Interview Preparation Material [ 100% Recommended]