Seniority in the armed forces is taken very seriously by the men in service. Recently, in a bid to end the ongoing controversy over equivalence between armed forces personnel and their civilian counterparts in the Armed Forces Headquarters (AFHQ), the Defence Ministry has issued a fresh clarification.
The Ministry has directed that effective July 30, military personnel and civilian counterparts working together in the service headquarters will revert to their earlier cadre designations.
However, seniority is much of an issue within the army itself.
Promotions In The Army
Initial promotions in the defence are based on a timescale for the first three ranks: one becomes a Lieutenant at the commission, a Captain after 3 years of service (excluding ante-date seniority), a Major after 4 years of service and a Lt Colonel after 13 years. After this, promotions are based on selection depending on the frequency with which positions become free. This stands true for equivalent ranks of Air Force and Navy.
Promotion after this stage becomes steeper due to the army's pyramidal promotional structure and many officers are promoted only on the selection basis after this stage. However, there are some officers who spend a good amount of service years with a current rank (say, Lt Col) yet could not make it due to rigorous selection norms. Hence, for this purpose, there exists a concept of Time Scale (TS) promotions.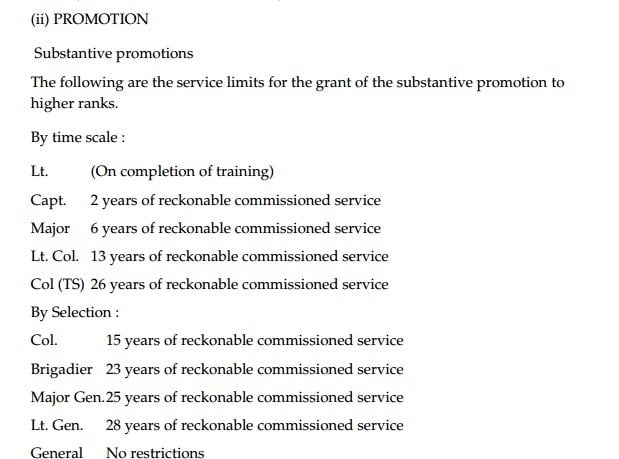 Time Scale (TS) Promotions
For our understanding, we will take the example only of army's colonel rank. This is applicable to all other ORs and ranks in Air Force and Navy as well.
Currently, a large chunk of officers fails to make the cut for the Colonel's rank due to the army's pyramidal structure and rigorous selection norms. That means a Lt Col cannot become a Col unless and until a current Col retires or he is promoted to Brigadier.
So, at the stage of Lt Colonel, along with the service time in that rank, an officer needs to satisfy one more parameter for the promotion. This parameter is promotional board exams. These exams help an officer to get the promotion to the post of Colonel as soon as he's eligible for it.
Hence a Lt Col is promoted when he satisfies the service time in that rank and also cleared the promotional board exams, otherwise, Lt Cols, who are unable to clear their promotion boards, become time-scale colonels after 26 years of reckonable commissioned service and hence they write their rank as Colonel (TS).
Shortening the duration from 26 to 23 years
But, according to an article published in Hindustan Times dt 20 Oct 2014, the army is considering shortening the duration of service required to pick up the time-scale rank of colonel to 23 years of service. This was aimed at retaining officers who have been overlooked for promotion. Anyway, currently, Lt Colonels, who are unable to clear their promotion boards, become time-scale colonels after 26 years.
As per the article, the incentive of wearing a colonel's red collar tags three years early will discourage officers from quitting the force after rendering the minimum pensionable service of 20 years.
Petitions on this issue
The issue of overlooking senior officers and promoting junior officers has long been a cause for concern in the army. On 31 May 2005, Lt. Col. (Time Scale) D.S. Pandey filed a case in the Delhi High Court. The petitioner was commissioned in the Indian Army in June 1982 into 4/A Gorkha Regiment. Since his commissioning, petitioner attended various professional courses and according to him, he did consistently well and achieved highest possible grading. Despite petitioner achieving high grading because of his hard work and successfully completing the course, he was found unfit even for the first rank of Lt. Colonel by Selection Boards held in the year 1998, 1999 and 2000. His juniors were being selected for the higher ranks, superceding him.
Equality of a TS officer and a Select officer
In a series of judgements in 2015 with wide implications for service officers, the armed forces tribunal (AFT) has ruled that the Navy cannot retire "time-scale" captains (equivalent to Col in the army) at the age of 54 when "selection-grade" captains serve till 56.
Citing a Supreme Court judgement, the AFT bench said the government could not permit two dates of retirement for persons working in the same rank. "Once a person is promoted as captain (time-scale), he has to perform all the duties of a captain and draws the same salary and allowance. Therefore, to hold him as a class different from a selection grade captain would be discriminatory," it held.
Therefore, even the Colonel (Time Scale) will have the same rules and benefits as applicable to Colonel (Select).