Dear SSB Aspirants, I am Niteen Rai, sharing my experience on how I cleared my SSB Interview in my 3rd and final attempt and got "RECOMMENDED" for IMA 143 rd course from Bangalore Centre.
Firstly, I studied SSBCrack.com website. The 'Success Stories' on this site gave me adequate inputs of various Successful Candidates' experiences in SSB. The website also gives important information on various tests and reference material, which I found extremely useful. This helped me to start my preparation early. My earlier attempts at NDA and last attempt at UES in 2015 were failures. I was every time getting 'conference out'. I was disappointed.
When I was left with my last attempt at CDSE for IMA, I started preparation as per tests given in some books. I did real time practices of Intelligence and Reasoning Tests, TAT, WAT, SRT. I also formed a group of like-minded friends to practice these tests, revise GD, Lecturettes and discuss current affairs topics.
Despite my hard work, I was somehow not very clear on finer points of Psych, GTO, and Interview. I also could not decide whether I should join TCS trivandrum ( for which I was short listed) or try all out for SSB; as the dates were getting clashed. Then, I met Brigadier (retd) Harish Chande in Nashik, Maharashtra. He was ex President of SSB, Director Recruiting and Sr GTO. He gave me scientific tips in all the three techniques, GK notes, shaped my communication skills, attitude and psych corrections and a focussed guidance for preparation. He also improved my overall personality. He motivated me 'to do it' finally and advised me to be natural and avoid over smartness, over excitement, over confidence and "Chalta Hai " approach; which would take me nowhere. Finally, I made it to the 'Recommendation'. If someone wants, Brig Chande sir can be consulted at 9272225698. I also wish to thank ssbcrack.com, my friends and my parents for my success.
Some tips from my SSB which I wish to share are:- First day screening in. I was natural in my Perception, wrote good action oriented story and took part in Discussion. Got screened in. In Phych Tests I was natural with no Preconceived Stories or Associations or Reactions in TAT, WAT, SRT and no second thoughts. One needs to prepare well in advance for SD. In GTO, I was performing in all the tasks as per guidance and tips received from Sir. It started good from GD, GPE and ended well. I did very good on Individual Obstacles and on command task, which I enjoyed the most. In Interview, which lasted for 45 min, I was speaking as per questions asked and concentrated on my thoughts well. Good preparation of GK and awareness of technology in Army etc helped me a lot. Routine physical fitness, especially running saw me clearing the medical board. Friends, I am very happy and now waiting for merit list. I am positive to go through. "God Helps those who help Themselves".
I wish 'Best of luck' to your sincere efforts.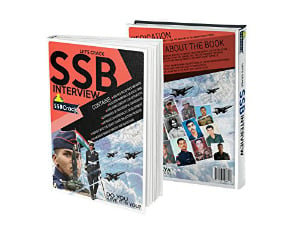 To crack SSB and AFSB Interview gets "Let's Crack SSB Interview" Book from Flipkart. Trusted by thousands of defence aspirants
Also, Download Helpful eBooks: