Hello, everyone, I am Baanee from Delhi, for a long time now I have been reading stories on SSBCrack and I always wanted to write one myself. Hence I would like to take this opportunity to share my experience hoping that it would help or inspire someone.
I come from a defence background, hence the passion to wear the uniform was always there because this was not just a job for me it was a way of life that I did not want to stop living. I did my engineering in Electronics and Communication, I took this branch because this branch had a good scope in the armed forces and also in the Govt sector because I knew I did not want to work in the private sector at any cost. In my fourth year I gave AFCAT, appeared for UES Campus selection for Navy. I got my ssb call up for Navy at 12 SSB Bangalore on 22nd February 17. I reported at the railway station and seeing around 400 candidates waiting there with me, that's what made me a bit nervous. We got through the the document check, our phones were taken. The next day we had our screening tests, OIR and PPDT. I attempted all questions in the OIR, I wrote a very normal story for the PPDT and tried to put across valid points in the discussion. The results were announced and I was screened in! 40 candidates were screened in and I was given chest no. 03.
Next day we had TAT, where I wrote normal and positive stories; WAT, I wrote the first response that I came to my mind because that's the only way I could complete all the words in time ; SRT, here also I wrote my natural reactions and completed all 60 SRTs in time; SD, I had prepared this well before hand and wrote it down. On the same day I had my interview as well which went on for about 50-55 minutes. The interview consisted questions about my family, education, extracurricular activities, sports, hobbies,friends, teachers, good and bad qualities, fears, adventures, current affairs and some technical questions. My advise to everyone would be to be natural and honest because if you lie you 're bound to get caught.
The next day we had our GT 1, group tasks are the most fun part of the SSB. We had all our tasks on the first day itself except the command task and the final group task. I participated well in the GDs , GPE and GOR. I gave a few workable ideas in the PGT and the HGT. In my lecturette I took the last topic and spoke on Distance Learning. In the individual obstacles I could only complete 4 obstacles in the given time.
On the second day, my command task went well, I was called as a Subordinate by 3 other people in my group. FGT went well too.
On the final day, the day of the conference we were all nervous. I wasn't expecting anything, I thought whoever gets recommended I ll observe and learn what that person did to make the cut. I waited for around 10 minutes before my turn, I was asked a few questions about what I thought of my performance and who would I suggest for recommendation. And then they asked me who was a better choice I or the other person. I thought for a bit and I said her name and gave a reason for why I thought so.
After the conference , the results were announced and I was recommended! Alongwith 7 other people. That was the day that I actually believed that I had it in me to become a proud officer in the uniform! We stayed back for our medicals, I was given a TR for ECG abnormality but I was declared fit in my review.
Exactly after 10 days after I returned from Bangalore I had my AFCAT SSB at 4AFSB Varanasi. I did not have time to prepare anything extra this time. I went and gave all my tests with the same mindset. But this time I got Conferenced out. This was not entirely unexpected because I knew my performance in my GTs was not up to the mark and I could 've done a lot better.
After being recommended once and conferenced out later my confidence had gone down a bit. But my aim was clear and I knew I had to work harder.
After my final exams, I got my SSB call up for Army SSCW TECH-20, in 21 SSB Bhopal on 14 June 17. I really wanted to make it this time as I had lost all hope to get in the merit list for Navy as many of my friends had recieved their joining letters and I had heard nothing.
I reported on 14th June at the railway station , a total of 100 candidates had reported , after the screening tests I was screened in and I was given chest no. 02. I gave my psychological tests with the same strategy, completed all TAT, WAT & SRT. I had my interview right after it. It started with the general questions but after that it was all about current affairs, history , civics, geography of the world and a lot of technical questions. I hardly knew anything. And my interview went on for 1 hour 45 minutes. I didn't know what to expect.
The next day was GT 1, GD , GPE & GOR went very well , I gave my 200 per cent. In my PGT and HGT I gave a few workable ideas. This time also I took the easiest topic for the lecturette.
On GT 2, I did 7 obstacles, I was called as a subordinate by most of the people in my group. In my command task my GTO talked to me for about a good 10 minutes about my performance till now , previous attempts, education, family, my inspiration to join the Army and also about what I thought of my fellow group members. I was given a bomb to diffuse using three approaches. I was able to do it in time.
Current Affairs questions will be from last 5 months (for AFCAT, NDA, CDS, TA)
Current Affairs May 2017 eBook [Coming soon]
On the day of the conference I was very nervous and wasn't expecting a positive outcome. My conference went for a little longer. When finally the results were announced the officer said that he would announce the results sequentially. And when he started he straightaway said chest no. 11 and announced the others who were recommended I knew I hadn't made it. But then he closed the file and then announced chest no. 02. I couldn't believe my ears, I had goosebumps and tears in my eyes! I called up my parents after 5 long days and gave them the good news and they told me that they had recieved my joining letter to join the INA in the morning itself. I couldn't thank god enough for the day I was having!
We stayed back for our medicals and were given our phones. I was declared medically fit.
I came home on 26th of june. The merit for Army is expected to be declared in August.
I am now going to join the Indian Naval Academy on 10th July.
My each SSB experience was worth living to bits! I got to know my strengths and I learned from my mistakes which have eventually helped me to grow. With my family always by my side and my friends who covered for me when I missed college for all my SSBs, all of it became so much easier.
Cheers! To all the Aspirants and All the best!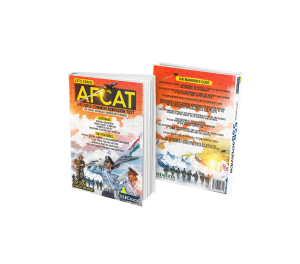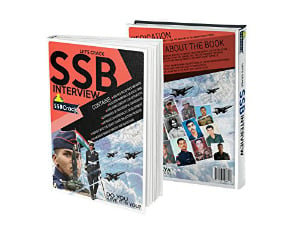 To crack SSB and AFSB Interview get "Let's Crack SSB Interview" Book from Flipkart. Trusted by thousands of defence aspirants
Also Download Helpful eBooks: