I am Anurag Mishra and I got recommended for Indian Army through CDS Direct Entry from 17 SSB Bangalore. I always had a dream of writing my story as well on SSBCrack just like the other recommended candidates. Reading stories on the website always motivated me to perform best this time as this was my 4th attempt. All my previous attempts were before graduation and I was conference out all the 3 times but this time I wanted to make it count and do better than before.
My preparation started right from the analyzing myself and that's all. I just analyzed myself and prepared in no other way. I thought that I'll be natural and just give my natural reactions as opposed to a previous time when I used to manipulate.
I reported on July 21 to center and had PPDT the next day. I wrote a good positive story and a practical open and narrated it very confidently. I also participated in the discussion confidently and logically and I knew I would get screened in. Just be confident, positive and talk logically and getting screened in is never a big problem.
Next day in Psych test, I wrote positive, practical, cheerful stories and for the 12th slide, i wrote my own life story. In WAT and SRT, I wrote my natural responses. Number of SRT never make any difference but it's your responses that do. In SD, I had asked my friends, family and teachers about my positive and negative points and wrote exactly what they had told me. Overall, I was natural, spontaneous and confident.
Then in the interview, I gave true answers and smiled throughout the interview. I did not try to fake and just gave natural responses to all the questions he asked. I was confident of my responses and did not stammer or stutter.
Then came the GTO and I followed the same strategy. I remained cooperative with the entire group and always gave positive suggestions. I took the initiative whenever I could and helped others. Basically, I was enjoying myself and not cared about the results.
Then came the D-Day and I was confident about myself this time and had thought that even if I don't get recommended this time, I will remain positive and won't give up. My conference lasted for 1 min. Then the results were announced and when my chest number was called, i couldn't believe it. I got emotional and tears rolled down my eyes. My dream had come true and so of my parents. I told them and they were so happy. Got medically fit and hoping that will make it to merit list and join the prestigious IMA.
My only suggestions are, be yourself, be happy and cheerful, coaching is not a mandatory thing and just go out there and enjoy yourself. Also, introspect and find out about yourself more and more and never talk to any recommended candidate.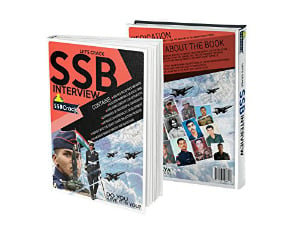 To crack SSB and AFSB Interview get "Let's Crack SSB Interview" Book from Flipkart. Trusted by thousands of defence aspirants
Also Download Helpful eBooks: