Cost To Company (CTC) For A Lieutenant Indian Army. Many aspirants are asking the salary of a Lieutenant in the Indian army, which is perfectly fine because you should know everything related the career you want to choose. It is always better to know such details before opting a career. In this article, we are mentioning the cost to company CTC for a lieutenant of India army including the  allowances and benefits they get in the service. By seeing this, we can surely say that the Indian army is the best career option for youngsters as they get huge responsibilities at the early stage of life.
Allowances as applicable – The rates of allowances applicable to officers are as under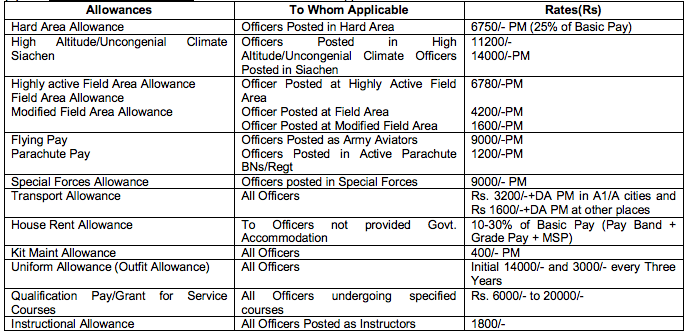 Note:- In the case of allowances specific to Defence Forces, the rates of these allowances have been further enhanced by 50% as Dearness Allowances has gone up by 100%.
Cost to Company (CTC). The CTC for a Lieutenant would be approximately Rs. 80000/- per month. This includes Basic Pay, DA, Grade Pay, Military Service Pay, Tech Pay, House Rent Allowance and Transport Allowance. These rates are not statutory and are subject to change.
Privileges. In addition to the CTC mentioned above, Army provides free Medical Facilities for Self & dependents, Canteen facilities, Entitled Ration, Mess/Club/Sports Facilities, Furnished Govt. Accommodation, Car/Housing Loan at subsidized rate.
Leave Entitlements. On Commission, officers are entitled to 60 days annual and 20 days casual leave every year (subject to service exigencies). They are also entitled for 40% rail concession to any place and free travel as per extant rules) for self and family. Leave during training period will be as per the Training Policy in force.
Sports & Adventure. The Army provides facilities to pursue any sport of your liking. In addition, one can learn and participate in adventure sports, such as river rafting, mountaineering, hot air ballooning, hang gliding, Horse Riding etc.