Hello Friends! My name is Chandra Bhushan Kumar from Bihar. It's all started on 1 November 2016 when I got the call letter from Indian Navy for SSB Interview at Coimbatore, I was very confident at that time but I got screened out, from that day my journey to become an officer in Armed Forces started. I got screened out twice and conference out thrice. And then the day came when I got the SSB call letter from Indian Army and I had to report at Selection Centre South, Bangalore on 9th October 2017 at 1400 hours.
Also a few months ago I got the call letter from Indian Army for TGC-126 entry at Bangalore but I didn't go because I had already got conference out from Allahabad and I was very upset.
I make my mind book the ticket and on 7th October 2017 I started my journey to Bangalore and my train was 12 hours late after 44 hours of the journey I finally reached and luckily just before the reporting time. The gatekeeper shouted at me and told me to go to Reception for Document Verification. When I go to Reception I saw 208 Candidates already there standing in a queue for Document Verification. *I was stunned and control my fear and asked one of them "What documents we needed to verify"*because different SSB centers have different procedures. After spending 2 hours in a queue I was done with my document verification and we all have given a Batch no. N-STL/68316 and chest nos. My chest number was 115. After document verification, GTO officer came and give Opening Address and welcome all of us and allocated rooms for our stay. I asked one of the candidates " How many Freshers, Repeaters and Screened Out are of 208 candidates?" He replied, "160+ Repeaters and 40+ Screened out and No Freshers" I was shocked and "What!! Really?"
Day-1
Next morning we have to report at 0600 hours for Screening Test which consists Officer Intelligence Rating (OIR) Test and *Picture Perception and Discussion Test (PPDT).
OIR test was little bit competitive because we have allowed only 20 minutes to do 45 questions and PPDT was easy and most of us had made the same stories.
Now it's time for Discussion Test, the testing officers gave us sufficient time for narration but in Group Discussion we all made a fish market and after 20 min of narration and discussion, we nominate chest no. 118 to conclude our common stories. He narrated well and precise.
After Screening Test the time came for our results. Out of 210 candidates, only 42 candidates made to Stage-II.
I got the Chest no. 8 for Stage-II and again the GTO congrats us and brief the procedures for Stage-II.
We all are happy but we have to fill those 7-8 forms and PIQs which takes around 3-4 hours after then we have allotted new rooms for our next 4 days stay.
I started preparing for Interview and Lecturette because I know where I lacked in my previous attempts, I thanks the God for giving me the opportunity and go to bed and we have to report at 0730 hours next morning for Stage-II.
Day-2
Psychology Test
It consists of Thematic Apperception Test (TAT) where we have to write a story about 12 pictures and this time I follow all the instructions carefully and observe the picture carefully then I write the story and try to make a good and positive stories, and then Word Association Test (WAT) where we have to write a sentence on 60 words displayed one after another and I practiced a lot for this test and I try to make sentence which reflects my personality, and then Situation Reaction Test (SRT) where we have to react in situations and write the action that came into the mind, this time I did only 53 SRTs and try to maintain my handwriting and complete all the action and at last Self DiscriptionTest (SDT) in this section we have to describe our personality, what our parents, friends, teachers think about you and This time I was prepared with my SDT so I completed within time.
Interview
When others are going for outpass I have to stay back and wait for my Interview but this time I didn't study at last moment. I had already studied for my SSB and ready for all the Technical and Current Affair questions.
I introspect myself, started taking responsibilities at home, change my daily routine, planned my timetable and eliminate all wasteful times and use those time in a productive way.
When I was in the waiting room I looked into the mirror and tell myself to be confident and be thoughtful before speaking. And then the CHM call my Chest Number, I open the door and wish the Interviewing Officer "Good Afternoon Sir" he came to me and shake hand and tell me to have a seat.
I was feeling comfortable and confident, and he started his rapid-fire questions, I carefully listen to all of them and arrange in a sequence and answer most of them brilliantly.
He asked me some technical questions and current affairs. And again rapid-fire questions about family.
After about 1 hour of interview, I came out of the Interview Room and was very happy with my performance.
Current Affairs questions will be from last 5-7 months (for AFCAT, NDA, CDS, TA)
Day-3
Ground Testing 1
42 candidates are divided into 5 groups.
My group members were excellent and competitive, I smartly snatch opportunities to show my skills and ideas, most of the members were agreed to my ideas which makes me confident and helps me to do better in next GTOs test.
Day-4
Ground Testing 2
We have left only with Command Task and Final Group Task and by analysis the structure carefully I completed my task.
Day-5
Conference Day
The day came 14th October 2017. The closing address was given by Colonel where he motivates us to do better in our lives and become a gentleman wherever we work.
I was very confident that I will get recommend this time but the fear of conference was always in my mind. When Chest no. 9 came out of the conference hall my heartbeat starts beating like an engine and after 1-2 minutes of waiting the bell rang and I enters the hall and all the testing officers are in their uniform and their stars are shining on their shoulders.
I wish the Interviewing Officer "Good Morning Sir" and sit on the chair.
And then he asked me only 3 questions:
How was your stay?
What have you learned here?
What was the result of your previous SSBs.?
I answer all the questions quickly and he wishes me best of luck and this all happens in just 40-50 seconds.
When I came out of the hall I was so depressed and started introspecting where I did the mistakes, and after 1 hour the result came.
The GTO came and said " I will call the chest numbers and those who were called will come here tell your name and stands beside me"
And then he started…
Chest number 42…
Chest number 34…
And
Chest Number 08…
I ran towards him and my eyes were full of tears and shout in bold "Chandra Bhushan Kumar", stands beside him and my eyes can't hold the tears and on that day 14th October 2017, 12:50 PM I learned that even a bold man can't hold his tears when he achieve ultimate goal of his life, I was feeling numb. I hug everyone and they congrats me for my success.
I thanks the God for giving me the opportunity to show who I am.
I thanks my parents who always with me and have believed in me.
I thanks my brother who help me a lot in preparation and only because of him I achieve this.
I know my friends will kick me when they will read this because I didn't tell anyone of them and ignore them since 2-3 months because of my preparation.
Thank you, everyone, who made my life beautiful and fill my life with joy and positive vibes.
– Jai Hind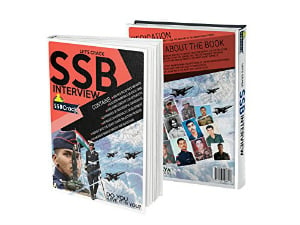 To crack SSB and AFSB Interview get "Let's Crack SSB Interview" Book from Flipkart. Trusted by thousands of defence aspirants
Also Download Helpful eBooks: