If you are going to attend your SSB interview soon then you must go through these burning issues to understand what is going on around you. Group Discussion during GTO is the first task and it is so important that you can not neglect it. How and what you speak during a group discussion shows a lot about your personality and knowledge. Also, these topics are important while going through the personal interview, you could be asked anything under the sun. Having some knowledge about current issues leaves a good impact in GD as well as in the personal interview.
100 Current GD Topics
Is Foreign Direct Investment (FDI) in retail sector good for India?
Foreign direct investment (FDI) is an investment in a business by an investor from another country for which the foreign investor has control over the company purchased. The Organisation of Economic Cooperation and Development (OECD) defines control as owning 10% or more of the business.
Can the world economy bank upon India for growth?
The World Bank expects India's economy to expand at 7.2 percent this fiscal but said that the note ban temporarily disrupted growth last fiscal, which slowed to an estimated 6.8 percent.
Falling oil prices
From 2010 until mid-2014, world oil prices had been fairly stable, at around $110 a barrel. But since June prices have more than halved. Brent crude oil has now dipped below $50 a barrel for the first time since May 2009 and US crude is down to below $48 a barrel. The reasons for this change are twofold – weak demand in many countries due to insipid economic growth, coupled with surging US production.
Jan Dhan Yojana
Pradhan Mantri Jan–Dhan Yojana (PMJDY) is National Mission for Financial Inclusion to ensure access to financial services, namely, Banking/ Savings & Deposit Accounts, Remittance, Credit, Insurance, Pension in an affordable manner.
Advantages and Disadvantages of Demonetization policy
This move will help the government to track unaccounted black money or cash on which income tax has not been paid. Individuals who are sitting on a pile of cash usually do not deposit the amount in the bank or invest anywhere as they would be required to show income or submit PAN for any valid financial transactions. They would hide it somewhere and use it as and when necessary. Banning high-value currency will impact people who will have no option, but, to declare income and pay tax on the same or destroy the cash somehow. Now, it is not possible to hide the money as the notes have been declared invalid. It may cause inconvenience for initial few days for those who have to start running to the banks to exchange notes, deposit amount or withdraw the same. The situation can turn chaotic if there is a delay in the circulation of new currency.
Freedom of press should exist
Freedom refers to the state of liberty, or right and privileged to speak and act according to one's own will. Press and media (print, electronic and online) are the most important medium of expressing opinion of the people in a democratic country that justifies one's individual right to speech and expression, a coveted right enshrined in the Indian constitution and in the constitution of other countries on the globe. Press generally refers to the newspaper industry. In modern world, besides newspaper, there are various forms of news-media such as television and radio broadcasting, online news websites and blogs, etc.
Smartphones Addiction- Latest trend or harmful device
According to Erica Swallow, associate editor of Mashable, the United Kingdom has declared itself a "smartphone-addicted" country. Ofcom, a UK telecommunications regulator, released the following statistics as part of their study on smartphone usage in the UK:

37% of adults and 60% of teens admit they are highly addicted to their smartphones.
51% of adults and 65% of teens say they have used their smartphone while socializing with others.

23% of adults and 34% of teens have used their smartphones during mealtimes.
22% of adult and 47% of teens admitted using or answering their smartphone while in the bathroom
More GD Topics Below
Is India a secular country?
Should public sector be privatised?
Should Yoga be made compulsory in schools?
Do we really need Smart Cities?
Describe the relevance of BRICS and its future
Should single-point GST be implemented?
Merit or Seniority – Better criterion for promotion?
Start Up India, Stand Up India – Prospering Entrepreneurial Culture
Gold Monetization Scheme
Demand for new states, is it justifiable?
Dowry system in India is curtailed only by law and not practically
Is management art or science?
Should there be exemptions in odd-even rule?
Do brands rule our lives?
How would the victory of Donald Trump in USA impact India?
Internet censorship
Should NH be made toll free
Management can't be taught
Computers dehumanizing society
Should India destroy the terrorist camps in Pakistan?
Are women better managers than men?
Should reservation in higher education be allowed?
100 percent FDI in E commerce – what it means to retail business?
India or Indians Who Is Performing Better?
India's Democratic Dividend Is Underutilized
Is India Ready For Ecommerce
The population of India an asset.
Environment – What man is doing to Nature
Merits and Demerits of cashless economy.
Promoting tourism in India.
Developing an entrepreneurial ecosystem in India.
Ensuring gender diversity in Indian workforce.
Making Indian Banking system more inclusive.
Gram Uday Se Bharat Uday Abhiyan
Concept of smart city
Promoting healthy eating habits in young children
Modi wave in India
Even a clock that does not work is right twice a day
Role of NITI Aayog
How escalating pollution rate in India can be controlled?
What must be done to improve the education system of India?
Jallikattu – The ban should continue!
Make in India or Made in India
Kashmir after Bruhan Wani's death.
Cauvery dispute and its solutions
Shivaji Memorial – An important structure or a Waste of tax money?
Would it be digital black economy post demonetization?
How demonetization is affecting common people more than black money holders!
Should national anthem be played in cinema halls?
Is India a really secular country?
Is it fair to spare political parties from income tax investigation?
Should referendum be used as a method to take important strategic decisions?
How digitization is strengthening Indian Democracy?
Comment on the merits and demerits of online education versus classroom learning
Freedom of Expression
Words are Sharper than the two-edged sword
Planning Commission or Niti Ayog – Would the change in name matter?
Bullet train or Better trains – What does India need?
Does working along with texting from mobile makes one less productive
India's performance in Rio Olympics
Nuclear Energy boon or bane
Bharat Vs India
Grey
To be or not to be
India needs more implementers than Planners
Justice delayed is justice denied
Knowledge based economy is important to achieve the economic boom of India
ADHAAR Project and the Right to Privacy
Online shopping- a boon or a bane?
Coke and Pepsi should be driven out of India
Make in India- vs. Incredible India
Television – an idiot box or a useful resource?
Short and long term implications of Surgical Strikes
Pink Pajamas flying over Red Fort
Should Pakistani artists be banned from working in India?
Should India host Olympics 2020?
ISRO's space missions – funds of country misused
Should India have US style Presidential Debates?
Should Pellet guns be banned?
Should India have a Uniform Civil Code?
GST bill : Pros & Corns
Will Donald Trump's presidency be a bad news for women?
Independence of Judiciary is the need of the hour
A ship docked in harbor cannot face the storm!
Cricket matches with DRS technology – Pros & Cons
FDI in retail- Boon or Bane?
Technology is a double edge sword. It should be managed carefully
Winning is what matters, whatever may be the cost
Is the youth of India confident or confused?
Impact of Cyrus Mistry's ouster as Tata Sons Chairman
Bureaucracy or Democracy – Which is better?
Should triple talaq be abolished from India?
Impact of Brexit on Indian Economy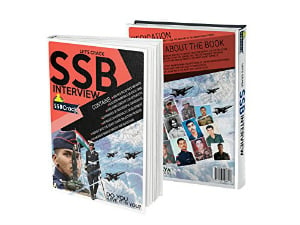 To crack SSB and AFSB Interview get "Let's Crack SSB Interview" Book from Flipkart. Trusted by thousands of defence aspirants
Also Download Helpful eBooks: