HELLO DEAR ASPIRANTS, My name is Chinmaya D Bhat from Bengaluru, Karnataka. I have done B.E in Mechanical Engineering from EWIT,Bengaluru in 2016.I have been recommended for Navy and Army in my 3rd and 4th attempt. I would like to share my SSB experiences spanning 4 attempts. I will also include some of my personal learning that might help you too. My SSB journey started from December 2016 and their details are:
1.Army Tech 48 – Conference out from 19 SSB Allahabad (Dec 2016).
2.Army Tech 49 – Conference out from 20 SSB Bhopal(April 2017).
3.Navy Tech GS Engineering- Recommended from NSB Coimbatore(June 2017).
4.Army Tech 50 – Recommended from 19 SSB Allahabad (Nov 2017).
This journey of one year has made me understand what SSB is about, What I know about myself and realizing each and every day that I want to become an Indian Armed forces Officer.
Please bare with me as this might be long post. Grab a Cup of Coffee which might help you get through this..
1ST ATTEMPT-
I was full of josh that I had received the call letter from Army for SSB.As I had heard that SSB is a test of personality, I went with no preparation at all thinking that "I have it in me" and that is enough. This would be my first visit to North India and the longest train journey of my life.
I was nervous by the sight of 150+ candidates at the MCO, all of them wearing in formals looking sharp and I was in my Jeans and Sandals.(Shows how less I knew).
OIR was easy and PPDT I wrote a common story and participated well in my GD. After getting screened in, I was introduced to this amazing world of SSB. I was happy that I didn't have to go back home on the first day itself.
I went through Psychology test where I gave my natural responses. GTO tasks were quite challenging as I had a lot of confusions too. Couldn't perform well in tasks because of it. The Interview with the Deputy President of the Board was a Nightmare as I could not handle the pressure. As a result of all of this I couldn't get recommended.
But I learnt a new word called "Introspection" at Allahabad. This was said to be the KEY to crack SSB. After coming back to Bengaluru , I started Introspecting where and what I did wrong. But for this I had to understand SSB in a better way. So starts my search for material and sources which landed me at SSBCrack and approaching few Repeater friends.
2ND ATTEMPT-
I had started reading articles and watching videos about SSB, talking to friends about it. Collected opinions from Parents, Friends, Colleagues. I went through the list of 15 OLQs and tried to find out where I was lagging. I had got some clarity by INTROSPECTING.
This time I was better prepared. Now I was a REPEATER too. Screen in, Psych test went well, Interview was much better. Command task is where I faced problems and couldn't solve all the improvised problems given by the GTO in the course. But I got the opportunity to be subordinate to 2 friends who went on to get recommended later. From their tasks I picked up the points on how Command task is supposed to be done.
I was feeling good about my possibilities of getting recommended but because of a few shortcomings I couldn't make it. This was again a great learning experience.
3RD ATTEMPT-
June 2,2017.This time it was a Navy entry. I had done the preparation and was ready with a plan of action i.e. KEEPING IT SIMPLE and BEING CALM. As the cut off was high the turn-out at Coimbatore was relatively less(only 57 reported). There were only 5 repeaters and I was one of them. Chest no.54.
OIR and PPDT went well and 20 got screened in including me. Got new Chest No.2. Psychology test went well and now may idea was to just do GTO well. I participated in all GTO tasks actively and gave as much inputs to my team as possible. An Injury to my thigh during Individual Obstacle course made it difficult for me to walk rest of the time. But I still had the most awaited COMMAND TASK to do.
As the GTO kept on increasing the difficulty of the task, I was able to improvise. This made me confident as I felt I had done a good job. On the 4th day I had my interview in the afternoon and I was calm and controlled throughout it. Many questions on Geography, Submarines, Current Affairs were asked and I was able to answer most of it. After this we all candidates went for a Circus On Avinashi Road and to G.D Naidu Car museum.
On the day of Conference I was relaxed as I had completed my part of the process. The Conference took place inside a customized Cargo container turned into a Conference Room(This amazed me a lot!!!). Few questions about my stay and performance at the SSB was asked which ended within a minute.
We were all waiting in the Ante room for the result and taking selfies. I knew that I had done a better job this time and was happy already because of it. A senior officer came in with the result and would give out the Chest numbers of the recommended candidates. He announced CHEST NO.2. THAT WAS ME!!!
I Stood up, told my name and Date of birth as my friends clapped for me. My eyes wetted up in joy. I thanked all of my friends as they left. Only thing that bothered me was that I was the only one recommended and now all alone.
I was then handed over a heap of forms to fill and was told to travel to KOCHI for my medicals. At night I was dropped off at Coimbatore station with a Warrant for train travel. There I met my friends again who were also waiting for their train. We spent some time together before we parted ways. After reaching Kochi, I made my way to INHS SANJEEVINI where I was admitted into OFFICERS' WARD. This was a privilege ,where I got to interact with a few Officers. All of them were initially very confused seeing me there. They couldn't understand why a perfectly healthy civilian was admitted there. Later I explained that I was there for my medicals.
After Medicals, I was given a temporary rejection in my medicals due to my Over-Weight. A full 9 kg overweight!!! I had 42 days to shed this weight. I took it up as a challenge and lost 9.6 kg in 40 days. This took a lot of Effort, Sweat and giving up even the simple most dishes I loved. But after 40 days, I was thinner and Fitter than ever before. After Appeal Medical Board, I was declared Medically Fit. It was totally worth it as I was coming closer and closer to becoming an Officer.
Current Affairs eBooks
October 25th!!! I got a letter from Navy selecting me for the January 2018 Course. Milestone day of my life. This was a long sweet wait. The celebrations so began!!!
4TH ATTEMPT-
I had always wanted to join Army, have always been interested in Armored Vehicles. This always kept pulling me towards Army more and more. I was really happy to see that I was allotted Allahabad for Tech 50 entry, the place that had inspired me a lot. The beautiful Cantt area around the Centre, The NATHULA house of 19SSB, The Candidates line, The volleyball court, The hall of Army heroes were calling me back. I had to go back to relive and visit these places again. So I made my way to Allahabad again.
On 16th Nov,126 people reported, astonishingly again 19 SSB was the board we were allotted to. 33 got screened in. I was Chest no.124 and then later got Chest no.18.Went through Psych test and gave my honest responses. GTO Tasks went well as I was part of an excellent group. Had a lot of fun in GD, GPE, Snake Race and Group tasks. Command task is was where I did a lot of work as the GTO was constantly increasing the difficulty by creating new challenging situations. But somehow I coped with it and performed well.
At the end of GTO tasks I was called in for the Interview. The President of the board was the IO. This interview was also similar to the Navy interview covering similar topics. I walked out feeling good.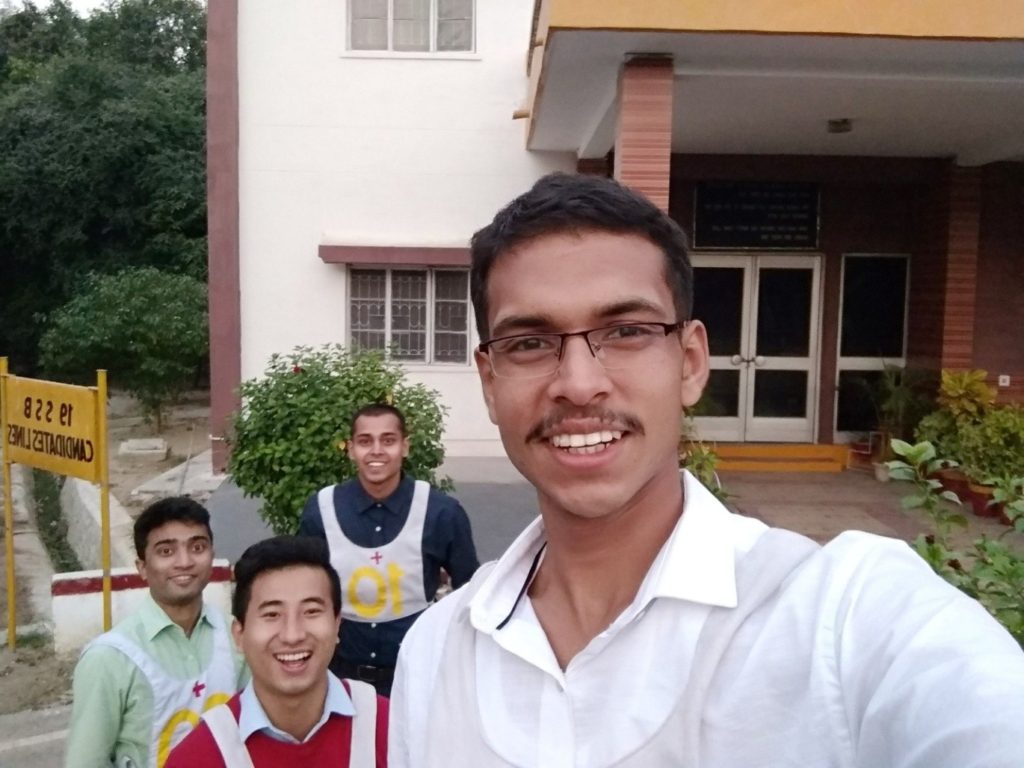 So comes the day of conference. As I entered in, I saw the Commandant of the Selection Centre East in front. A barrage of questions were asked about my performance in this attempt, The improvements I could make in future, My positives and Negative qualities, Why I failed in the Initial attempts etc..This was something new for me as all my previous conferences were brief. But I gave my replies and walked out calmly. We were all waiting in the same room where I had waited 1 year ago for the results. The result was announced and my chest number was called out, then my whole stay at Allahabad went before my eyes in a flash. This time 3 of us got recommended. One of them was a fresher and another a 7th time repeater. We grew to become good friends in next 6 days.
The feeling after getting recommended from the same SSB I loved so much was amazing. I felt relieved now. I had done it!!! Getting recommended from Allahabad was a dream and it had become reality now. This time I got the opportunity to don the Chest Number with the + sign on it(I was not given this in Coimbatore) and to travel in the Army bus everyday to Medicals.
This 23rd December I will report to Indian Naval Academy to start with the training. Eagerly looking forward for it. But if I get merit in at Army for Tech-50 course I will seriously consider going OTA later. This was my Journey of SSB!!!
I would like to thank a few people who have given their valuable inputs and inspired me through this process. My parents, my friends who believed in me, Captain Sachin Kashyap (who gave me the first idea about the ways to join Armed forces), Lt.Nandakishore ,Major Vikram, My SSB buddies-Shamik Podder, Reuben Jacob,Sowndharya,Navin Yadav for their continuous valuable inputs about SSB and moral support . Last but not the least SSBCrack!!! THANK YOU ALL!!!
MY LEARNINGS ABOUT TESTS INVOLVED IN SSB
1.SCREENING IN- Do the OIR well enough, let the story of PPDT be simple and short(you will be able to remember the story well), The Individual narration during PPDT is the key. Be confident in narration. Take part in GD as much as possible actively, but don't get into the chaos.
PSYCHLOGICAL TEST-
TAT- Write stories which inculcate the situation shown in the picture. Better are the stories that you can relate to your life.
WAT and SRT- One has to give his/her natural responses as time between words are very less. In SRTs it is the quality of the reply that counts, not the number.
GTO TASKS-
Group Discussion- Be active in the group. Listen to everybody's opinion and gather your points in the mean time. Present your points in a gentle manner.
GPE- Analyze the situation at hand carefully(There are resources that are hidden in the details that will help you solve a few problems), prioritize the problems. You can assume a few viable things too from the story. Then help the group to reach a possible solution.
Lecture- Pick a Topic you have better knowledge about. Plan out the points you will use in the talk. Introduce the crowd on the topic and the highlights you are going to cover in the talk(Introduction, Current status, Advantages & Disadvantages and Future prospects). Confidently and slowly go through these points one after the other in detail. This will help you extend your talk to 2.5 minutes easily.
PGT, HGT, Snake Race, FGT- Actively participate in the tasks and give ideas to the group. It is always the group that gets the priority and become a part of it. Listen to the GTO carefully each and every minute(He will be giving tips that you can use to come up with solutions).
Individual obstacle- Try to understand your level of fitness and plan accordingly. Try to clear as many as possible. Keep yourselves safe and don't take undue risks.
Command Task- Lead from the front. Take responsibility of guiding your subordinates through the task. Look at the structures from all possible angle to get overall idea. Listen to the GTO carefully. Stay calm and work continuously.
INTERVIEW- Keep calm as this will be a good interactive session. Have a smile always and never worry about the things you don't know. Most of the questions are from your PIQ so be prepared on what you have written. Keep the answers short and simple. Don't elaborate if not asked. Be honest in your responses. There are a few repeated questions asked every time(Prepare your responses beforehand). Prepare for a few National, International and Defense related topics too.
CONFERENCE- This is generally are a short interactive meeting with the Board, If asked a few questions give answers calmly.
Pick up a good book on SSB to get better idea about the process, I would recommend you to watch YouTube videos too. INTROSPECT as much as possible. You are your best judge!!! Strive to make improvements in every attempt. Here I think I have covered most of what I wanted to share. Now I would like to thank you for reading the whole thing(your patience points just jumped up!!).
I have done my part sharing my experience.
YOU NEXT MY FRIEND!!!
How To Prepare for SSB Interview:
Current Affairs eBooks