I was very sure from the beginning that a day will come when I will be writing my story on this website. Yes, I am SUO(Retd.) Parminder Singh , soon going to be a GC at OTA-Chennai, hails from the state of J&k. I have put my rank as SUO because in ARMY, ranks never retire. And NCC is a part of Indian ARMY. I am an ARMY brat and my father recently got retired as a Junior Commissioned Officer from an Infantry Regiment. Being an ARMY brat, I have been to various ARMY public schools at different locations. Like all of us , I also have the craze of the uniform ,honor and adventurous life and these were the things which have led me here today.
To prepare for defence exams and SSB interview, get these books:
I prepared hard for my academics in class 12th and scored 94% marks. I cleared my NDA(written) in second attempt and went for its SSB. So it all started in 2014. I took admission in one of the govt. colleges of Jammu. I attended my first SSB at Allahabad in 2014 for TES in which I got conferenced out. Then , in Sept 2014, I appeared for NDA SSB AT BHOPAL. Again, I got conferenced out. I skipped my navy 10+2 btech SSB which was scheduled at Coimbatore in October 2014. Then, in Feb 2015, I attended TES SSB at Bhopal where I got screened out. And believe me, that was the most worst feeling in my entire SSB career. I was just wondering what went wrong. The whole journey I was thinking about the same. Then in April 2015, I again got my navy tech SSB at Coimbatore. I made up my mind and went for the SSB and unfortunately, the result was the same , I got conferenced out. I also took NCC in my college and was paying attention to its activities. Then, in August, a hope came in the form of another SSB for TES at Bhopal again and I appeared for it. That was the time when I was sitting in the conference hall ,again the list did not have my name in that. I was shattered. And you people will agree with me that when you know that its your last chance for ARMY and you didn't make it, your life is no less than a hell. In Oct 2015, with very casual attitude, I went for navy 10+2 btech SSB and as expected, I got screened out. With these journeys of SSB, I was over with my one and half years of graduation and still didn't make it. Now the SSBs were over. I had no other chance after that. I paid more interest in NCC- won many hearts and achievements. But many things happened in my college life which always tried to demotivate me. Yes I have been into some distractions which completely distracted me from my aim. After completion of my graduation,I took up a job of a private teacher in a private high school and started working. I was preparing for the competitive and working as well.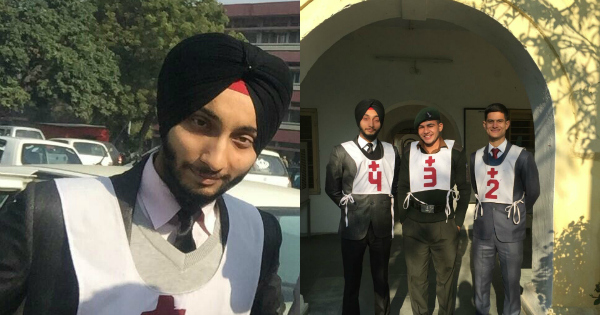 I appeared for interviews at two private companies where I got rejected. I appeared in IBPS exams –in the result list of which I didn't find my name. I was very worried about my future because wherever I was going , my life was adding one more rejection into my list. I started paying more interest in the defence exams because this was the only thing which always gives me a kick(as salmaan says). I took help of my mentors and started working on it. Yes it hurts a lot when I go back to the past and recall things, sometimes I laugh on silly things which I used to do in college. Within few months of hardwork and preparation , I was able to polish my Gk abilities. I trained myself not to lose hope and never give up. Fortunately, I cleared my CDS and AFCAT exam. I had the CDS SSB for IMA in August 2017 which I skipped because of some personal reasons. So my first SSB (7TH ATTEMPT) was from NCC entry, scheduled at Kapurthala.
This was my first SSB after graduation, so I wanted to be very best in that. And that was the afternoon of 16th Dec 2017, when in the conference hall, I heard my chest number and candidates started clapping. And inside me, there was feeling that YES! I MADE IT. I have my AFCAT SSB scheduled in the month of March but I will skip that too. In my merit list, I have got the All India rank 8th. I am not here to tell you how SSB is to be dealt with, that is included in many books and even coaching centres are doing their best in that, but I am here to tell you that there is always a road to success and it is always opened if you have those eyes to see it. Life is not a bed of roses but full of thorns. It's your choice how to respond to the situations coming to you. Of course, life gives you challenges and setbacks and those challenges can be small or big, depending on how much life wants to make you stronger. Being afraid is one of the options and fighting and defeating them is the another. Decide wisely. I would like to suggest repeaters to have an alternative except defence in their minds so that they should be mentally prepared to compensate the loss. I hope you people understood what I meant by that. Many of my friends complained me that I have got my recommendation very early. But my dear friends, this is not the result of just few months, this is the result of 13 years for which, me and my family was working. I would rather say Believe in Almighty. If you are good at your work, you would definitely be on a place where you always wanted to be. Through the column of this website, I would like to thank the Almighty, my parents for their constant belief in me, my teachers, well-wishers, mentors, my seniors and juniors of NCC and friends who have supported me during the entire journey.
THANK YOU ALL. The message which I would like to give to all of you is To find your reasons to your Aims and NEVER EVER GIVE UP. I don't know how many of you will understand this but ENJOY LIFE HAPPILY. If you people want to consult anything related to SSB, just leave a message and I will be there to reply. With best wishes to all and me too.
Jai hind
To prepare for defence exams and SSB interview, get these books: