Joining defence forces was a childhood dream for me. After joining Military School Chail(Shimla) in 2007, I got more inclined towards defence forces. Gave NDA exam in class 12th but could not make it at that time. Sometimes life test you how strong you are and that was me getting tested. Thereafter I took up engineering in Electronics and communication. For next 4 years, I honed my personality because it was crystal clear in my mind that I want to join defence forces only. So I appeared in AFCAT 1 2018, being from an engineering background I got the option to go for a technical field as well,moreover, I was medically unfit for flying branch(I still curse my eyes for that). After appearing in AFCAT and EKT I was confident that I will clear the cutoff of both. Destiny followed my instinct and I cleared the written and EKT too.
Prepare for your SSB Interview with best books
I chose 3 AFSB Gandhinagar as I wanted to see the west of India which I never got the opportunity before.
Day 1
So, on 4 June I reported at Ahmedabad railway station from where the airforce people took us to Gandhinagar which was 22Kms from Ahmedabad. I was not nervous because this was not my first SSB, So I knew how to handle nervousness. We appeared for OIR test which was easy and I was able to do all. Thereafter we were taken to a hall where everyone was shown a picture. Our picture was quite clear and being from tech background the first thought came to my mind was a technical solution to the problem described in the picture. Then the discussion started after narrating it individually. At first, there was a fish market but as soon as a minute passed I sensed some silence coming in between the discussion and used in my favour by giving my best point which I was weaving from past 1 minute. In this way everybody heard what I was trying to say and some of them got convinced with my idea. So, I did my best and was hoping that this time I will get screened in. After that we had lunch and DSO sir came with the result. And finally, I made it and got screened in.
Thereafter we had our document verification. When my documents were getting verified I didn't know that the officer who was verifying was in any way going to test us for the next 4 days. And he said –"So you are from military school ".I said-"yes sir".And he started asking me questions there itself like how far is your school from Solan(city near my school) etc. I was bit confused whether I m getting tested or it is just in light vein he is asking. But I gave the answers confidently and it all went smooth.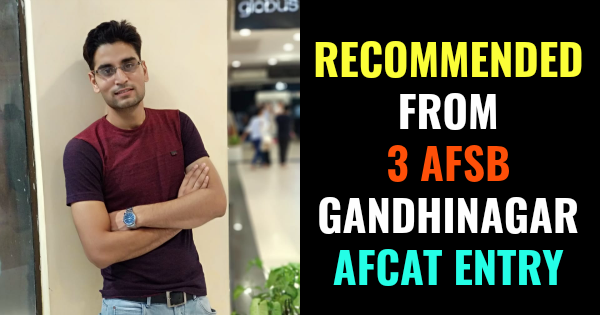 After that, we were very tired due to 43+ degree temperature at Gandhinagar, and we were allotted rooms and we dozed off. It was quite exhausting for us as it was very hot and we could only manage a half hour sleep moreover, In the evening we had our psych tests.
In psych test, I was able to write good stories in TAT in the blank picture I wrote my life's struggle till now, which was straight from my heart. In WAT I wrote 58 word-sentences. I showed my positivity in whichever word I can and kept neutral or scientific whenever it was difficult. Then, in SRT I could only manage to write 35 SRT's due to my complete reaction to every situation. But whatever SRT's I wrote those were true to my natural responses. After SRT I was bit tensed as everybody else wrote more SRT's than me. But I did not lose my ground and then wrote self-description to the best of my knowledge. Thereafter we were given PIQ forms, and I filled it very calmly and to the point. Always try to write all your achievements whether you have won a competition or you were there just for giving competition, what matters is your spirit and your participation.
The day culminated and I was bit less satisfied with my performance due to less attempt of SRT's, but I didn't think it more and slept.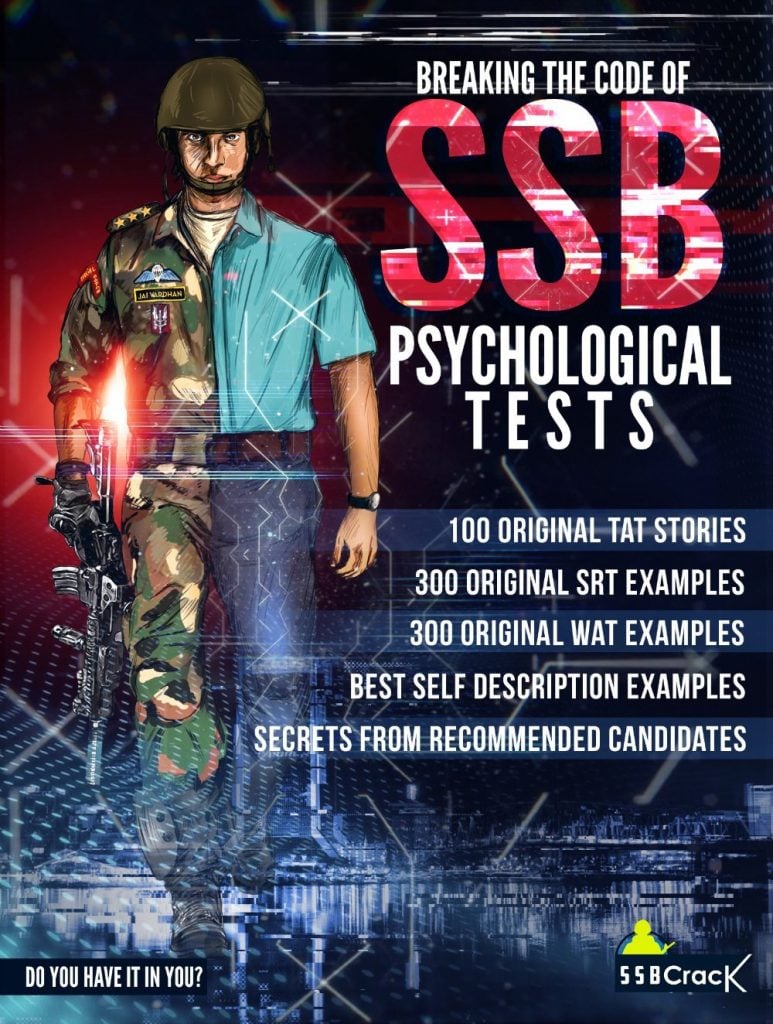 DAY2
In the morning itself I had my interview, I made my mind before the interview that whatever I will speak during the interview it will be true to my knowledge and will tell about my life struggles and how I handled them. When I opened the room and I was shocked to see the same officer who verified my documents as my interviewing officer(IO).I maintained my calmness, went inside, greeted and was told to sit on the chair.IO asked me about my journey, how long did it take to come from my hometown to ahmedabad by train, what did I had in my breakfast etc. Then he started rapid fire questionnaire. I listened to every question politely and as he started asking me about my school I got the opportunity to show my qualities, as any cadet from military school lives a life less ordinary, I told every experience of mine in school and I sensed that he is getting interested in my answers. Thereafter I told him about my experiences at college, my fear of talking to girls when I joined college, as I was a boarder and that in an all boys school, he started laughing after listening to my experiences at college with girls. I sensed that till now my interview in going very well and I was able to show lot of qualities from my experiences. Then he started asking me mathematics questions as I told him that I was weak in mathematics. I did not puzzled my self, took my time and gave correct answers. Then he asked about family background, friend circle, future aim, why electronics engineering, why defence forces, why technical branch etc which I answered very well as I had introspected my self well before the SSB.So my interview lasted for 1.5 hours. And I was satisfied with my performance.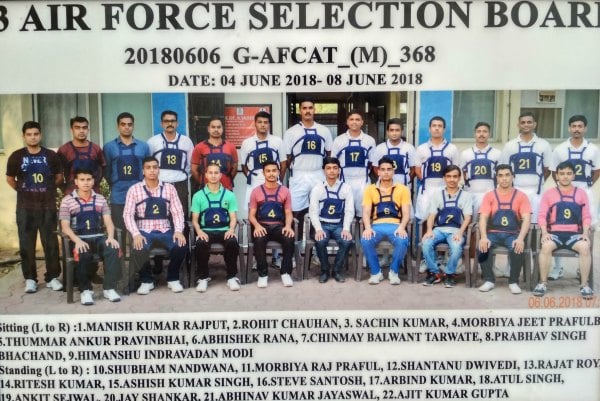 DAY 3
On day 3 we were free as we didn't had any test .Later in the evening we went to Akshardham which was near by ,enjoyed a lot with my group mates .
DAY 4
Day started with GTO briefing, he gave us clear instructions that majority of the tasks will be group tasks and with god's grace, my group members were very helping and understanding. We started with GD's and on both the topics I spoke well as I had a good hold on the topics. Please read the newspapers otherwise you will not be able to perform well. Then we had GPE and I identified all the problems, prioritized them and wrote solutions, we had a good discussion on the solutions and one of our group member narrated the solutions.Always choose the person who has best communication skills and is clear of the solution. Please don't get individualistic in this task, these are not individual tasks.Thereafter we had our lecturette. In lecturette, I chose an average level topic as I did not wanted to trouble myself by speaking on a higher level topic of which I had very less knowledge and did fairly well as I had good power of expression. Then we had our PGT and HGT. Our group was very well bonded and we kept the team objective always superior than our individual objectives of making an impression. Don't try to impress the GTO as he is very experienced and will know automatically in how much waters you are. Just help your team and complete the obstacles with collaboration and always motivate each other.Then we were done for the day.
DAY 5
It started with command task and I was called in the end from where I sensed that till now my performance is good. Before command task GTO had a informal talk with me and asked me whether I have taken any coaching and I gave him my true reply that-" I did not and I don't think these task require any coaching , with right attitude and team members these task are very easy to do."He seemed humble towards my reply and then I did my command task. During command task he started increasing the difficulty level by limiting my resources but then also I was able to clear the obstacle. Thereafter we had our individual obstacles, I was able to do the obstacles very easily because I was in good shape and stamina.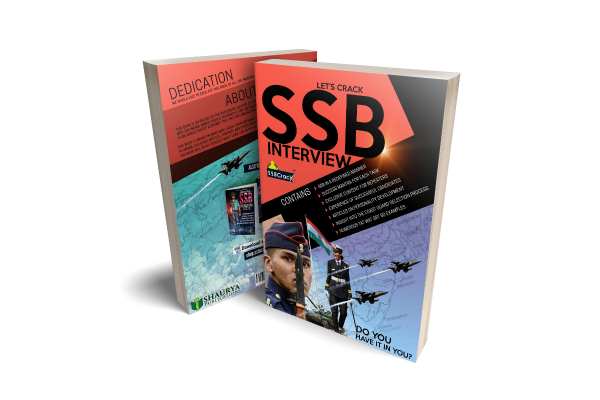 Then we were told to be ready for the conference by 1100 hours.we all were made to sit in a hall. And the chest numbers were started being called. Mine was chest no 06. I noticed that before every candidate there is discussion going between the officers and then a candidate is called in. But discussion time was not much till chest no 5.so when my turn came I was made to sit for 5 mins before they called me inside the conference room. My 5 min wait gave me idea that I have chances of getting recommended. And I went inside then a different interviewing officer who was our DSO also started, asking me questions like-"how was your stay","what is the climate in my state i.e Himachal Pradesh. Who was your best friend in school, name two qualities you liked in him, sports I played in school, favourite sports, then he asked me a different question-"give me an example where you and your parents had a difference of opinion".Then I thought for a while and gave the answer smartly. And then my conference ended. I came out and was feeling good about myself, the way I handled the conference. Thereafter we had our lunch and we were called for result. The DSO sir came and gave motivational lecture and then he announced my chest no 06.and said he is only one recommended. I stood up thanked everybody but also felt bad for my group mates who could not make it.
P.S- Always know yourself before going to SSB. Use your mind and make strategies according to you. This was my experience hope this could help you in any way. All the very best.