In November 2017, a cordon & search operation was launched in Algar village, South kashmir in Jammu and Kashmir on input of presence of three terrorists. Sepoy Vrahma Pal Singh was deployed in inner cordon as part of Combat Action Team under Captain Kaninder Paul Singh.
How To Prepare for SSB Interview:
On positive identification of complex of target houses, and having readjusted the cordon, a search team including Sepoy Vrahma Pal Singh was formulated. Considering his tactical & professional excellence he was made part of entry team. Having cleared two houses Sepoy Vrahma Pal Singh alongwith his buddy moved ahead to clear the adjacent cowshed. Upon entering the completely dark cowshed as Entryman Number 1, he came under heavy effective fire from the cowshed from three different directions. Unmindful of his personal safety, he retaliated immediately. All three terrorists started aimed firing at Sepoy Vrahma Pal Singh in a bid to overpower him.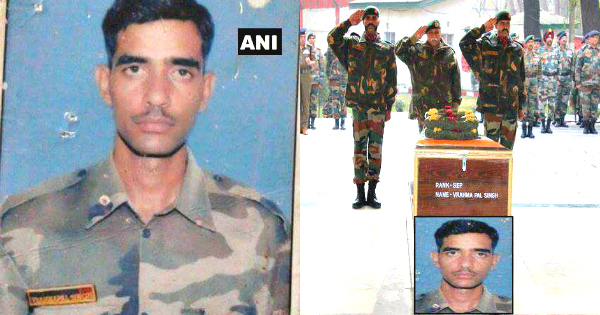 In a single handed gallant action displayed by Sepoy Vrahma Pal Singh, he provided cover fire and afforded opportunity to his buddy Rifleman Aurangzab to extricate himself not only out of cowshed, but also kept the three terrorists engaged thus prevented their escape out of cowshed. This also resulted in gaining of time to readjust the cordon by Captain Kaninder Paul Singh. In the ensuing firefight, he sustained bullet injuries on his chest and legs. Despite being grievously wounded and numerically overwhelmed by terrorists Sepoy Vrahma Pal Singh continued dominating and engaging the terrorists, which led to neutralization of one terrorist and injuring of another.
Sepoy Vrahma Pal Singh in the highest traditions of Army, made supreme sacrifice for the nation. For displaying heroic action, indomitable spirit, exceptional bravery, camaraderie, espirit-decorps, leading to saving the life of his buddy and neutralization of two hardcore terrorists of Pakistan and injuring of another terrorist by making supreme sacrifice for the nation in line with highest traditions of Indian Army, Sepoy Vrahma Pal Singh has been awarded "KIRTI CHAKRA (POSTHUMOUS)".