Well I am feeling very happy to share my SSB experience with all of you. First of all, I have done my B.tech from NIT Jalandhar in 2015. Since then, I was striving to fulfill my dream of joining Defence Forces.
My ssb journey started in march 2015, when I first appeared for ssb through CDSE at Allahabad, got conference out. Subsequently, underwent 4 ssb's of army, navy and airforce before getting recommendation in 6th attempt for Indian Air Force. I scored 154 marks in afcat and 52 in EKT ( cutoff was 52 also)
It was the fresh morning of 25th April 2016, total of 175 candidates reported at Dehradun MCO. We all then taken to 1Afsb.
Before the starting of screening round, our docs get verified and then after having breakfast, our phase 1 testing started which consisted of 2 parts
1) OIR testing which consists of simple verbal , non verbal questions. (practice well to score good rank)
2) PPDT- a very hazy picture was shown and all of us made story as per our own perception. After 15-20 mins, we then went to a room for discussion, everyone narrated his story and participated in discussion as much as they can.
(Advice- Speak confidently and dont try to dominate by speaking again and again in discussion (2-3 times is enough).
Finally, out of 175, 74 got screened in. Rest, routed back on the same day.
Next day, our Psych test started at 2.30 Pm because of PABT test in the morning.
I wrote down stories with the first thought that came to my mind (because this time, I didn't practice even a single story or Wat or SRT, just gave my natural responses ( I've not done practice just bcz I was aware with the process and tired of cramming stories n words again n again)
I attempted all stories, almost all words and 45 SRT's and a very genuine SD.
Next day was free, as I didn't have any testing scheduled for tht day.
Then next day , my interview was scheduled which went for almost 40-45 mins in which examiner asked me about my studies, family, friends, hobbies, favourite teacher, favourite subjects. During interview, he asked me, why I want to join Defence forces. I gave him the answer that he probably had not received from any candidate, thats why he raised his eyebrows with a continuous smile on his face and started writing something on his page continuously for 15-20 seconds. My interview went very well as I was happy with my performance( still was not expecting of recommendation at all)
For the next two days, my Gto testing was scheduled, which includes the confrence day as well.
At first in Gto testing, GD was conducted in which we discussed on two topics ( sorry didnt remember topics), after that Group Planning exercise.
In PGT, I did not get enough chances to perform, but whatever ideas I gave were enough good.
(as soon as your workable ideas reached to the ears n eyes of GTO, it will get counted as your advantage).
In the remaining tasks, I performed as per my best.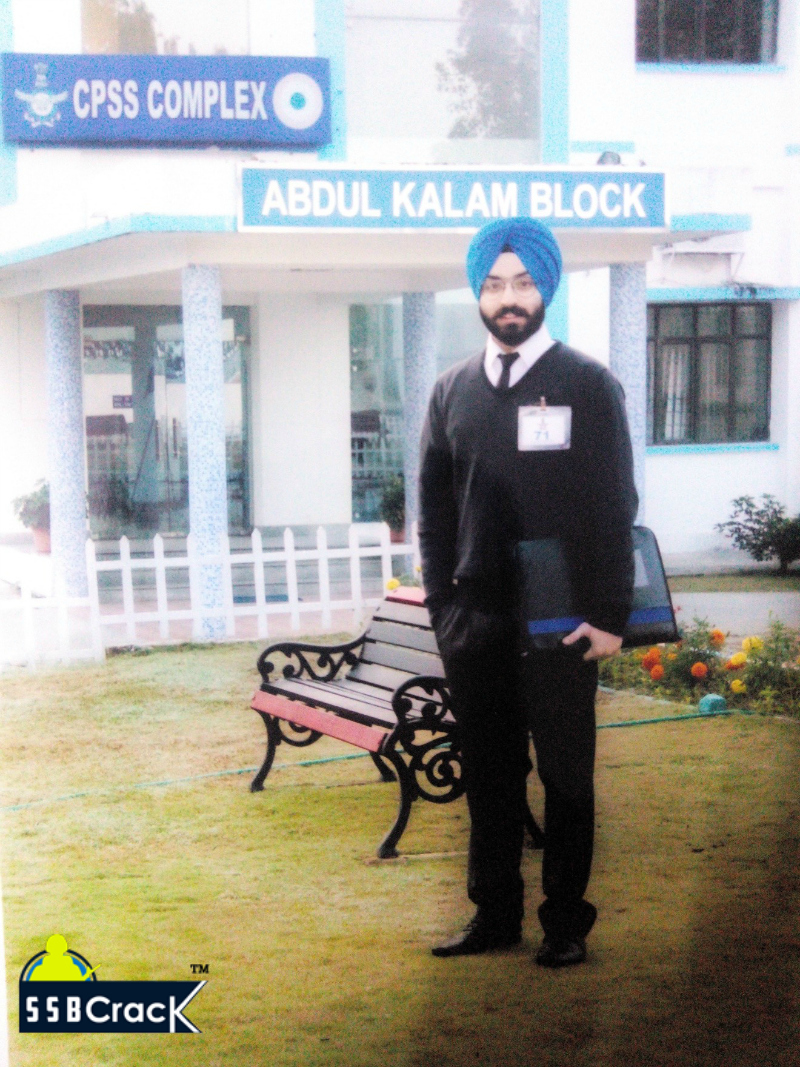 On last day i.e Confrence day, my few gto tasks were pending. As soon as our gto completed, we sent to our room to change over the outfits.
Finally, we made sit in Alaknanda hall from where candidates sent to confrence room. Every candidate was very tensed at that time, whereas I was playing Tabla on table (bcz I was not expecting anything).
Ultimately, it was my turn to go inside. I waited for 10-15 mins outside the room, then bell rang and I went inside. Senior Interviewer welcomed me( the same person conducted my PI , when I visited Afsb earlier), then my conference went for 10 mins during which they asked me about my jobs which I left before even joining them. Then again question got asked, WHY DEFENCE? I gave the same answer that I had given in PI, at that time even, my answer brought a pleasant smile at the faces of all assesors sitting in the room.
Now, it was the result time, 4 out of 74 got recommended and luckily I was one of them.
The moment of getting recommendation was like as if I got everything that I longly desire and strive for.
After that , I got date for medicals and reported medically fit.
Recently, with the almighty's grace, I successfully get into merit list to join IAF in technical branch.
A big thanks to all who remained beside me during my time of continuous failure. If anyone need any help text me, I am sharing my Facebook profile id below, whenever I will be free, I try to answer all.
IF YOU WILL FOCUS ON RESULTS, CHANGE WILL NEVER COME
SO FOCUS ON CHANGE, RESULTS WILL DEFINITELY COME
Be change oriented not result oriented.
JAI HIND
Thanks to all
Navneet Singh
navneetsingh811@gmail.com
To crack SSB and AFSB Interview get "Let's Crack SSB Interview" Book from Amazon. Trusted by thousands of defence aspirants
Also Download Helpful eBooks: