4th Attempt for NDA- IAF. Previous 3 attempts- Not recommended (136, 137 & 138 NDA ) (All the interviews were held at Mysore for NDA Air Force). 139th NDA Course, 2AFSB Mysore, 14-18 Aug 2017. Chest no. 66
Day 1: Fore Noon Session Morning. Basic documents check & form filling. OIR- I had solved the sets in my previous attempts, so it was easy. After Noon Session (Post lunch) PP&DT- I was used to the hazy pictures, so wrote my story in less than 4 minutes. Story had a good plot. On the way to discussion room, tried to get an idea of my group mates story. My group had 11 members. Narrated my story to the point, in less than 45 seconds. Discussion was fish market (as expected in repeater's group). My contribution was combining the various small points in different stories, also I forced the group to conclude & to decide what to include & what not to. One guy volunteered to narrate the story but he screwed up the story badly (he didn't get through screening). We agreed to his narrated story as group had nominated him.
Screening results- Announced, 5/11 in my group made it through Phase 1. After that we filled our PIQ forms.
Psychology tests
TAT- Stories were good. 12th story was prescripted. Average word count was 100+/-10.
WAT- Wrote whatever came to my mind. For some words, I couldn't think of a sentence, for those, I wrote words related to that word that came to my mind. Completed all words.
SRT- Wrote actions in small phrases. Completed all well within time.
SDT- Normal. Wrote everybody's opinion.
Day 2
Group Tasks (GTO Officer- Wg Cdr)
Group discussion
India has poor water distribution throughout the country. We have floods & at the same time also draughts. Which of the following is the best option to tackle this problem?
Large reservoirs
River interlinking
Better rainwater harvesting (I took this point- highlighted why this one is better than other two)
Weapon & equipment induction takes a long time in Indian Armed forces. Amongst the following what do you think is the reason for this?
Slow technological advancement of our country
Red Tapeism (I spoke from this point)
Low morale of researchers & developers in our laboratories.
Group planning exercise
This part was good. The format was standard so this was easy.
Progressive group task
Completed all obstacles. Gave many ideas. Many of them worked, few didn't.
Half group task
GTO asked how should the group be split. I quickly said odd-even. He subsequently did so & asked who wanted to go first. I quickly raised my hand & said that I wanted my group to go first.
Task was simple. Had a solution in the first couple of minutes. Implemented solution & completed it in 5 minutes.
Lecturette
I spoke on the third topic "Odd-even no. scheme for vehicles on road". Spoke for completely 3 minutes. The first topic was "Censorship in Military Affairs".(I don't remember other two)
Day 3
Command task
I was called third last (7th/9). GTO asked from where I had come. What happened in my previous three attempts?
What new preparation I had done for this particular attempt? (As a part of preparation I had visited AFS Bidar) I told the GTO that I had went to AFS Bidar to prepare for this attempt, cleared my doubts & analysed my previous mistakes.
GTO asked me how did I got there?- I had visited NDA for POP, the Suryakiran Formation team had performed there. I had met some officers there. In my holidays, I called AFS Bidar & asked for that particular officer. He then invited me to Bidar to discuss.
GTO- Okay Amartya that was good. I then called two helpers & started my CT. I hadn't completed my first leg of solution GTO made one of the WHITE part to RED. I found out next solution he made WHITE part to YELLOW.
I was now thinking for the next solution, GTO said "commander you're running out of time" (Even 5 minutes hadn't elapsed). Finally I found third solution, GTO agreed & asked me to return.
Individual obstacle: I attempted 7, but could clear only 5. 5/10 cleared.
Final Group task: This task was also good. Equal to that of PGT. Group obstacle race wasn't conducted.
Day 4
Personal interview (IO- Wg Cdr, also was our batch's DSO)
General questions about myself. About my family, friends. Most question were from my PIQ. Questions about my school, sports I played, hobbies, positions of responsibility I held in school & college & extracurricular activities. & some National & International news.
In the interview, I forgot to mention DOKLAM region stand-off when IO specifically asked me about defence related national new.
IO did not ask me single IAF related question.
Current Affairs questions will be from last 5-7 months (for AFCAT, NDA, CDS, TA)
Days 5
Conference
I was the second last person in batch. Discussion before I was called in lasted for about 12-15 minutes.
I went in. I was asked which is this attempt of yours? Where were previous SSB held? What happened in those Interviews? (All answered)
What inspires you to join the defence forces?- I said that the discipline & calmness of officers motivates me to join the Air Force.
I was asked if any suggestions. I didn't have. Left the conference hall.
Results were announced. 8/67 made it through. 2 repeaters including me. The other one was from Sainik School. After conference we filled forms till 3 o' clock next day. We were given goodie bag & then left AFSB. Here's a selfie taken at the Mysore Railway Station with the goodie Bag.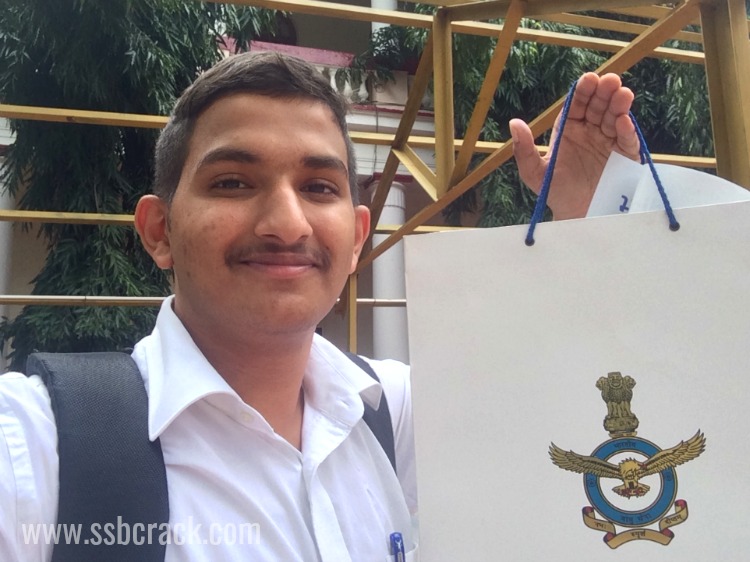 Dear friends,
This was my 4th time at the same AFSB. Preparation & approach was totally different this time as compared to last 3. I had attended coaching this time also(like previous 3), bought 3 SSB related books, video lectures, but the most important thing I did was to just use the material as help. At the SSB, I did what I felt right.
My session with Dy Cmdt of Indian Coast Guard-
My father, in his office had come across an Asst Cmdt (now a Dy Cmdt) of ICG. Me & my father became close towards him due to my desire of joining Armed Forces. Being conferenced out thrice, he called me over for a session at Mumbai. I had a 5-hour long session wherein he analysed my previous mistakes in Interview, GT & Psych tests. We discussed in detail the shortcomings in y performance and made a solid mold of what to do and what not to do strictly. This helped me a lot in all my 3 assessments
My AFS Bidar visit-
As a motivation for myself, before my third attempt for NDA (for 138th NDA course), I attended Passing Out Parade at NDA. (It is open for general public- Passes are needed). Fortunately, SuryaKiran Formation Acrobatic Team (SKAT) of the IAF had performed that day.
Out of sheer curiosity, after the air show had ended, I spoke to the ground commentator (Wg Cdr) of the team. I spoke to him regarding my previous attempts & my desire to join the NDA. We interacted hardly for 5-6 minutes.
In the Jan '17 AFSB, I got conferenced out.
Come May '17, I had holidays. I called AFS Bidar, 52 Sqn, & asked for the same officer. The officer (lets call him N) called me back & instantly asked me to come down to Bidar to stay with him for few days.
The following week I went to Bidar. N made my boarding arrangement in the Officer's mess (This was itself truly a motivation for me). The same day I arrived in Bidar, N took me for a squadron party. Party was for welcoming new pilots & send off for outgoing pilots of the Squadron. In the party I interacted with a lot many officers from the rank of Gp Cpt to Flt Lt. The next few days' evenings were spent at N's home. N's wife was an ATC officer, her brother is a Col in the Indian Army & her father was a Met Officer in the IAF (In short, the whole house was in Defence forces). N had cleared AFSB in his 2nd attempt, while N's brother-in-law had cleared SSB in 6th attempt (N's BIL desperately wanted to join the IAF, but couldn't get through AFSB 5 times. He cleared SSB for IA in the next attempt).
So based on these stories & their experiences we had a long session for 4-5 days.
On my 3rd day of stay, N took me to the squadron. He handed me over to a young trainee fighter pilot (Fl Off). He took me around the station. I saw different simulators for BAe Hawk MK 132, the aircrafts itself. Also FO being a recent pass out of academy, guided me about my approach at AFSB.
Along with this, I also participated in Inter Squadron cycle race of AFS Bidar, attended Iftar party & met a lot of young officers at the station
Coming to my AFSB interview, due to all of the interaction at AFS Bidar, I was lot of comfortable with my IO & GTO. This helped me a lot while I was put into tricky situations.
So, friends this was my Interview story. I hope everybody desiring of joining the forces make his/her dream come true. We don't know what lies in future for us, but let me assure you that it is a glorious future just that WE have to walk upto there.
Concluding, Paulo Coelho has rightly said "When you want something, all the universe conspires in helping youth achieve it."
All the best everyone out there. Get in touch if any help/clarification is required.
P.S. These pages also helped & kept me focused and motivated a lot during preparations.
SSB Crack / FB Page (for all preparation related stuff)
Indian Military Humour (for all humour needs, also they have quite good opinion about recent army related happenings)
Tejas-India's MRCA (best technical page related to Indian Armed forces, these guys have extensive knowledge about equipments in forces)
Fauji Dil ki Baatein (for good motivational poetry about "faujis")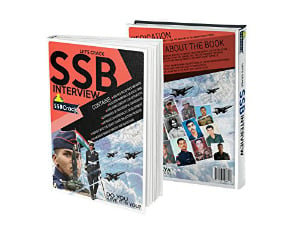 To crack SSB and AFSB Interview get "Let's Crack SSB Interview" Book from Flipkart. Trusted by thousands of defence aspirants
Also Download Helpful eBooks: