Interview is a very important part of your SSB. Your performance in interview mostly is responsible whether you make it or not. IO has different ways of testing whether the person is fit enough for being an officer or not and some questions he asks are his pet yet they confuse the candidates and they generally go with the flow and answer something which dismisses their chances of selection. Here are a few such SSB Interview questions along with their suggested answer.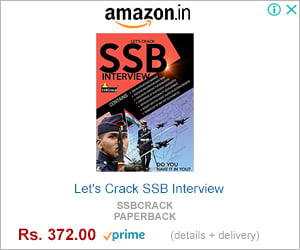 Q) Why do you want to join Defense Forces?
A) Now you may tell the real reason because definitely a defense aspirant has a solid reason behind joining the defense forces, that reason may be patriotism, love for aero planes, ships, guns, craze for uniform, wish for an adventurous life or any other. Now one thing to be noted here is that boys, except for those giving interview for an entry after 10+2, should not say things like 'Sir it was my childhood dream' or 'I always wanted to do this only', otherwise IO might ask you that dude where were you after class 12th?
Q) What if you do not get recommended this time?
A) You have to sweetly and simply say that 'Sir I'll try next time again'. Now he may counter you by saying that if you do not make into defense then what? Here you have to show your chipku-pana for defense, you have to say that sir I'll work very hard and make it, or I have not thought anything as yet except defense.
Q) Do you have a boyfriend/girlfriend?(And for the obvious answer No-Why you do not have)
A) Well this is your call guys & girls but if you say yes for this then be ready for a lot of counter questions and more counter questions IO asks regarding your personal life more you are likely to reveal yourself and I believe down the line we are not perfect. So to avoid any mishap simply say NO, if he asks why then you can say that I have not yet felt anything like this for anybody yet.
Q) What is your belief of marriage? (Love/Arranged)
A) Please don't act smart (actually foolish) by giving a kiddish reply that 'I don't believe in marriage' or 'I have not yet thought about it'. IO expects you to be grown up at this age (Graduation people) . You can say that you believe in both kinds of marriages but the person you are getting married to should be acceptable to everybody in your family. Hence in case of Love marriage your parents should agree to that guy/girl & in case of arrange marriage you should agree.
Q) Do you drink/booze?
A) Aha now that's a catchy one, for boys especially if you are going for UES or anything above college level then IO knows that most of you would have done at least once. So say the truth, if you do then tell that yes sir I have done it once or twice and if you don't then tell I don't. For girls, well you can say the truth as well there is no discrimination. Whatever you say be ready for counter questions if you are saying yes or sometimes etc. Saying a NO saves you of unnecessary questions 😉
Q) Why did you fail in previous SSB attempt (for repeaters)?
A) Tell the truth what you feel, don't blame the SSB that I did good and they didn't take me or I don't know, this gives a negative impression about you. You can say that I was not prepared well Sir in (say a particular thing) like psychological part. You can add up by saying that but Sir I have prepared well this time.
Q) Did you do any special preparation for SSB?
A) Of course you did! So tell him that yes sir I prepared for SSB from various sources like reading books on current affairs, reading newspapers, taking tips from websites especially dedicated for SSB like SSBCrack 😉
In short you have to make him feel that you have worked very hard for your SSB.
Bottom-line:
You have to keep in mind that IO sitting in front of you is much more smarter than you perhaps that is why he sitting there. Also IO is fairly senior officer who has got kids of almost of your age, he knows what and how you think! You have got to be cautious about being over friendly with the IO, they are trained to smile and be polite so that you may speak as much as you can. But remember he is not your friend and thus you don't have to treat him like that, at the end of the day he is responsible whether you make it or not, hence you have to very formal, polite and control your tongue
Also Read