Friend, this article is about various GD topics. As we know G.D. is first test of the GTO series. It is an informal discussion among group members on a certain topic. There are two discussions in first discussion candidates get choice and in second discussion candidates don't get any choice. Generally both the topics have 3 subtopics. For both discussion 15 to 20 minutes are given to discuss.
This shows the candidate's knowledge of Current affairs, history and social awareness as well as his/her grouping skills like group coordination, listening power, concentration, communication, speaking tactics, patience etc. Crux of the GTO is knowledge and communication skills. And good thing is that both can be developed by working over it. I am enlisting few topics here to help aspirants in preparation.these are as follows
The GTO in SSB consists of two Group Discussion Rounds. Topics in SSB GD could be from anywhere be it social, national and internal issues. One must have facts and figures handy to speak with confidence and take active participation in the GD.
Here is the list of GD topics that are being asked in SSB Group Disucssion:
COVID-19 (Coronavirus) impact on Indian and Global economy
Farm Bills 2020 – Pros, Cons & Challenges
Farmer's Protest in India
Ban on Chinese Apps in India
Modernisation of Indian Army, Air Force and Navy
Atmanirbhar Bharat Abhiyan
E-Learning – Past, Present and Future
COVID-19 and Health infrastructure of India
Indian Economy – Past, Present and Future
Budget 2021 – Pro and Cons
Should public sector banks be privatised?
Privatisation of Indian Railways/Trains
Work from home – Pros & Cons
Influence of Social Media on Youth
OTT platforms and censorship
National Education Policy (NEP) 2020
India-China relations 2020 – 2021
Unemployment in India
India as superpower
Startups In India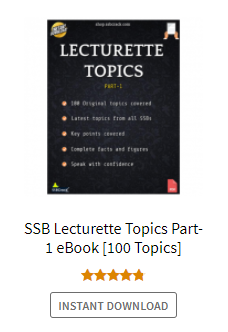 Business & Economy: Group Discussion Topics
Article 370
Triple Talak
CAA and NRC
Start up India: Boosting Entrepreneurship
Merger of Public Sector Banks: How beneficial is the merger of Banks?
Water Transport Tourism: A shot in the Arm for economic development
Budget Cycle Change: Only a move of convenience
Bank Recapitalization: NPA reduction and not bank recapitalization can cure the health of PSBs in India
RERA: Will it restore the trust of home buyers?
Moody's Rating Upgrade: Will the improvement enhance economic growth of India?
YONO: One Banking Digital platform for all financial solutions.
Demonetisation: Success & failures
Indian Economic Slowdown: A long term problem, how to come out of it?
GST: Will economy grow faster with reduced rates of Goods & Services Tax?
Farmers' Income: Will India be able to double it in next 5 years?
Privatization of Indian economy: Should India go ahead with the idea?
High Deficit Financing V/s high interest rates: Both cannot go together
Union Budget: Merging the General & Railway Budget will save exchequer from unnecessary spending
India V/s China: Will India remain way behind China?
Employment Generation: IT industry will create huge job opportunities in India
FDI in retail: Good for India?
Business Lobbying: Make it legal in India
Corruption in Economy: It is the root cause for Indian Economic slowdown
Make in India: The idea will make India a manufacturing hub
Current Affairs: Group Discussion Topics
Sensex: Sensitivity has nothing to do with economy and society?
Companies Amendment Bill: Will it be helpful in ease of doing business?
Gujarat & Himachal Assembly elections: Implications at national level.
IIM Bill 2017: Is it really beneficial for the students?
End of subsidy regime: Step needed to propel the wheel of growth
Mission to MARS: Can India afford spending a fortune on such projects?
E-commerce: Discounts are harmful in long run?
War Kashmir Crisis: War not dialogue will end the Crisis?
Preponing the General Budget: Is preponing the presentation date a good decision?
Terrorism: Is this the price we have to pay for democracy?
Linking of Aadhaar: Is making Aaadhar mandatory a good idea?
Social Issues: Group Discussion Topics
Beti Bachao Beti Padhao: Will it abolish the orthodox mindset?
Law should be an instrument of Social Change
Browsing at Workplace affects productivity
Social Activism is necessary for survival of democratic society
India needs a uniform civil code
Difficulties in implementation of Climate Change Summit Resolutions
Net Neutrality is essential to make India Digital
Smart City Project will give wings to growth
Gender bias in portraying Women in Advertisements
India needs a uniform civil codea
Abstract Topics: Group Discussion Topics
Black or Grey
Work – life balance
Famous or Important?
Roses are red, crows are black
Water or Oxygen
East or West – India is the best
Patience: A virtue in business and management?
Friends, Enemy or Frenemies?
Innovation vs Invention: What's more important
Change is the only constant
Ethics or Profits
Freedom is a myth
Fact Vs Opinion: There are no facts only opinions
Leader or Follower
Strategy or Execution
Means or End
Hard Work Vs Smart Work
Effective manager or Ethical Manager
It was a bright, cold day in April and the clocks were striking thirteen.
Red is red, blue is blue and never the two shall meet
Brevity is the soul of wit
Gender bias in portraying Women in Advertisements