Hello, Warriors! Operation Blue Star was an Indian military operation which occurred between 3 June and 8 June 1984, ordered by the then Prime Minister Indira Gandhi in order to establish control over the Harmandir Sahib Complex in Amritsar, Punjab, and remove Jarnail Singh Bhindranwale and his armed followers from the complex buildings. Bhindranwale had earlier taken residence in Harmandir Sahib and made it his headquarters in April 1980.
Indira Gandhi first asked Lt. Gen. S. K. Sinha, then Vice-Chief of Indian Army who was selected to become the next Army chief, to prepare a position paper for assault on the Golden Temple. Lt. Gen. Sinha advised against any such move, given its sacrilegious nature according to Sikh tradition. He suggested the government adopt an alternative solution. A controversial decision was made to replace him with General Arun Shridhar Vaidya as the Chief of the Indian army. General Vaidya, assisted by Lt. Gen. Sundarji as Vice-Chief, planned and coordinated Operation Blue Star.
After the success of operation Blue Star, General Vaidya retired and took residence in Pune, India. On 10 August 1986 he was shot to death while driving his car home from the market. According to the police, the assailants pulled up next to his car on motor scooters and fired eight or nine shots into the car. Vaidya died instantly of head and neck wounds. His bodyguard, who was also in the car, was wounded by four bullets in his back and thighs.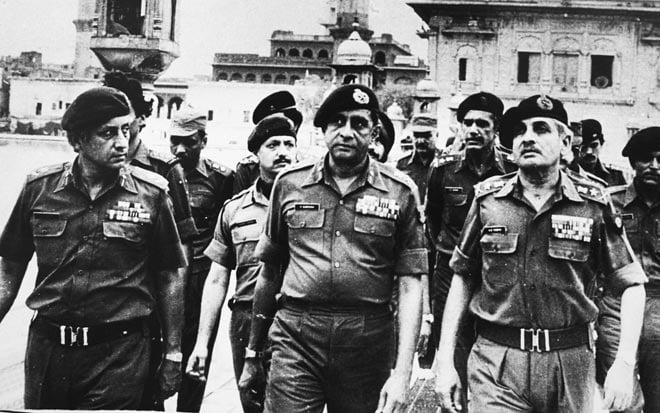 Now, a controversial Punjabi movie, 'Jinda and Sukha,' based on the lives of Harjinder Singh(Jinda) and Sukhdev Singh (Sukha) who killed General A S Vaidya (retd) in 1986, two years after he led Operation Bluestar, has been banned by the Centre. However, the film is likely to be available for viewing for the overseas audience. It was released on 11th September, 2015.
With Gen Vaidya assassinated and the screening of movie making headlines, here's what you need to know about the 13th CoAS:
General Arun Shridhar Vaidya was the 13thChief of Army Staff (CoAS) of the Indian Army. He was commissioned in the Armoured Corps in 1945 and saw battle during the Second World War.
In 1965, the thenLieutenant Colonel Vaidya was in command of the Deccan Horse. During the time he was instrumental in saving the Command Trucks and fleeing Divisional Headquarters through his tanks through an encirclement by Pakistan Army's 6th Armoured Division at the Battle of Chawinda which resulted in destruction of Pakistan's 1st Armoured Division and heavy loss of Pakistani lives. For this he was awarded the Maha Vir Chakra.
During the1971 Indo-Pak conflict, the then Brigadier Vaidya was commander of an armored brigade in the Zafarwal sector on the western front. In the battle of Chakra and Dahira, the hostile terrain was combined with minefields. He crossed through the minefield and moved forward. Thus the entire squadron was able to push through the lane and quickly deploy itself to meet the Pakistan Army's counter-attacks.
During theBattle of Basantar or Battle of Barapind in the same conflict, Brigadier Vaidya displayed skill and leadership in getting his tanks through deep minefields. For this he was awarded a second Maha Vir Chakra (known as the Bar to MVC).
On 31 July 1983 General Vaidya became the 13th Chief Of Army Staff of the Indian Army.
In 1984, General Vaidya designed and supervisedOperation Blue Star – a military operation ordered by Indira Gandhi, then Prime Minister of India, against Sikhs commanded by Shabeg Singh (AVSM and PVSM) under Jarnail Singh Bhindranwale, Chief of Damdami Taksal, in June 1984 at the Golden Temple
He retired on 31 January 1986 as India's most decorated soldier.He had completed over 40 years of service.
After retirement, he took residence inPune, India. Being a Hindu, Gen Vaidya started receiving death threats from the Sikh militants. On 10 August 1986 he was shot to death while driving his car home from the market.  Vaidya died instantly of head and neck wounds.
Following the assassination, the Khalistan Commando Force issued a statement declaring that Vaidya had been killed in retaliation for the Golden Temple operation. In 1989, Sukhdev Singh Sukha and Harjinder Singh Jinda were sentenced to death for the killing. Despite admitting to the killing, they pled not-guilty, justifying their actions by stating that Vaidya was "guilty of a serious crime, the punishment for which could only be death". The two were executed on 9 October 1992.