The existing Services Selection Board (SSB), in vogue since 1948, is a five-day long process for officer selection which includes an interview, group testing and psychological testing of the aspirants.
Many candidates might feel the same if asked whether they find the current SSB interview system old and do they think there is an endless scope to improve the current SSB interview system. The current SSB interview system is running since 1948 with minor changes. The current SSB interview is a 5-day interview procedure where a candidate is tested for his personality using three different tests namely psychology, GTO and personal interview.
Why do we need De Novo Selection System
To reduce the time at SSB which is 5 days now.
To assess more candidates by reducing the time.
New testing as per the current ideologies and society.
Modern techniques of behavioral testing are available and can be implemented easily.
To reduce the deficiency of officers in the armed forces.
What could be seen in De Novo Selection System
It will accomplish the SSB testing in 03 days.
New techniques of behavioral testing will be implemented.
It will also make a fair and transparent system by minimizing human subjectivity and reduce long lead time and time taken for SSB and medicals.
It will make the selection process convenient for the candidates.
All the 3 testing techniques will be there with modifications.
Tests like screening and Psych could go online.
The SSB procedure in the Army takes five days and hence an SSB is able to handle 60 batches in a year only (five batches per month). With the large number of candidates applying to join the Army, it is felt that the selection system should be able to assess suitable potential candidates within two to three days, thus enabling ability to handle more batches in a year.
What do you think about the new SSB interview selection system, write your thoughts in the comment section below?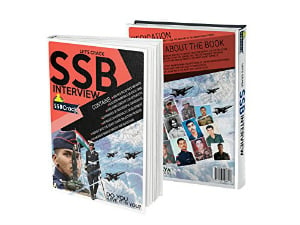 To crack SSB and AFSB Interview get "Let's Crack SSB Interview" Book from Amazon. Trusted by thousands of defence aspirants
Also, Download Helpful eBooks: