Many aspirants are going to face the AFCAT online exam tomorrow across the country to join the flying, technical and non-technical branches of the Indian Airforce. AFCAT exam will be conducted online by CDAC at different online test centers. We have published the AFCAT Maths shortcuts recently which is going to help you in the maths section of AFCAT. Here are few GK and current affairs questions you might face in AFCAT or some direct and indirect questions related to the AFCAT GK questions below.
How To Prepare for SSB Interview:
AFCAT General Awareness Topics
Environment,
Art and Culture
Civics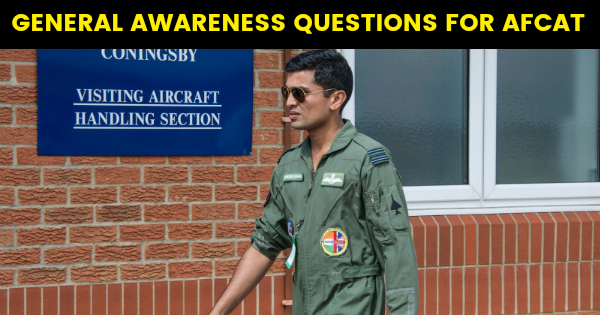 Important Indian Air Force Events, GK and Current Affairs  – Must Read
Indian Air Force (IAF) for first time participated in multinational air exercise Pitch Black – 18 (PB-18) in Australia hosted the Royal Australian Air Force (RAAF). It will be three-week multi-national large force employment exercise (27 July to 17 August 2018) conducted from RAAF Base Darwin and RAAF Base Tindal.
Six global aircraft manufacturers have responded Indian Air Force's (IAF) Request for Information (RFI) to supply 110 fighter aircrafts to replace its ageing fleet of MiG-21s and MiG-27s, which are being phased out of service. Of the six bids received, Lockheed Martin F-16 and SAAB Gripen are single-engine fighters, while Dassault Rafale, Boeing F-18, Eurofighter Typhoon and United Aircraft Corporation MiG-35 are twin-engine fighters.
The Indian Air Force (IAF) for first successfully conducted scheduled test for airmen recruitment (STAR) online, taking forward Digital India Initiative of Government. This makes IAF first of any of three services to undertake selection tests online.
Indian Air Force (IAF) conducted Exercise Gaganshakti 2018, biggest air combat exercise along Pakistan, China borders between April 10 to 23, 2018.
Tri-service maritime exercise 'Paschim Lehar' was held off India's western coast with an aim to build interoperability between Indian Navy, Indian Army, Indian Air Force and Coast Guard.
The Defence Acquisition Council chaired by Defence Minister has approved capital acquisition of 7.4 lakh assault rifles, 17,000 light machine guns, 5,719 sniper rifles and Mareech advanced torpedo decoy systems for Indian Navy worth Rs. 15,935 crore. DAC is Defence Ministry's highest decision-making body on procurement.
The Chief of US Air Force, General David L Goldfein flew a sortie in indigenous Light Combat Aircraft (LCA) Tejas at the Indian Air Force (IAF) station in Jodhpur, Rajasthan.
President Ram Nath Kovind awarded India's highest peacetime military decoration Ashok Chakra (31) posthumously to Indian Air Force (IAF) Garud commando Corporal Jyoti Prakash Nirala. He had laid down his life after gunning down two terrorists in Jammu and Kashmir. He is the third Ashok Chakra for the IAF and its first for ground combat. Other two IAF officers are Rakesh Sharma (first and still only Indian citizen to go to space) and Flying Officer Nirmaljit Singh Sekhon posthumously decorated with the Param Vir Chakra in 1972.
The Defence Ministry has given its final approvals for the procurement of 131 Barak missiles for Indian Navy and 240 precision-guided munitions (PGM) for Indian Air Force (IAF) together estimated at Rs.1,714 crore. The proposals were cleared by Defence Minister Nirmala Sitharaman. It is a regular procurement through the revenue expenditure.
The world's fastest supersonic cruise missile BrahMos was successfully test fired from Indian Air Force's (IAF) Sukhoi-30MKI fighter jet for the first time. The missile was gravity dropped from Su-30MKI from its fuselage and two-stage missile's engine fired up and was propelled towards the intended target in Bay of Bengal.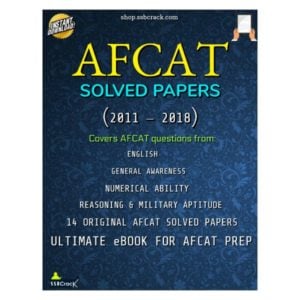 General Awareness Questions For AFCAT 1 2019
Indian hockey captain in 1928 – Jaipal Singh Munda
What is biome? – a large naturally occurring community of flora and fauna occupying a major habitat, e.g. forest or tundra.
Mike Powell long jump record in meters? – Mike Powell 8.95 m (29 ft 4 1⁄4 in) (1991)
First ever women PM in the world? – Sirimavo Bandaranaike became the first women PM in the world. She became the PM of Sri Lanka(then Ceylon).
What is the Radcliffe Line? – The Radcliffe Line was the boundary demarcation line between the Indian and Pakistani portions of the Punjab and Bengal provinces of British India. It was named after its architect, Sir Cyril Radcliffe, who, as the joint chairman of the two boundary commissions for the two provinces, received the responsibility to equitably divide 175,000 square miles (450,000 km2) of territory with 88 million people.
Who was the first posthumous recipient of Bharat Ratna ? – 

Lal Bahadur Shastri

 
In which year Goa is taken by India? – The Annexation of Goa was the process in which the Republic of India annexed the former Portuguese Indian territories of Goa, Daman, and Diu, starting with the "armed action" carried out by the Indian Armed Forces in December 1961.
Baltic cup related to? – The Baltic Cup is an international football competition contested by the national teams of the Baltic states – Estonia, Latvia and Lithuania. Also Finland has participated as a guest twice.
Hook pass is related to which game?- Basketball
Hindu Sanskrit Book Natya Shastra is written by?- Bharata Muni was an ancient Indian theatrologist and musicologist who wrote the Natya Shastra, a theoretical treatise on ancient Indian dramaturgy and histrionics, especially Sanskrit theatre. Bharata is considered the father of Indian theatrical art forms.
How many timeouts can a team take in volleyball? – Maximum of 2 timeouts per game for a team is allowed. Time out lasts 30 seconds. In official international competitions, two 60 seconds technical time-out are used when the leading team reaches the 8 or 16 point mark.
What caused the Jallianwala Bagh Massacre? –  The Jallianwala Bagh massacre, also known as the Amritsar massacre, took place on 13 April 1919 when a crowd of nonviolent protesters, along with Baishakhi pilgrims, who had gathered in Jallianwala Bagh, Amritsar, Punjab, were fired upon by troops of the British Indian Army under the command of Colonel Reginald Dyer.
Daksh Remotely Operated Vehicle (ROV) – Daksh is an electrically powered Remotely Operated Vehicle (ROV) designed and developed by the Indian state-owned Defence Research and Development Organisation (DRDO) at the Research and Development Establishment (Engineers), Pune, India.
What was the term used for measurement of land in the Delhi Sultanate period? – Masahat
Riga is the capital of which country? – Latvia, with Riga as its capital city, thus declared its independence on 18 November 1918. Between World War I and World War II (1918–1940), Riga and Latvia shifted their focus from Russia to the countries of Western Europe.
Who was the founder of Brahmo Samaj? – Raja Rammohan Roy founded Brahmo Samaj in Calcutta on 20 August 1828. It was more of a reformist movement of Hinduism which later got divided into adi Brahmo samaj and sadharan Brahmo samaj.
Where is Indira Point located? – Indira Point is a village in the Nicobar district at Great Nicobar Island of Andaman and Nicobar Islands, India. It is located in the Great Nicobar tehsil. It is the location of the southernmost point of India's territory.
JAXA is an aerospace agency of which country? –  Japan 
India became a member of the Asian Development Bank (ADB) as a founding member in 1966. The Bank is engaged in promoting economic and social progress of its developing member countries (DMCs) in the Asia Pacific Region.
Vitamin which is responsible for blood clotting? – vitamin K affects the clotting mechanism by being essential for the production of four distinct clotting factors: prothrombin, factors VII, IX and X.
Oldest Veda? – The Rigveda is the oldest work, which Witzel states are probably from the period of 1900 to 1100 BCE. Witzel, also notes that it is the Vedic period itself, where incipient lists divide the Vedic texts into three (trayī) or four branches: Rig, Yajur, Sama and Atharva.
Which act is known as the Black Act? – The Anarchical and Revolutionary Crimes Act of 1919, popularly known as the Rowlatt Act and also known as the Black Act, was a legislative act passed by the Imperial Legislative Council in Delhi on March 18, 1919, indefinitely extending the emergency measures of preventive indefinite detention, incarceration without trial and judicial review enacted in the Defence of India Act 1915 during the First World War. It was enacted in light of a perceived threat from revolutionary nationalist organisations of re-engaging in similar conspiracies as during the war which the Government felt the lapse of the DIRA regulations would enable.
Jallianwala bagh massacre happened due to which act? – Rowlatt Act
Taseometer used to measure? – taseometer is an instrument to measure strains.
Characteristics of coal – Coal is a black, inhomogeneous, organic fuel, formed largely from partially decomposed and metamorphosed plant materials. Formation has occurred over long time periods, often under high pressures of overburden and at elevated temperatures.
Mont Blanc is situated in? – Mont Blanc, Italian Monte Bianco, mountain massif and highest peak (15,771 feet [4,807 metres]) in Europe. Located in the Alps, the massif lies along the French-Italian border and reaches into Switzerland.
Ten cities will have hosted the Olympic Games more than once: Athens (1896 and 2004 Summer Olympics), Paris (1900, 1924 and 2024 Summer Olympics), London (1908, 1948 and 2012 Summer Olympics), St. Moritz (1928 and 1948 WinterOlympics), Lake Placid (1932 and 1980 Winter Olympics), Los Angeles (1932, 1984 and 2028).
Island between Russia and Japan ? – The Kuril Islands dispute, also known as the Northern Territories dispute, is a disagreement between Japan and Russia and also some individuals of the Ainu people over sovereignty of the South Kuril Islands.
1. Pitch Black Military Exercise is held in-  Australia hosted by the Royal Australian Air Force
2. Peace Mission military exercise is held by  – Russia,  India is set to participate in this year's biennial Shanghai Cooperation Organization (SCO) Peace Mission Exercise for the first time. To be conducted as part of SCO initiatives, this year's joint exercise will be carried out by the Central Military Commission of Russia from 22 to 29 August at Chebarkul, Chelyabinsk.
3. Who is the first Chief Financial Officer of RBI? Sudha Balakrishnan – NSDL executive Sudha Balakrishnan has been appointed the first ever chief financial officer (CFO) of the Reserve Bank of India (RBI)
4. Where is the All Prime Minister Muesuem to be located?  – Teen Murti Premises, A museum for all former prime ministers of the country will be built in the Teen Murti Bhavan complex housing the Jawaharlal Nehru memorial.
5. What does the First S stand for in BIMSTEC?  – Sectoral – Bay of Bengal Initiative for Multi-Sectoral Technical and Economic Cooperation
6. Which is the fifth nation to join BRICS?  South Africa, BRICS is the acronym coined by British Economist Jim O'Neill meant for an association of five major emerging national economies: Brazil, Russia, India, China and South Africa. Originally the first four were grouped as "BRIC" (or "the BRICs"), before the induction of South Africa in 2010.
7. 10th BRICS Summit held in – Johannesburg, South Africa
8.  All India Institute of Ayurveda (AIIA) to be located in – New Delhi
9. PM Modi unveils bust of Sardar Patel at diaspora event in –  Kampala
10. Lusaka is the capital of – Zambia
11. Shanghai Cooperation Organisation (SCO) will be held in the – Qingdao, a city of China
12. What is the current repo rate? – 6.50% – Banks earn interest on such funds. Current CRR, SLR, Repo and Reverse Repo Rates: The current rates are (as of June 2018) – CRR is 4 %, SLR is19.5%, Repo Rate is 6.25% and Reverse Repo Rate is 6%.
13. FIFA 2018 Golden Glove award was conferred to- Thibaut Courtois, is a Belgian professional footballer who plays as a goalkeeper for Spanish club Real Madrid and the Belgium national team.
14. PhonePe is launched by – Flipkart
15. Social Pay service was launched by- ICICI Bank
16. Truncated Cheques come under which act? – Negotiable Instruments Act, 1881
17. Under FRDI Bill, bail-in clause will affect- Depositors
18. Public Affairs Index 2018, which state topped the list third time- Kerala
19. Which state attracted 300% FDI- Karnataka
20. Mascot of Tokyo Olympics 2020 is – Miraitowa
21. 2022 Commonwealth Games Venue- Birmingham, England
22. M. A. Chidambaram Stadium is located in – Chennai
23. Hirakud Dam is located in – Odisha
24. Kunchikall Waterfall is in – Karnataka
25. Haldia Refinery is in – West Bengal
26. Under Marginal Standing Facility, banks take the loan from – RBI
27. Walmart partnered with ______________ for Digital Boost – Flipkart
28. Nokrek National Park is in – Meghalaya
29. Gangtok is the capital of  – Sikkim
30. TIES Scheme is related to  – Export
31. Pratyush is set up in  – IITM Pune
32. IRAC stands for  – Issue, Rule, Application, and Conclusion
33. When group lenders provide money to the borrower its called – Syndicated Loan
34. Ramsay Magsaysay Award 2018 was conferred to – Bharat Vatwani and Sonam Wangchuk
35. Sunkanaya Samridhi Yojana was launched in – 2015
36. Minimum amount for Sukanaya Samridhi Yojana – 250 INR
37. HQ of Jena Small Finance Bank – Bengaluru
38. HQ of Corporation bank  – Mangalore
39. IDFC HQ is in – Mumbai
40. Dada Saheb Phalke Award for best actress conferred to  – Sonam Kapoor
41. Why I am Hindu Book is authored by  – Shashi Tharoor
42. Rani ki Vav is located in  – Gujarat
43. Committee-head on mob-lynching – Rajiv Gauba.
44. A banking outlet which does not provide delivery of service for a minimum of __________ per day and for at least 5 days a week will be considered a 'Part-time Banking Outlet' – 4 hours
45.Fugitive Economic Offenders Bill, what is the minimum amount to file a case- 100 crore
46. Section 22 of Banking Regulation Act deals with – Licensing of banking companies
47. What connects Mediterranian sea and Red Sea – Suez Canal
48. Sabarimala Sastha Temple Temple is in – Kerala
49. Moon Jae-in is the president of – South Korea
50. Who retired from soccer after Football World Cup 2018? – Andres Iniesta
51. Fakhar Zaman the fastest opener comes from – Pakistan
52. Ram Shaqal is the MP of  – Uttar Pradesh
53. AIFF Player of the year is  – Sunil Chhetri
54. Payment banks cannot – issue credit cards
55. September 8 is observed as –  International Literacy Day
56. What does W stand for in WLTS? – Wireless –  Wireless Transport Layer Security
57. Shubhankar Sharma is associated with which sport – Golf
58.Bansagar is a joint venture of Madhya Pradesh, Uttar Pradesh and – Bihar
59. Which organ in human body Regenerate itself  – Liver
60.HQ of Arab League – Cairo, Egypt
61. Head of the Committee to tackle NPAs – Sunil Mehta
62. Rohingya tribe belong to which state – Myanmar
63. What is the current SLR – 19.5
64. Host of World environment day 2018  – India
65. MSME day is observed on – 27 June, Micro, Small and Medium-sized Enterprises (MSMEs) Day
66. Head of Committee set up by RBI to make a Public Credit Registry (PCR) – Y.M. Deosthalee
67. Hima Das belongs to which state – Assam
68. HQ  of AIIB  – Beijing, China, ,  Asian Infrastructure Investment Bank
69. RBI's Financial Literacy Week starts from – June 4
70. First nuclear bomb was dropped in- Hiroshima, Japan
71. HQ of Interpol  – France
72. Which of the following bank listed as Best bank in private sector – HDFC
73. Jallikattu is typically practiced in  – Tamil Nadu
74. Which engine has been developed and used by ISRO – CE-20 cryogenic rocket engine
75. "Banglore Tiger" Book is based on –  Wipro, How Indian Tech upstart Wipro Is Rewriting the Rules of Global Competition is a book published in 2006 by McGraw-Hill Companies, Inc, New York City, and authored by Steve Hamm. It focuses on what it calls the "new breed of transnationals" who have brought about cause for "multinationals" to "beware".
76. Who is known as the Metro man of India – E. Sreedharan
77. HQ of ICAN – Geneva
78. Name of the system which credit card companies are introducing to help protect against fraud – CVV card verification value
79. Which bank is to provide Financial and Digital Literacy to farmers across Rajasthan and Haryana – Yes Bank
80. Which of the following country is the last to join BRICS association in 2010  – South Africa
81. National Payment Corporation of India (NPCI) was constituted by – RBI
82. RISE stands for – Revitalising Infrastructure and Systems in Education
83. Guru Shikhar, the highest peak in the Aravalli Range at 5650 feet (1722 meters) in – Rajasthan
84. Where is Buddha Mountain? – South Korea
85. "Our Tree is still grown in" is written by – Ruskin Bond
86. Shenzhen Stock Exchange is located in – China
87. India's first heritage city is – Ahmedabad
89. Which city has been named as India's cleanest city – Indore
90. Where is Salar Jung Museum located?- Salar Jung Museum
91.  Sai Praneeth belong to which sports? – Badminton