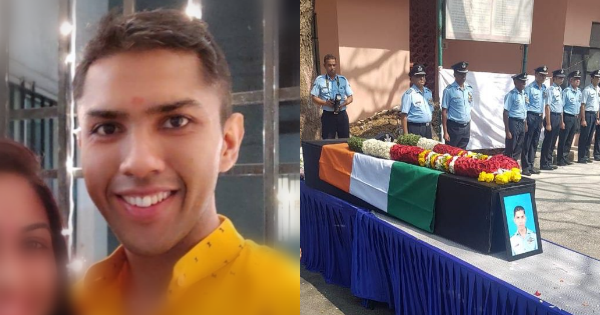 Squadron Leader Samir Abrol and Squadron Leader Siddhartha Negi, two brave young pilots of the Indian Airforce lost their lives in a tragic Mirage2000 crash during a test sortie. Sqn Ldr Negi was killed after he landed on the wreckage of the crashed aircraft. Sqn Ldr Abrol was ejected safely but later succumbed to his injuries. This was the sheer incompetence of the HAL, their so-called upgrades turned a well-functioned aircraft into a flying coffin. Well, we will never get our pilots back by blaming the HAL for their sheer incompetence, but we can put efforts to remember our fallen air warriors who lost their lives while serving the nation. Here are some inspiring facts about Sqn Ldr Siddhartha Negi which will motivate the coming generations.
5 Inspiring Facts About Sqn Ldr Siddhartha Negi
As we know the test flights are conducted by top pilots and our country has only a few of them, Sqn Ldr Siddhartha Negi was a superbly trained ASTE (AIRCRAFT & SYSTEMS TESTING ESTABLISHMENT) Test Pilot. He was one of the youngest test pilots our country had, he was on a test flight with Sqn Ldr Abrol to the HAL's newly upgraded Mirage2000.
Sqn Ldr Siddhartha Negi completed his 12th from KV FRI and later he cleared the NDA exam to join the National Defence Academy from the year 2005 till 2008. In June 2009, he commissioned into the Indian airforce from the Air Force Academy. Due to his talent, Sqn Ldr Siddhartha Negi was named as Golden Boy, he had a promising career in front of him.
31-year-old Sqn Ldr Siddhartha Negi has married to Dhruvika two years ago. Dhruvika is also an officer in the Air Force and posted in Bangalore.
01 Feb was the birthday of Sqn Ldr Siddhartha Negi when most of us take leave from work for our birthday to celebrate it with the family, this young test pilot was following the call of duty. The sad irony is that he lost his life on his birthday in Mirage 2000 crash during a test flight.
Officers like Sqn Ldr Siddhartha Negi will always motivate the young defence aspirants to join the Indian airforce, he teaches us nothing is greater than the duty and service to the nation.
Jai Hind