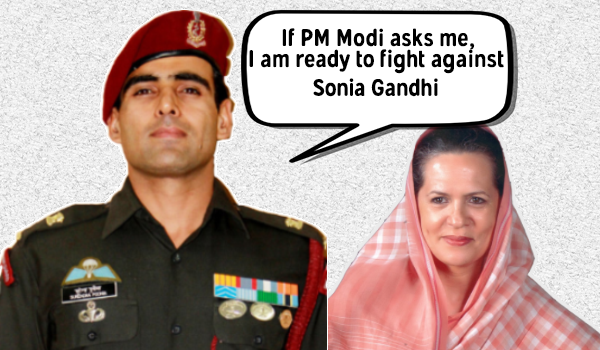 Aspiring to be in the league of a soldier turned politicians General VK Singh and Colonel Rajyavardhan Singh Rathore, another man with substance Major Dr Surendra Poonia joins BJP on 23rd March 2019, the day that commemorates the martyrdom of legendary freedom fighters Bhagat Singh, Sukhdev and Rajguru. After joining BJP, Major Poonia tweeted and I quote, "Dear Sisters and Brothers, I have joined BJP to serve the nation and our people. It is a great honour for me to support and stand with the idea of "Nation First" against "Family First" from party's platform which is led by Hon'ble PM Shri Narendra Modi Ji." True to his words and actions like a true soldier is always, Major Poonia has indeed made it clear to the supporters and opponents alike about his inclination and possible course of action for these coming elections. A firm supporter of Modi government policies Major Poonia has shown his solidarity in the past by his various tweets and his reasoning has made many pseudo-liberals wriggle in their armchairs in the Luteyns. With his advent into the electoral politics, people are calling him as #pooniahaipehredaar and we couldn't agree more.
Major Poonia's introduction in the politics is not new as he has already contested Lok Sabha elections in 2014 from Sikar constituency on AAP's ticket. Later, he resigned from the party as he felt not aligned with the party's line of thoughts and according to him, the party was misled from its basic ethos by none other than Arvind Kejriwal. He was also associated with "India against Corruption' campaign which was led by Anna Hazare and played a pivot role in awakening the masses by his fierce campaigning. Belonging to the humble origins of a farmer family in village Rajpura of Sikar district in Rajasthan, he carved his way into the prestigious Jawahar Navodaya Vidyalaya, Patan and subsequently into the esteemed Armed Forces Medical College, Pune. He was the first one from his village to become a doctor and then subsequently an army officer in Parachute Regiment Special Forces, glimpses of which you might have watched in the recent movie URI.
Steel was injected into Major Poonia's veins when he volunteered for Special Forces and cleared the toughest probation period of 90 days required to earn the coveted Maroon beret. He served in insurgency-ridden Jammu and Kashmir for 5 years as well as in the world's highest battlefield – Siachen Glacier. In 2005, during a counter-terrorism operation at Bandipore Forest area, J&K, he ferociously saved the lives of 1 officer and 8 soldiers.  All of this happened when they were in midst of a fierce gun-battle which was raging since a few hours and he received the Chief of Army Staff commendation card for his extreme sense of duty in the face of odds. He has also the privilege of serving with distinction in the UN Peacekeeping Mission in DRC (Congo).
It was the year 2008 when Major Poonia was selected for most prestigious and elitist Parachute -Cavalry regiment of India – The President's Bodyguard (PBG), which serves directly under the Supreme Commander of the Nation. This athlete officer became the first Indian sportsman to win many accolades and medals consecutively in World Medical Games held at Croatia, Las-Palmas (Spain), Antalya (Turkey), with each attempt surpassing his previous performances. From July 2008 to Sept 2012, Major Poonia was one of the core team member involved in implementing 'Roshni' – a green innovative concept evolved at the behest of the then President of India, Smt. Pratibha Devi Singh Patil. Major Poonia is a rare amalgamation of international medal winning sportsman, decorated army officer, paratrooper, medical professional and fitness expert.
With his 12 years of diverse exposure and experience for excellence, he resigned from the Indian Army to lead Indian sports and social initiative that dreams of narrowing the gap between rural and urban India. Major Poonia is the founder of initiative #Soldierathon which has completed its second edition and raised 19,26, 817 rupees which were presented to the Indian Army's "Army Battle Casualty Welfare Fund (War Wounded)". Initially, the idea was conceived by Late Dr A P J Abdul Kalam who didn't live to see through the day but Major Poonia made it sure that this idea sees the light of the day. #Soldierathon is a special edition marathon instituted to commemorate the Indian Martyrs who have laid down their lives for our country.
Dear Sisters & Brothers🙏
I have joined @BJP4India to serve the nation & our people.
It is a great honour for me to support & stand with the idea of 'Nation First' against the idea of 'Family First' from party's platform which is led by Hon'ble PM Sh @narendramodi Ji
Jai Hind 🇮🇳 pic.twitter.com/mu2GrceCO5

— Major Surendra Poonia (@MajorPoonia) March 23, 2019
He is a motivational speaker and a youth icon in truest sense who has carved out his path by giving his sweat and blood, in the most literal terms and not like a product of dynasty politics. Coming to the context of dynasty politics, it has been the talk of the week that Rahul Gandhi is going to contest election from a safe seat in Kerala, probably Waynad. In 2014 elections, the young actress turned BJP leader Smriti Irani contested election from the Gandhi family stronghold Amethi and gave "Young Rahul" a run for his money and he just narrowly escaped losing by just 1 lakh votes. Though she lost the margins of votes by which Rahul Gandhi used to win in previous elections was dropped drastically and this time the "young leader" is more than fearful to contest elections from Amethi. Since then, it was more and more evident that the duo of PM Modi and Amit Shah was brewing a masterplan to dethrone the dynasts from their strongholds. The word is coming that Major Doctor Surendra Poonia has been picked personally by PM Modi himself to challenge the veteran leader of Congress, Mrs Sonia Gandhi from her stronghold in Rae Bareli.  Major Poonia is sure to bring a fierce battle at the doors of Gandhi family and BJP has made it sure that tremors be felt by them beforehand.
Sonia Gandhi is a sitting MP from Rae Bareli since 2004, winning consecutively for 3 terms and her support as well as winning vote margin increased with time. But could it be that it is the time when the plans to thwart her from winning are finally reaching a conclusion? Just like Rahul Gandhi is losing voter base in Amethi with time, maybe, another fort of Gandhi Family is going to be lost to BJP. The times are changing tremendously and the factors that bind the old generation to a single family or candidate are fading because the youth who have witnessed the development and strong works across the whole nation by BJP government led by PM Modi are not happy with the Gandhi family stalwarts. The youth don't want to vote merely based on the emotional angle unlike their previous generations, it looks like that finally logic is appealing to Indian masses rather than larger than life portrayal of Gandhi family leaders. Since 2014, Smriti Irani has caught the attention of younger and older generation alike and they are realizing that basic facilities such as sanitation, education, roads, electricity and jobs won't come to them until new leaders are in the arena. Major Poonia, given his strong credentials, can prove to be a game changer in Indian political scenario as the challenge that he will be set against Sonia Gandhi by his honest and clean soldier image will definitely give a major blow to Lutyens and the Gandhis.
जय हिन्द 🇮🇳 दोस्तों, 2019 के चुनाव में वोट डालने से पहले कुछ बातें ज़रूर ध्यान में रखना-👇
"आपको सरकार और प्रधानमंत्री भारत के लिये चुनना हैं ना की पाकिस्तान,चीन, हाफ़िज़ सईद "साहब" या मसूद अजहर "जी" के लिये"#VoteKar 🙏पर सोच-समझकर 😊@BJP4India @narendramodi @anil_baluni pic.twitter.com/pyFp3C7qKt

— Major Surendra Poonia (@MajorPoonia) March 25, 2019
Politics has been diluted to such a level that, youngsters often thought it as a thing which must be not talked or discussed and none should even participate in it. But, they fail to understand that honest men like General VK Singh, Colonel Rajyavardhan Rathore and Major Surendra Poonia are needed to step up in the system to ensure that "A few good men" can leave their mark so that others can fill in their place when needed. We don't want dynastic lads who barely have any idea about the basic functioning of institutions of this nation, let alone having a streamlined vision. The nation and the people are very well aware of the drastic changes happened both in the international as well as on the national front as a result of Modi led BJP government, be it Doklam standoff or the recent surgical and air strikes in the heart of Pakistan. India is among world's top 5 economies and the world's eyes are onto us and this didn't happen overnight, strong political leadership by PM Modi made it sure that India's roar is well heard. Gone are the days when we used to hear about new scams in every week and bomb blasts were the norms in the nook and corner of the country. Modi government has certainly raised our expectations as well as the general standard and now the citizens have started to think beyond the basic necessities. The nation is not expecting anything less from PM Modi as he has shown again and again about his seriousness for the security of the nation as India is redrawing its strategy as an offensive defence.
A soldier like Major Poonia understands that the security of the nation is the first and foremost priority and political tussle should be kept away from it. Alas! The young stalwart of Gandhi family doesn't believe so and that's why so many hue and cries about a non-existent issue such as Rafale deal. With changing numbers of money in his successive speeches, it is evident that Young Master is not only eligible but has mastered the art of lies and deception. He also miserably failed to evoke public emotions by giving a failed and rhetoric slogan "Chowkidaar Chor Hai", they very well know that Chowkidaar has scared the dynasty as well as thieves.
Believe me when I say that, Congress exactly does what PM Modi led them to do and this time they have handed a well-executed campaign in the hands of BJP. #Mainbhichowkidaar movement has gripped the nation like a viral fever and is giving nightmares to the corrupt Gandhi family who is currently on bail. It is the love of the people who are tagging Major Poonia on twitter countless times to show their solidarity with him in the form of #pooniahaipehredar slogan. Clean politics and honest politician won't be a standard until we decide to give them a chance and this battle of electoral politics is all about #chorbanaamchowkidaar. Thieves, corrupts and scoundrels have long been in the parliament but the filtration which was started by PM Modi in 2014 will need the support of younger and older generation alike. It is high time that we should join Major Surendra Poonia because #pooniaispehredaar and this fight is  #chorVSchowkidaar.
. @MajorPoonia asking question to Congress from #NationalWarMemorial pic.twitter.com/vavZWjwJaK

— Chowkidar Tajinder Bagga (@TajinderBagga) March 9, 2019