All defence aspirants out there I hope my experience would be helpful to you. I was a screened-out candidate from the same place, board and entry just the months prior to my SSB (33 SSB Bhopal). Earlier I had a vague idea about SSB especially in GTO but as soon I joined AFPA (Armed Forces Preparatory Academy), my perception of SSB got cleared. I was not taught or cramped about anything at the academy. They believe in transforming the personality into a dynamic officer like a man with high trainability… All thanks to Cdr. Natarajan sir and the team. Mere coaching cannot get you recommended, you got to work hard, be motivated and improve yourself. This time I had full preparation as my only focus out there was cracking the SSB. I sat and wrote down every task and test and then analysed where I can show which OLQ and how. These simple introspections helped me a lot. When you think about it, you feel why these qualities are not in me naturally, try doing daily tasks which would depict such qualities in you. Slowly you will see the change in yourself. Being a screened out candidate, my first priority was getting screened in.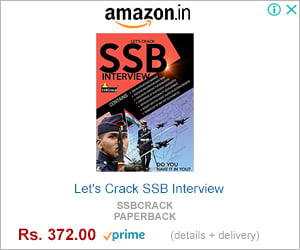 I got chest no. 51 at the beginning on reporting, on the first day, I solved OIR quickly both verbal and non-verbal, this time we were given apt time, and was perfect in PPDT. We got a hazy image with three characters in it. I made a story on blood donation. I gave a good and confident narration on the story and finished on time too. Although our common group story did not go so well, and everybody messed it up. Still I got screened in. I believed that this is the best opportunity I have got, seeing a recommended candidates chest no. gave me motivation, it read "one shot one kill, no luck only skill. Next day, at the psychology tests, I did all TAT, WAT and was able to finish 54 SRT, SD came to me naturally. Speed and thought process is a very helpful tool here. If you are a bibliophile like me, then it's very naturally done.
I was fairly confident in psychology except for one TAT story where I felt my perception was wrong. I had my interview on the same day with no preparation. Just confidence and attitude made the difference. You must be thorough with your PIQ, Current Affairs, technical knowledge. I had a fair idea about the interview as we had a mock interview at AFPA. My interviewer was the director of the board, he evaluated almost everything he could get from me. Most of the interview revolved around my PIQ form, my sport "badminton", questions on Article 370, questions on Navy, etc. He also put me through a series of questions and various cross questions to my answers." Never lie " to them. Credits for interview performance to Col. Rahul Gowardhan.
Then comes the GTO for the next two days. You must understand that, there is no space for individual gladiators in the forces you must be cooperative in these tasks especially in the discussion. We were successful in having a healthy discussion, I added a few valuable plus factual points and also gave the opportunity to other group members to speak about it. There is no sense in arguing. One of my groupmates possessed qualities of being recommended but he was not cooperative at the GPE.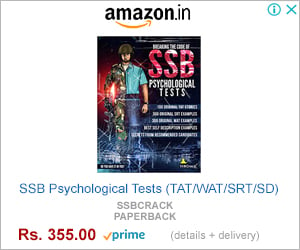 During our individual obstacle run it was raining, so it was difficult, so I skipped a few obstacles, made blunder not going through commando walk but finally I did 7 obstacles. I led almost every group task with utter confidence and josh. With our cooperation we could complete every level at the PGT in time. Keep your jugadu brain activated here you will surely get through it. For GTO Tasks, keep in mind Cantilever Principle watch Cdr Natarajan's video course that's available on Amazon.in. Apart from it the advice we were given is "Bindass Andar Ghuso, Daro Matt". Do not hesitate in entering the Task. Credits for GTO: Cdr Natarajan, Col Ravi Nair.
My command task was one of the toughest one amongst all, I guess the GTO made every effort to bring me under pressure. He repeatedly asked for alternate solutions and kept on changing the colour code. I had a very good lecturette, I could observe it through the body language of my GTO and my group members. My topic was corruption in Indian politics. My narration was flawless, I tried voice modulations at few instances and also included current affairs into it, as recently the INX media corruption case was in news. I also concluded at a positive note. This point in my SSB was my best morale booster this made me believe I could make it. Leave no stone unturned, maintain your josh in every task, I made sure that I could be the leader in my group till the last FGT, which we did very quickly. My conference had a long waiting time. I was sure that these few minutes could break or make my future. I just nailed it out there with my confidence , the officer asked me a few cross questions which I gave very apt answers.
They asked me about the stay, accommodation and places I visited in Bhopal.
I replied " upper lake ".
The officer asked whether I swam in the lake , I replied no, as it was out of binding for us , he asked instantly " don't you know swimming ".
I replied no, as I knew swimming, he asked me whether I am afraid of the lake, I replied this would be a blunder misadventure for me if I swim there without knowing about the lake, plus I did not see anybody swimming in there , the officer agreed to say yes there are crocodiles in there. Then they also verified my bonding with the other candidates asking about any new friend.
Then comes the moment when the chest no. 7 is being announced as a recommended candidate. All those efforts are finally transformed into my results.  An officer is a true example of no nonsense man. avoid mistakes, be motivated, confident, keep the josh high, you have to project yourself as you are (if you possess qualities) or you have to make them believe that you possess officer like qualities i.e. FAKE IT TILL YOU MAKE IT. The uniform is waiting for you.