Don't make facade over your personality. They are experts in catching fabricated answers. Don't copy answers from recommended. Those answers suit them and their personality.  Present a "GENUINE YOU" in front of them. Never copy any answer from previously recommended people. These should be a difference between you and a tape recorder.
Questions from your current occupation or your college.
Your current occupation or any source of income is a sure topic of question that can be discussed during SSB interview. What is your work and how do you manage your time for job and family, how is your relations with your colleagues, do you like your job and why / why you don't like your job.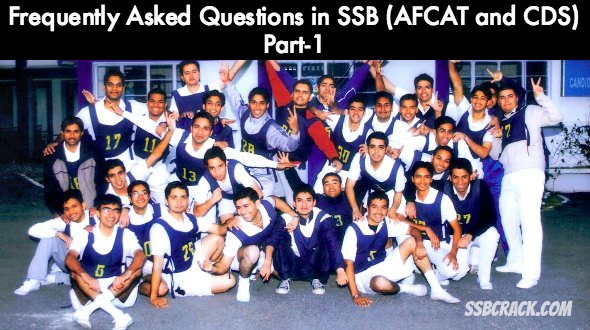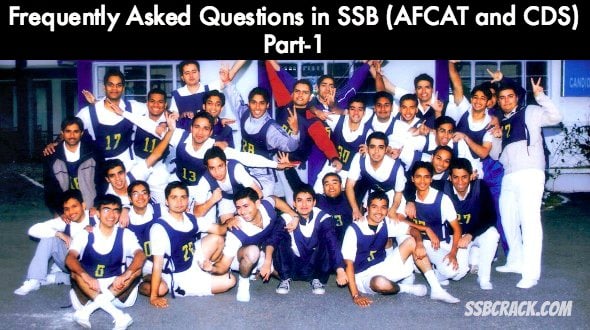 Why do you want to join Indian army / airforce?
It is the most obvious question that is asked by interviewing officer. Everybody has its own reason of joining army/airforce. Be genuine and honest in replying this question. Don't copy answers from anybody?
Questions regarding your contribution in domestic works
Your contribution in domestic works matters a lot, as an officer has be socially active along with his job. You contribution in home means helping mother in washing clothes, ironing clothes, dusting, preparing food when mother's health is not well, cleaning home with sibling for Diwali or Holi or other festival etc. You need to introspect yourself and analyze what you actually do daily. Here the obvious questions raised are what is your contribution at home, are you active in giving suggestions in family matters and how, your relation with parents, sibling and other relatives.
Coaching related questions
Sometimes, they find a person trained. So they ask questions about whether you have attended any coaching? Well, coaching is nothing but just a guidance which describes how to appear and perform in various tasks. While some aspirants try to copy the pattern, the guides direct to make the theory and task clears. Remember, DON'T COPY. There is a difference between attending coaching and preparing or getting guidance. Sometimes they asks about have you prepared for the SSB. If yes then how and if no then why not?  Remember, it is a stupidity to appear in exam or interview without preparation. So here you can say that you have prepared for accelerating writing speed for psychology, started physical exercises for GTO, started discussion with friends on current global and national issues. Other similar questions are – are you in favor in attending coaching why and why not, if you accepted that you have attended coaching, then be ready to face counter questions. Freshers become their prey of this situation more than repeaters and others. Reminding Again, Don't copy
Academics
In this section, several aspirants face the questions related to the decrease in marks during 10th 12th and graduation or increase in marks or fluctuating pattern in marks. Well, everybody has his own reason. Don't lie. Because lies have no base. Clear you reason in front of them. It's not a crime to accept your mistakes. But it is bad to neglect the lesson from your failures and repeating them again. After telling your reason behind irregularity in marks, he will ask for you efforts, you did to overcome those problems. You will be asked about your plan and opinion on post-graduation and further studies, your motive in choosing the stream in 11th and graduation, your favorite subject and the subject you don't like. Remember every subject is a heap of knowledge so no subject is bad. It's up to your aptitude and performance in that subject. Your best teacher and teacher you don't like. Again, every teacher is a medium of transmitting knowledge and Mahabharata has compared teacher with god.