With the commencement of the year, we are here with some simple ways and rule to give a better and effective response to SRTs. Whenever a candidate appearing for psychological tests, the time and problems are framed in such a way that candidates rarely get time to remember the way or instruction or the minor thing that a candidate must follow. So we are here with a dose of some rules that can be inculcated easily by the candidates and will help them to attempt SRTs dispersing positive effect over psychologists.
Answer them like a daily life response
Situation reaction test, as the name signifies, is a test to check the response of a candidate toward a given situation. Sometimes candidates misinterpret it perceiving it like a test of just giving a workable response. Remember armed forces never recruit a bluff. Respond in your way, perceiving yourself in the situation and writing your response. Let's clarify it, using a normal SRT. He was getting late for college when he saw 2 men on bike snatching the golden chain of a woman throwing her away on the footpath and ran away. He….
Here most of the people wouldn't perceive that the lady is hurt and life must be given top priority always and as mentioned the bikers ran away. So your response should be; noted down the number of bikes, gave first aid to lady if required, reported to the nearest traffic police office and reached college.
Download
Keep response short and simple
The response you have written must be short, simple and in a readable font. It is not a test of vocabulary or grammar. You have to write responses as short as possible in a meaning full way. Means the reader can easily get what you want to convey. Excessive writing and emphasizing on writing style will consume time and will misbalance your coordination.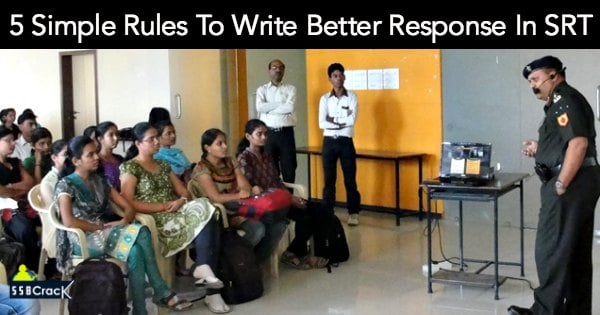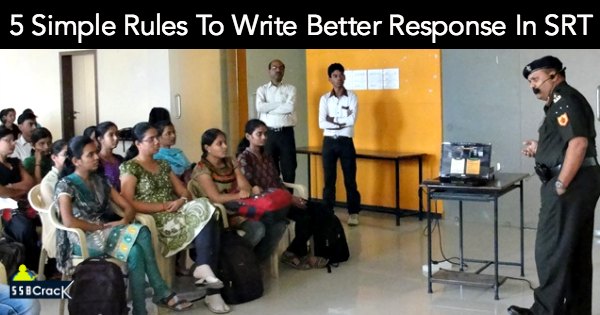 Remember OLQs while responding to SRTs
A candidate must remember OLQs while responding SRTs. Responsibility, planning and improvisation, initiative and decision making are the most OLQs used in SRTs. While stamina, liveliness and others are used in some special and rare cases.
Focus on quality rather than quantity
The entire SSB schedule is based on the qualities that a candidate possesses nit the quantity that a candidate displays. From psychology to GTO, it never matters how many SRTs you have attempted, what actually matters is the quality of SRT responses. But it doesn't mean that you give more time on each SRT to give a perfect response. There is a limited time to attempt SRTs. So candidates are required to manage time and not to be careless while attempting SRTs.
Don't copy responses
It is a trend among SSB aspirants that whenever a candidate finds a good answer from any other aspirant, he adopts it without accessing its compatibility with his personality. Different responses suites different peoples and If someone copies the responses, it leads their traits to differ from your actual personality. So avoid copying and be yourself while responding to the problems.
Also Read: