GTO days are termed as the hardest days of SSB. The main reason is that a candidate has to coordinate his mind and ideas with his body, which makes it a hard nut to crack. Major aspect of GTO is to check and analyse the actions of a candidate with respect to his psychology. Here also, discipline and rules are to be followed. Some basic rule to follow while attempting the GTO tasks are given below which will help the candidates to eradicate mistakes and go through the tasks easily.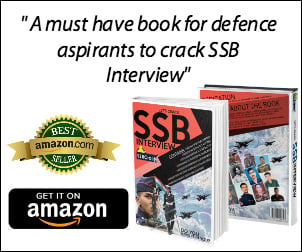 Download eBooks:
Obey the rule – The first rule that every SSB aspirant must know is to follow the rules stated by the assessors. Stick to the rule and follow them. Some rules are basic rules like line rule (ground tasks), Voice rule (GD) etc. while some need a bit focus like Group rule. Rules must always revolve in your mind.
Limit your senses – Over-responding or introvert nature depicts unstable behaviour. Don't speak or act more and never stay calm all the time. Be an optimum speaker along with acting to limit. Give chance to other in speaking and attempting ground tasks. Support other's plan if found relevant and easier. Opting others plan shows cooperative nature. Help them in arranging the plan. If someone seems to be an introvert in GD, give them a chance to speak up their ideas or views. The candidate should say what is necessary to speak. Speaking unwanted things or speaking at the wrong time is a waste.
Don't leave anything undone– Ground tasks need rule embedded nature as well as an open and active mind to arrange material and making a plan. Along with this, it is also necessary to complete the task. When the group is with you (PGT, HGT etc.) plans comes out automatically. But when you are alone to take a decision (individual task, command task), you have to complete the task ones you begins the task. Giving up should never be an option. This point is also applicable in GD. When you start your comment, complete it and also remember to not to interfere in someone's comment until he is done.
Don't see assessors – Strictly advised. Don't see assessors while doing any tasks in GTO. Concentrate on the task and don't bother about what officer is observing or writing. Many candidates try to see assessors while discussing or while performing ground task. This shows lack of focus and confidence. Concentrate on your tasks and focus on new ideas and points to get the group to you.
First listen, then act–Whenever you are briefed about the next task, listen it carefully. Whether you are a fresher or repeater, listen it and make a mind map of it. Sometimes the solution of the tasks is hidden in the instructions and following the instruction shows your discipline and working in instruction circles. An officer is one who not only keeps the troops in discipline, but also follows the same rule.
The group is the soul – The group which you have got for GTO is your responsibility. While performing ground task, make sure that entire group moves in a parallel way. Moving individually is non-cooperative. Your ultimate aim must be to take the group to the other side by arranging and giving plans. Victory of your group is your victory.
Keep calm and avoid differences– The group has candidates with various moods and behaviours, so it will be better to stay away from conflicts and differences. Cooperate and support everybody and keep the mind calm and cool.
For best SSB Interview Preparation, get "Let's Crack SSB Interview" from Amazon.
Conclusion
The two days of GTO are very important from the point of physical strength coupled with mental strength. Candidates are advised to synthesize their ideas, views and plan and implement them in limits. Excess or deficiency of requisite qualities may reduce selection chances.
Read More: