Yes! Today got in final merit list of Air Force. Finally the day with the accomplishment of my childhood dream to be a pilot in Indian Air Force(though it was of fighter pilot) is here & the day I have been waiting since past 5 months after getting recommended from 2 AFSB Mysore on 23rd July & clearing medicals in the first week of august for flying as well.
When I cleared the cutoff of AFCAT & was searching for the institute for SSB in Delhi as I belong to here. Some of my friends & even a friend of mine who is an Army officer strongly suggested me OLIVE GREENS. I was confused if I should join here in Delhi coz it will be easy for me to stay n attend or go in other state & join OLIVE GREENS. But then I decided to go to Olive Greens & no doubt I took the best decision I can have.
I had only one month before my AFSB, though I was unaware of the whole SSB/AFSB procedure & my biggest problem was to face a crowd & speak in front of a gathering. I remember my first day in Olive Greens & I couldn't even speak 2 lines in PPDT discussion. But the days passed & by the end of the day I was confident enough to speak up without any fear & was doing good in discussions & lecturette.
Here you are not been coached rather you are been trained for the life & indulge those qualities in you. The way of teaching I got here in Olive Greens was different, I could able to introspect myself & was able to find those faults & was able to work on my overall personality. The person today I am is a totally different one I used to be before getting into this institute. It changed my way of thinking which definitely helped going through Psychology tests in AFSB & I was able to do soo well in AFSB that I completed 12/12 TAT, 60/60 WAT & 60/60 SRT way before the time was over.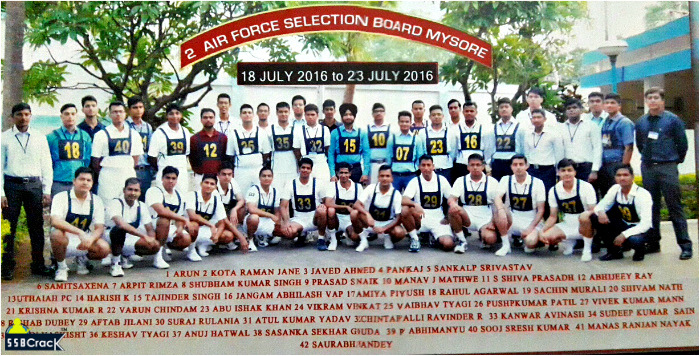 My AFCAT score was 134, yes you read that right just 134, only 2 marks more than the cutoff. I was soo tensed & nervous after getting recommended that dunno if I'll be able to make it to the final merit list or not. That fear of losing my dream even after reaching soo close to it, that nervousness, that self-humiliation that If I could have scored little more. It haunted me day & night for 5 months till today. But as it says, 'There is a brighter day after the darkest night'. So this is the day for me.
This was only possible by the guidance of the whole staff of OLIVE GREENS, I owe this to the institute. I can't even express my feelings right now, words will end but feelings won't. The name & tag of being OGian will always be in my heart even when I'll be flying an aircraft at such height. I'll always remember that Olive Greens helped me to reach here in this cockpit.
To crack SSB and AFSB Interview get "Let's Crack SSB Interview" Book from Amazon. Trusted by thousands of defence aspirants
A special thanks to SSBCrack FB page & whole team of it through which I used to get the notifications & information I needed throughout the process. No doubt I always used to get motivated the posts by their team , shares. Really thanks a lot to SSBCrack & SSBCrack Support group.
Goodluck to all the defence aspirants, I hope my story & experience will inspire you in your attempts even if you have a low written score.
I'm sharing my facebook profile down here, you can leave a message for any queries. I might not be able to reply instantly but will try my best to revert back. And please if you can then ask relevant & real doubts.
Thanks!
~"See you from the sky"~
Regards
Tajinder Singh
To crack SSB and AFSB Interview get "Let's Crack SSB Interview" Book from Amazon. Trusted by thousands of defence aspirants
Also Download Helpful eBooks: