Group discussion is a process where the candidates get an opportunity to formally exchange their opinions and ideas on subjects and issues of common interest and controversial nature. Group discussion is an excellent way to display your knowledge in current trends and matters of the globe, how well informed you are about the things happening around you, and most of all, to examine your communication skills. The goal of this discussion is to help the candidates to know each other. Therefore, it provides them with a platform to explore each other and make an impression on one another. It goes without saying that you need to be prepared beforehand, with a good hold on a broad array of topics.
Fundamentally, three personality traits are assessed through group discussions, namely, communication abilities, interpersonal skills, and knowledge of the subject. It is a means to ascertain the analytical skills of the candidates. Hence, content as well as the structure of one's talk matter.
Skills judged in Group Discussions:
How good you are at communicating with others.
How you behave and interact with the group (Group Behaviour).
Listening skills (patience to listen attentively).
Leadership and decision-making skills.
Your attitude and confidence.
Analytical and critical thinking skills.
How effectively you put forward your views.
How you bring and maintain balance in your tone.
Your body gestures.
Current Affairs questions will be from last 5-7 months (for AFCAT, NDA, CDS, TA)
Tips to nail Group Discussions:
Eye contact while speaking: Do not look at the assessors. Keep eye contact with all the members of the group. Hold their attention with your gaze.
Initiate the GD: Initiating GD is a plus point. But remember, initiate only when you are well aware of the topic and have some knowledge about it. Speaking without subject comprehension and knowledge forms a bad impression.
Allow other members to speak: Do not interrupt anyone in between while speaking. Whether you agree or disagree with their thoughts, do not snatch someone's chance to speak. Alternatively, make notes and clear the points when it is your turn.
Make sure to keep and bring the discussion on track: If in any condition the group is deviating from the topic or goal then simply take the initiative to bring the discussion on the track. Make the group members aware that they need to derive at some conclusion at the end of the discussion, so stick to the topic.
Speak clearly: Speak clearly and politely. Use simple comprehensible words while speaking. Don't get aggressive or rude if you disagree with anyone. Express your feelings calmly.
Positive Attitude: Stay confident and enthusiastic. Show interest and goodwill in the discussion. Do not try to dominate anyone. Keep positive body language and gestures.
Speak sensibly: Do not speak just to increase your speaking time. Speak at different point of times. Don't worry even if you speak less. Share sensible and admissible thoughts and present relevant arguments.
Carefully listen to others: As much as it is important to speak, also be very attentive while others speak. Be patient while listening, this makes a discussion coherent and you get more involved with the group in a positive manner.
No need to get into minute details: Basic subject knowledge and analysis is sufficient. You don't need to mention the exact figures while giving reference to any point. And if you do give, be accurate in your figures. You have limited time so try being precise and convey your thoughts in short and simple words.
Follow three thumb rules:
Rule 1: Solid opening statement: You don't have to have a speech prepared. A smallthought-provokingg statement that is likely to spark a further discussion will do good.
Rule 2: Lead to something: Don't leave group members hanging after your powerful introduction. Your opening statement should flow into some strong relevant point that you want to make later, without which your contribution amounts to zero.
Rule 3: Closing statement: Just when you are about to end your talk, ask a question in the end or ask others to put forward their opinions in order to keep the discussion going. If it is not possible then summarise everything you said in a single statement just to make your stance clear and known. But yes, do remember, NO ESSAYS to be delivered. Keep it short and simple.
Non-Verbal Gestures are important: Non-verbal gestures like nodding while appreciating somebody's point is peculiarly noticed as it conveys an idea about the interpersonal skills of a candidate. Unnecessary body movements and gestures are to be avoided.
Knowledge of the subject: Knowledge of the subject you are speaking about is an aspect that distinguishes a candidate from the group. There is no substitute to the depth of knowledge on the matter discussed in the group. Read newspapers daily to learn about the affairs of the globe. Choose magazines that are rich in content.
As mentioned earlier, initiating GD is an advantage. Closing it too adds brownie points. If you can grab the opportunity to end it, use the chance or if no conclusion was derived, try concluding it.
Follow these simple points to ace your group discussions!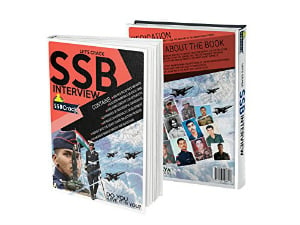 To crack SSB and AFSB Interview get "Let's Crack SSB Interview" Book from Flipkart. Trusted by thousands of defence aspirants
Also Download Helpful eBooks: