Over the past few days, we have received tons of emails from the aspirants asking us regarding TGC and UES entry. The point of concern here is an official notice which is getting viral on social media which shows that there will be no more TGC and SSC tech entries, though the source of this notice is unknown and it looks like an official decision from Indian army. Though we can not comment if this has got implemented or going to be implemented.
The official statement says
UES entry has been suspended and TGC entry will be discontinued wef 2017
To bring the ratio of reg cadre to sp cadre offrs as per impl instrs for AVSC cadre review.
Online, AADHAR based recruitment to ensure a fair sys has been imnl.
Vacancies in IMA are planned to be reduced
SSC entry is planned to be increased.
SSC will be made more lucrative.
Current Affairs questions will be from last 5-7 months (for AFCAT, NDA, CDS, TA)
Decoding:
TGC/UES entry which is for permanent commission and for IMA is discontinued.
These changes are done to correct the ratio as AVSC cadre review. This has something to do with the promotion policy, to know more about it look for The Ajay Vikram Singh Committee (AVSC) cadre review.
AADHAR card is going to be implemented here too, similar to our bank accounts, PAN, mobile etc.
IMA vacancies are going to drop, it might not affect UPSC CDSE entry for IMA, but vacancies are reduced as there will be no TGC and UES.
Short Service Commission (SSC) vacancies will be increased, so you might see more vacancies in CDS OTA, NCC Special Entry, SSC-Tech entry.
Short Service Commission will get some service benefits to make it more lucrative.
Conclusion: The whole change has something to do with AVSC cadre review which is related to promotion thingy. Is this a good news or bad new, we don't know, let us know in the comment section.
* We are not sure if this will be implemented or already in action. If you have more information regarding the same, do share with us.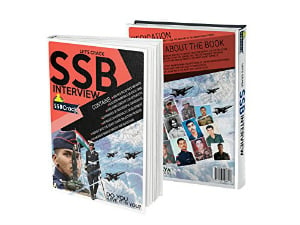 To crack SSB and AFSB Interview get "Let's Crack SSB Interview" Book from Flipkart. Trusted by thousands of defence aspirants
Also Download Helpful eBooks: