Indian army has published the list of shortlisted candidates for TGC 127 SSB interview. Candidates who have applied for Technical Graduate Course 127 on joinindianarmy can check if they are shortlisted or not. Indian army has already published the cutoff marks for TGC 127 course and candidates who are shortlisted based on cut off marks will be able to find their name on the list.
TGC 127 Age Limit: 20 to 27 years as on 01 Jul 2018 (Candidates born between 02 Jul 91 and 01 Jul 98, both dates inclusive). The date of birth entered in the Matriculation or an equivalent examination certificate only is accepted by this office No other document relating to age will be accepted and no subsequent request for its change will be considered or granted
Streamwise Cut off percentages for TGC-127 Course are as follows:
1. Civil- 64%,
2. Mechanical- 78%,
3. Electrical/Electrical & Electronics- 69%,
4. Computer Science & Engg/Info Tech/MSc (Comp Sc)- 68%,
5. Electronics & Telecom- 68%,
6. Electronics- 55%,
7. Metallurgical- 55%,
8. Electronics & Instrumentation- 60%
9. Micro Electronics & Microwave- 50%
TGC 127 Important Details
TGC 127 registration date: 24th Oct 2017
TGC 127 closing date: 22nd Nov 2017
TGC 127 cut off marks: 65%-75% (varies as per your branch)
TGC 127 SSB Date Selection: From 15 Dec 2017
TGC 127 SSB Dates: Jan – Feb 2018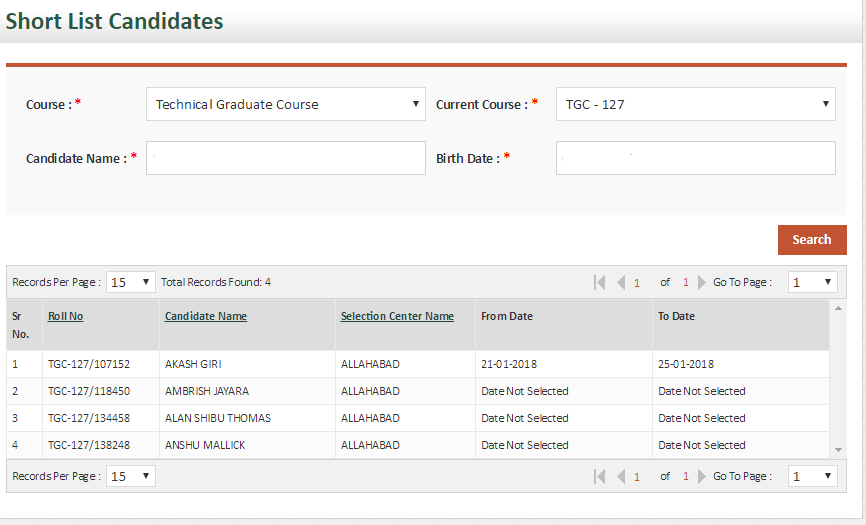 TGC 127 Shortlisted Candidates
Go to join Indian army website.
Click on SSB DateNon-UPSCSC and CDSE Entries
Select TGC 127 from the drop down
Enter your name and DOB to search your name.
You can also login and select the SSB dates.
How To Prepare for TGC 127 SSB Interview:
Current Affairs eBooks